When I was a kid--13, 14, 15 years old--I rode my bike all the time. I rode everywhere. If I wanted to go to a friend's house, I rode my bike. Dairy Queen? A short (5 mile) bike ride away. Around the corner to feed the neighbor's cats? On my bike. I rode and rode and rode. I loved riding my bike!
When I was almost 17, I moved. I moved to a different town in a different state. I didn't know anyone. Most of the friends I made lived a little further away than I could ride, or down roads I didn't want to ride. Oh, and also, I could drive.
The trouble is, biking is an activity I always loved. I remember going across the street with my daddy to PJ and Bradley's "field" (I have a feeling that field isn't as big as I remember it) to practice riding. That's where I learned to ride without training wheels! I remember riding my bike to Autumn and Amy's house, to Emily's house, to Carrie's house...I rode everywhere! I always loved it. And then? Then I grew up and got out of the habit. You could probably say I got lazy.
Last summer, when Little Lou was 6, she said she wanted to learn to ride without training wheels. We tried once or twice but she was slow and distracted and terrified. We put the bike away for the winter and decided we'd try again in the spring. I told her I wasn't putting the training wheels back on. My baby girl learned to ride!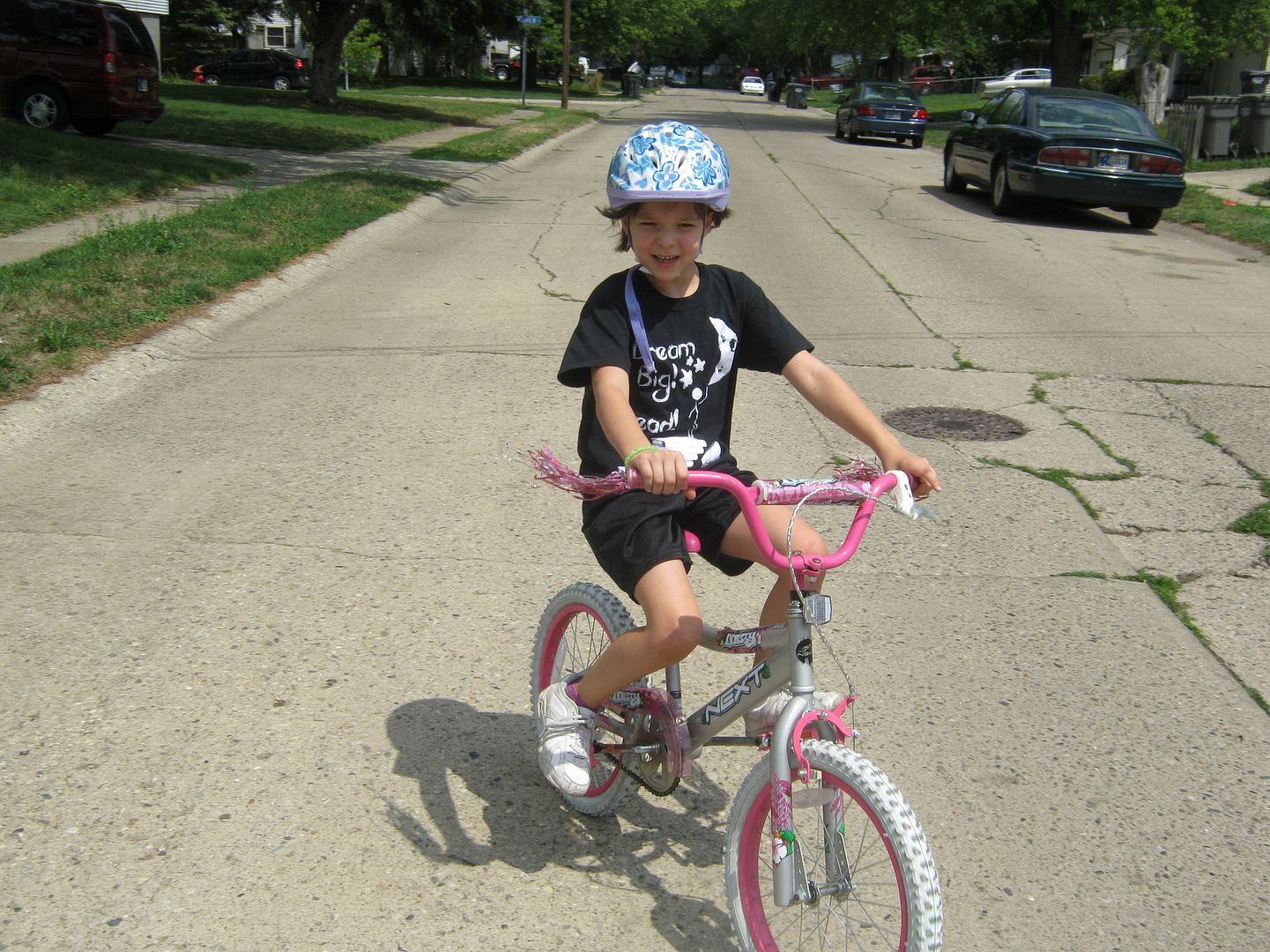 Then the inevitable happened. She asked me to go on a bike ride with her. People, riding a bike is NOT always like...well...riding a bike. You've heard it said that once you know how to do it, you know how to do it, right? Sometimes you're taller than you used to be, or heavier than you used to be, or don't have the balance you used to have. Sometimes it's scary. And sometimes you have to pretend it's not scary because your favorite 7 year old girl ever wants nothing more than for you to ride around the block with her. I sucked it up, pulled out my bike, and rode two laps around the block with that little princess! It felt GREAT!! And we both wanted to do it again. Lots more times.
There was a problem, though. You see, there are 5 people in my family. Three of us are big enough and strong enough to ride bikes without training wheels and go for real rides. One of us really wants to be that big, but just isn't strong enough quite yet. One of us is 2. It's really hard to take family bike rides when you've got 3 riders, 2 potential passengers, but no transportation for those 2!
My kids were so very excited (almost as excited as their mommy!) when this giant box showed up at the door!
We ripped it open, pulled out the parts, and put together our brand new
Schwinn Trailblazer Bike Trailer
! (This video is actually the second time I put it together, later that day. It just shows how quickly you can set it up! Ignore the part at the end where I put the shade on backwards.)
My kids LOVE it!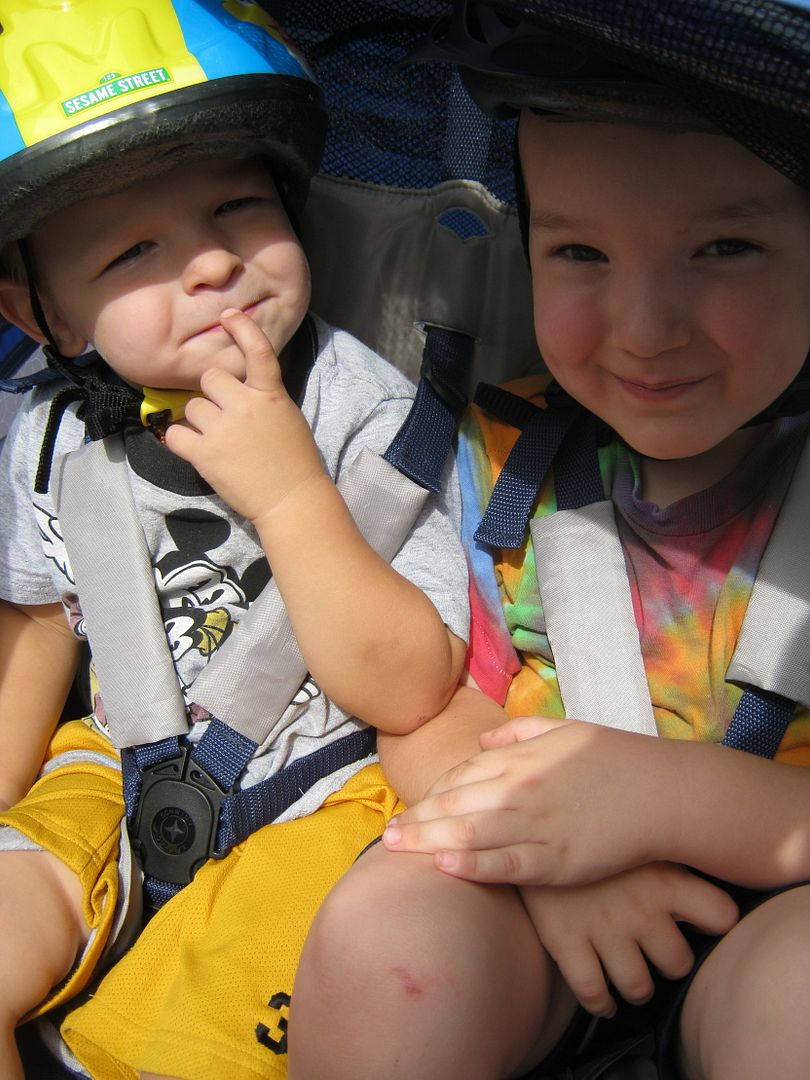 Bugsy prefers to ride his bike, but some days we want to take rides that are too long or fast for his legs. Some days his asthma is really bothering him and even though he begs and begs to ride his own bike, his actions tell me he doesn't have the energy to do so.
On days like these, the
Schwinn Trailblazer
is perfect for both of my boys to ride in together! They're both comfortable, there's plenty of head room, and they both get to feel the breeze on their faces as we speed through the neighborhood!
Some days, though, Bugsy's feeling strong and we're not rushed and he can ride his bike. On those days, Stinky is the king of the bike trailer!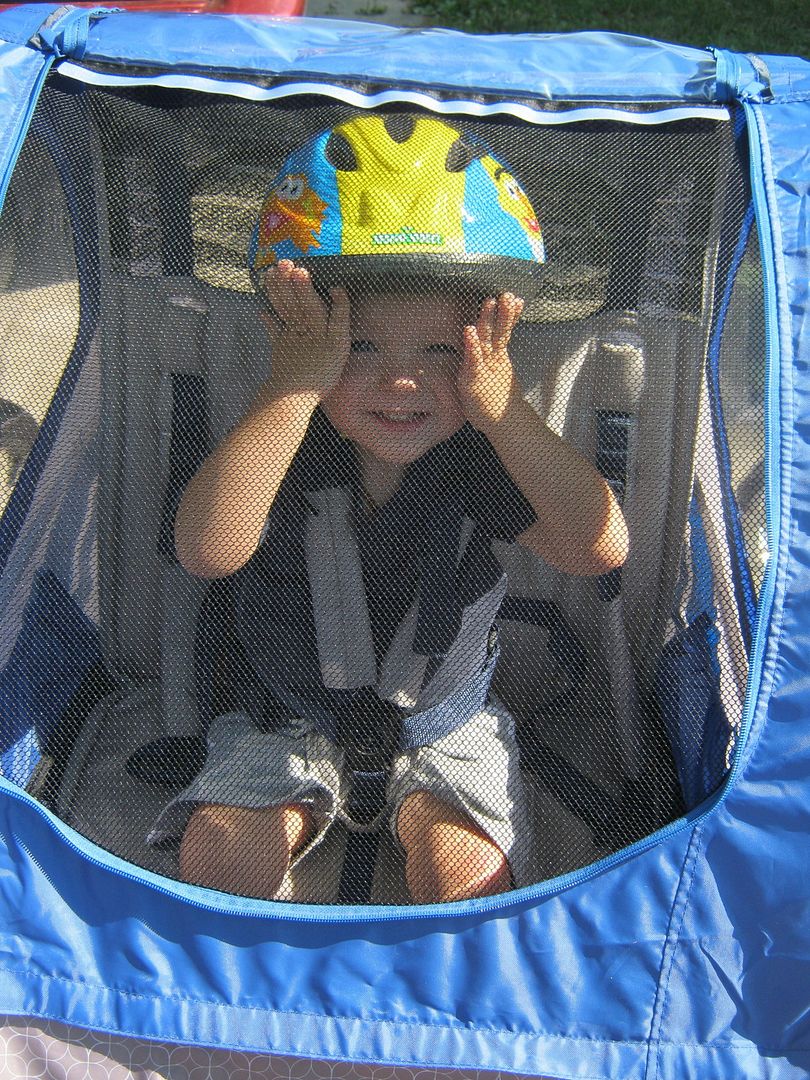 I LOVE that the
Schwinn Trailblazer Trailer
is a double trailer, so both boys can ride, but that there's a third "crotch strap" in the center, so that if Stinky's riding alone, he can ride comfortably right in the middle! (Make sure that, even in a trailer, your little ones ALWAYS wear helmets!) I also love the huge compartment behind the seat! I use it to store a tire pump, my keys, a couple diapers, and whatever else I need while we're out. There's more than enough room for a picnic lunch, and if I needed to grab a few groceries, there'd be room to store them too!
I love love LOVE that I can pack up my kids and take bike rides now! We don't even need to wait for The Hubby to get home, because Little Lou's a good enough rider that I can manage. (If Bugsy's going to ride by himself, I wait for The Hubby.)
Did I mention that the Schwinn Trailblazer Trailer can also convert to a jogging stroller? It does! And it's a very smooth ride, too! Comfy for my boys, and easy for me to push! The handle's adjustable to whatever height the jogger needs. It's great!
I love the Schwinn Trailblazer Trailer! I honestly have very few negative things to say about it! It is very easy to assemble, very easy to attach to the bike, and I can't even feel it behind me. I can definitely tell I'm doing more work to pull 80 pounds of little boy, but that's just because I am moving an extra 80 pounds. It's not any more difficult to ride with the Schwinn Trailblazer than without it! In fact, I love it SO much, that when I saw a similar Schwinn trailer on clearance at a local store a few weeks ago, I called my sister, who drove an hour and a half to come get it! Schwinn's bike trailers are THAT good!
Friends, I am not just telling you about Schwinn's bike trailers because I love them. I'm telling you about them because it's fall. It's cooling off a little. The weather is perfect for you to get outside and ride bikes with your family. Some of you have kids. Some of them are little. You need a good solution to safely manage those little ones while you ride!
I'm also telling you about the
Schwinn Trailblazer Trailer
because I want you to be active. I want your kids to be active. There's a growing childhood obesity issue in the United States, and the only way we're going to reverse it is by teaching out kids healthy lifestyles. It's a great idea to tell your kids about exercise. It's a great idea to take your big kids out and run with them, play with them. It's an even better idea to start when your little ones are...little...involving them in your exercise routines, so that they will be ingrained into them.
Take your little ones for a bike ride! If you don't have a bike trailer already, consider a
Schwinn Trailblazer Trailer
! You won't be disappointed! (And you might just end up being able to capture a snapshot like this one of "Poppy's Posse!!")
I received this item at no cost to me in order to facilitate a review. I was not compensated in any other way. All opinions are strictly my own.