Nine years ago today I linked arms with the man of my dreams
and he ushered me (while telling jokes to "lighten the mood") down the aisle into the waiting arms of the man of my dreams.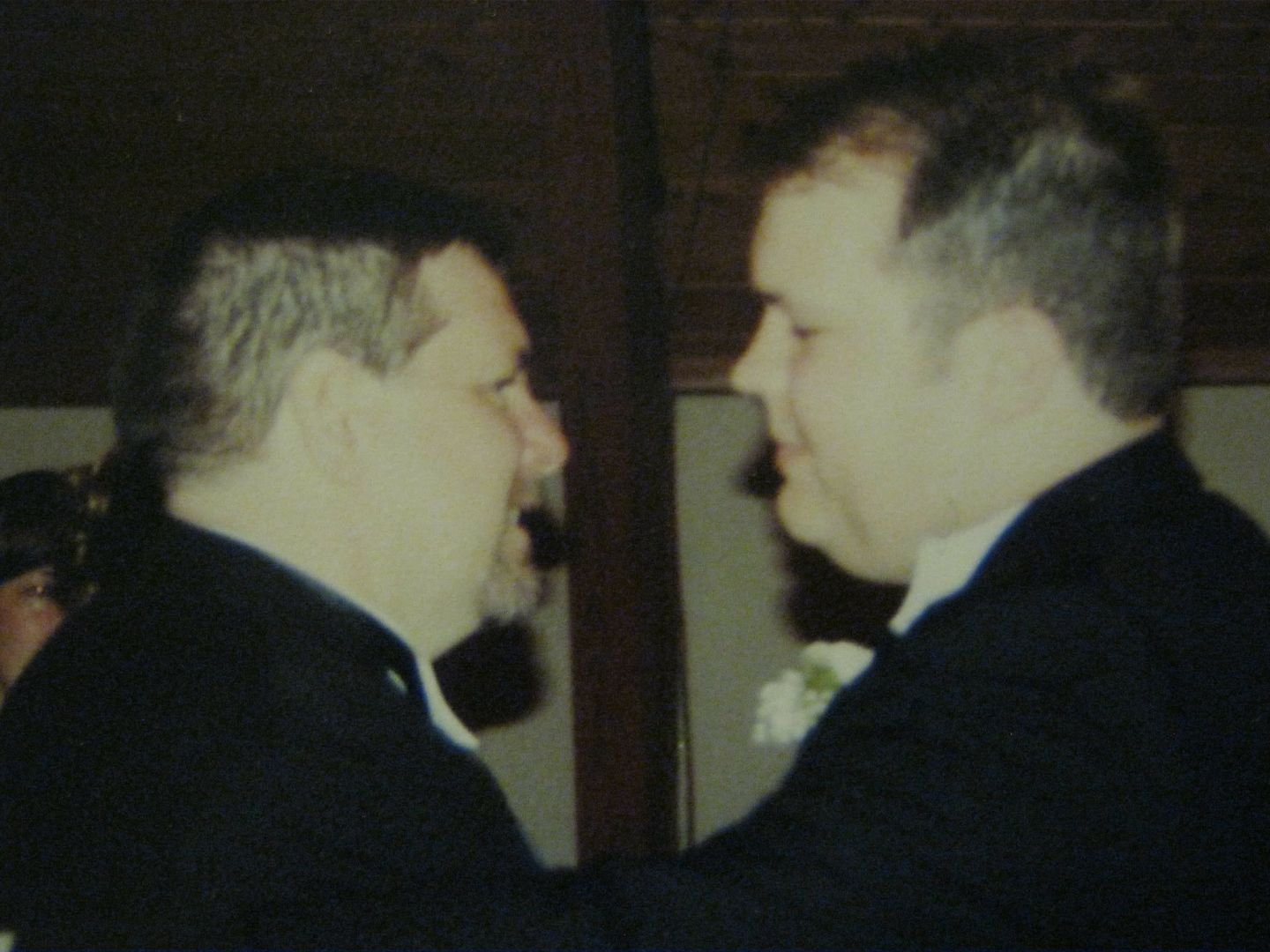 I married him because for 4 1/2 years, every time I'd walked into a room and found him, my heart had fluttered. I married him because he made me laugh like no one else ever had. I married him because my hand fit perfectly into his. I married him because he taught me calculus with the patience of a saint. I married him because he appreciated my quirks. I married him because he loved hockey almost as much as I did. I married him because he was my best friend. I married him because he loved Jesus. I married him because we shared our dreams. I married him because I loved him.
I'm still married to him, 9 years later, not because life has been perfect, but because through it all, he has never left my side. He has never failed to help me to my feet when I've fallen. He has never failed to share a joke when my smile's faded. He has never stopped being steadfast when I've wavered. He has never stopped holding on for dear life when we've been through a storm. I'm still married to him, 9 years later, because he's never stopped being exactly who he is: an imperfect man who loves me completely. I'm still married to him because I love him desperately. I'm still married to him because, 9 years later, 13 1/2 years later, every time I walk into a room and find him, my heart flutters.
And so, in honor of the man with whom I share my life, a pictorial trip down memory lane is in order. I remember that day like it was yesterday (which, of course, means that I remember tidbits of what happened, but much of what I remember is only because it was captured on film)!
You need to know that as of 4pm the afternoon before my wedding, my dress did not fit and I was not a happy camper!
It all worked out, though, and I walked down the aisle wearing the stunning dress I'd chosen months in advance!
I have some silly friends. One of them, a lifelong "bestie," got married just a few months prior to me, and on her wedding day we chased down the ice cream man for ice cream sandwiches! The ice cream man didn't make a stop at the church on my wedding day, but we DID have ice cream sandwiches.
My sister is a goof. She suggested I looked perfect in this outfit:
which, while cute, was not my idea of a perfect wedding gown!
I thought this was a better "costume" for the day. My sister, ever the clown, made sure to joke about it. Total sister moment here, but one of my two favorite pictures of the two of us on that day. (I won't share the other, for her sake.)
If you know me well (and perhaps even if you don't), you won't be surprised to find that one of my very favorite wedding day memories is of pausing to read a book with my sweet little flower girl. How could I say no? Her eyes are HUGE and she's gorgeous! And seriously? "Would you please read this to me?" I couldn't refuse!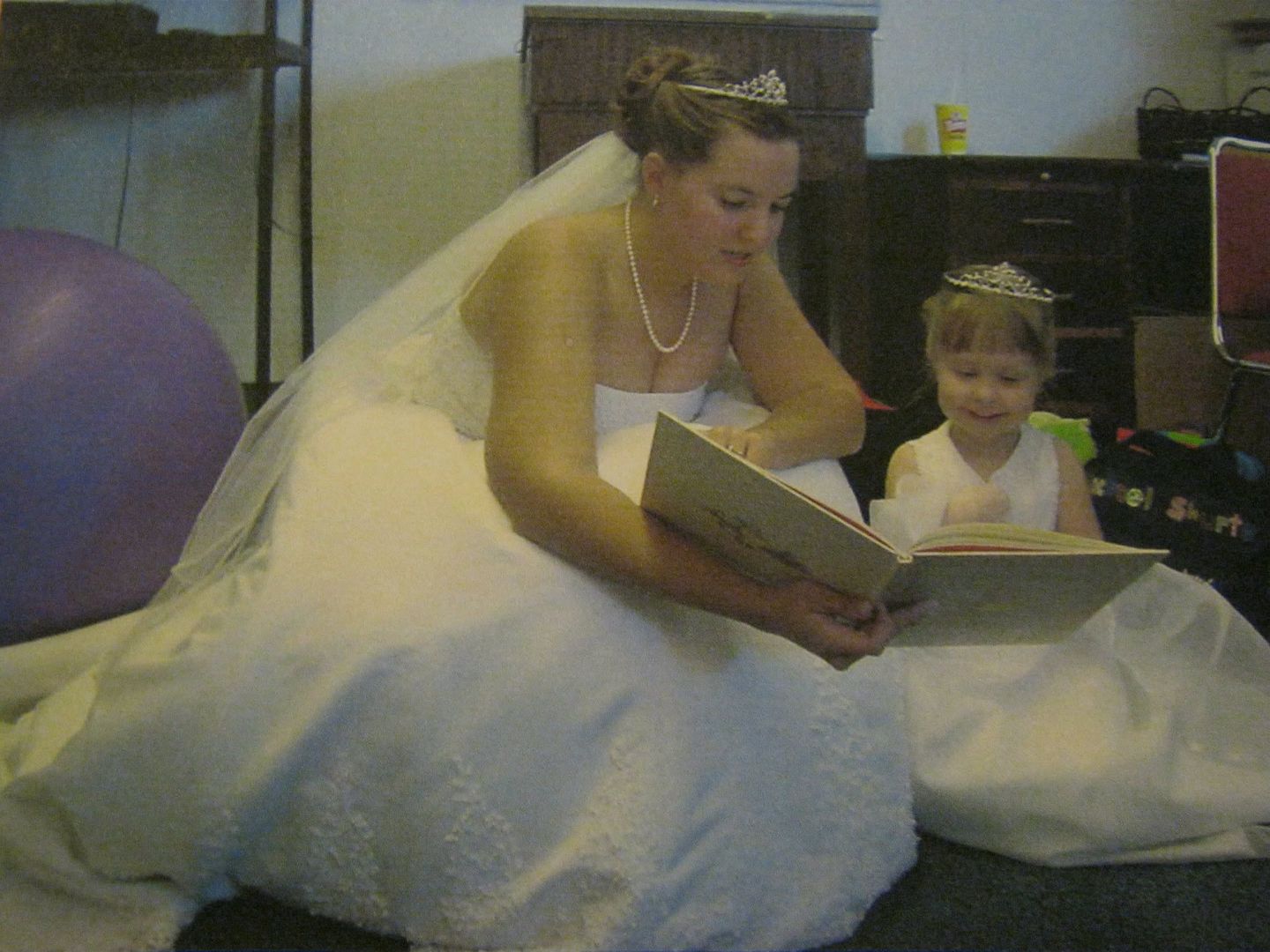 That very same sweet flower girl, as the music began to play and the wedding party began to move, tugged on my sister's hand and whispered, "I have to go potty!" I can still hear whispered, "Walk slowly!" amongst the wedding party!
I do not know how the photographer managed to capture this EXACT moment, but this is the very moment I realized that my groom had shaved his goatee just for me! He'd had one the night before at the rehearsal, and that afternoon it was gone! (I told you he loved me! It's back now...since about 3 days after the wedding...and now he looks funny without it.)
And so, we had our little ceremony, everything going perfectly other than the ring bearer spinning in circles on his little stool throughout the entire wedding. (My ring even arrived on time, which is a whole different story.)
And after concluding the ceremony, my daddy pronounced us husband and wife and sent us up the aisle and into life together!
I love you, I love you, I love you! I can not wait to navigate the next 9 years...19 years...59 years...with you! Life's been full of adventure, and while I certainly hope the ride levels off a bit, there is no one with whom I would rather live this life than you! Thank you for standing by me through it all, no matter what.
I love you, Buddy! Happy anniversary!