Confession time: I think strollers are cool, and even if I don't NEED a new one, it's fun to HAVE a new one. Are you with me?
I told you last June about my amazing
Phil&Ted Sport
double jogging stroller, which has been WONDERFUL when I want to go out and get a little exercise in, but I don't really want Bugsy (aka Mr. Short-legs) slowing me down! That stroller has afforded me tons and tons of workout time that I wouldn't have otherwise had, and I am SUPER grateful for that!
Today, though, I want to tell you about another amazing stroller...the
Zooper Bolero
!
You see, the double jogger is great for, you know, jogging. (It's good for other things too, just a bit long front to back.) I've been mostly using a cheapo umbrella stroller, though, and honestly it hasn't been nearly as great at maneuvering as I would have liked!
I can't tell you how excited I was when Zooper asked me to review their
Bolero
stroller in Ocean Blue! I had been looking all over the Zooper website, and it looked like the Bolero would be a super compact folding full-sized stroller! I was SO excited when the box arrived! So was Bugsy! ("Mommy, this box is almost as big as I am!")
It was so easy to put together that even Stinky was able to help a bit! It probably took me about 20 minutes to put together, but had I been working by myself I probably could have done it in 10-15 minutes. The instructions were very clear and very helpful!
The first time I opened the Bolero once it was put together, I didn't get it fully engaged. Be careful about that. After the first time, though, it hasn't been a problem. I also struggled to pull the handles fully apart the first time, and popped myself in the chin trying! Again, this was only a problem the first time, and it has gotten easier to open each time. I think it's just tight because it's new!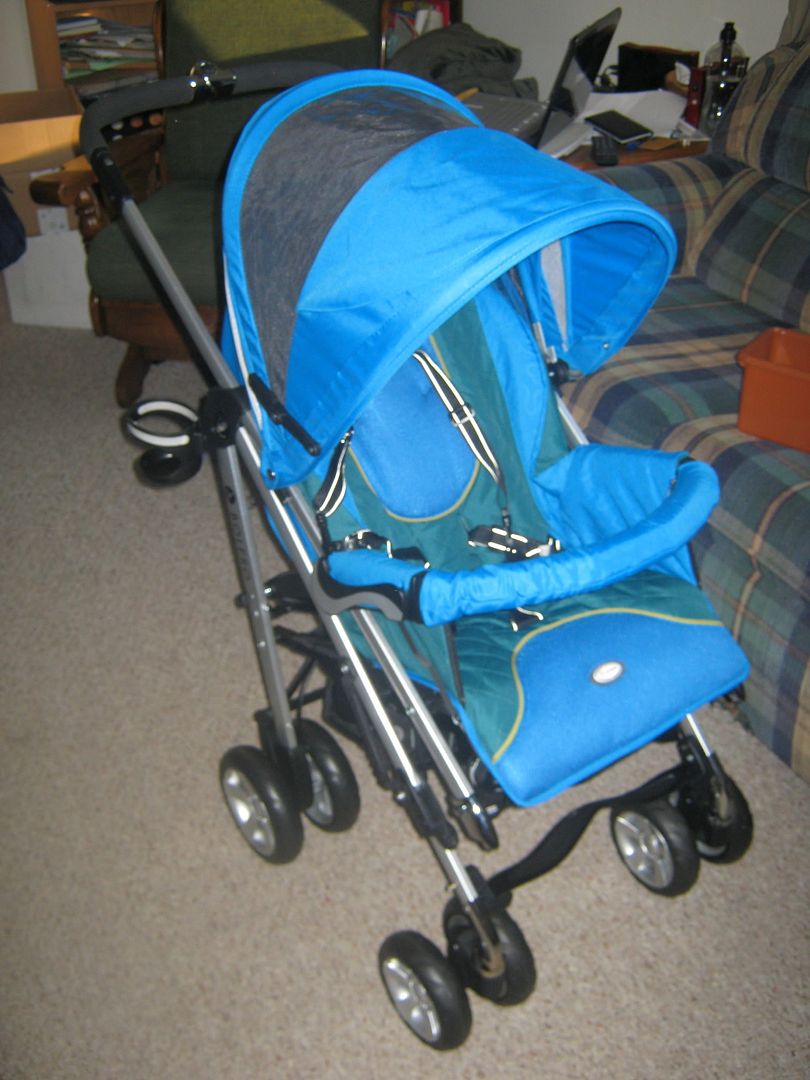 The
Zooper Bolero
is very roomy! Stinky weighs about 28-29 pounds, and he has a TON of room in the Bolero! Bugsy tried it out too, and at 47 pounds he's got room to move! It's just as easy to push with EITHER of them inside. The first time I used the Bolero, I was racing my sister through the neighborhood. I commented to her several times about how hard it was to turn and how awful the clicking noise was around corners. When we got back to my house, I suddenly remembered having read something about locking front wheels. I unlocked them, and it is AMAZING the difference it made! This thing corners like a champ! I love how smooth the ride is with the Bolero! It is seriously the easiest, smoothest stroller I have ever pushed.
I LOVE the "sleeping bag" attachment that keeps my little guy toasty warm on cool days! (He wasn't as thrilled about it as I was at first, but he DID love that he didn't have to wear a coat. It was 45ish degrees in this picture, so it wasn't a big deal for him to wear a coat anyway!)
The Bolero lays totally flat in it's most reclined position, and it comes with a bassinet for your newborn! I haven't had the opportunity to use this feature yet, and honestly haven't tried putting it together. It has its own set of instructions, though, and it looks like it would be easy! I love that the bassinet can go forward or rear facing, so mommy (or daddy) can see baby the whole time! It is snugly warm and would be perfect for a newborn! (Stinky, a week shy of 2, doesn't care to lay down when he rides.)
I really love how compactly the
Zooper Bolero
folds! We traded in our Ford Expedition (HUGE vehicle, tiny amount of cargo space) for a Ford Focus Wagon (tiny vehicle, huge amount of cargo space) a couple of weeks ago. Even with the Bolero in the back, there is more than enough room to load up a week's worth of groceries! (Currently, it's riding in the back with a folding chair, an extra carseat, a case of girl scout cookies, and a diaper bag...and there's TONS of room to spare!)
My ONLY real complaint about the Bolero (the rest have all be more user-error issues that have been quickly resolved) is that the basket underneath is small. Yesterday I took it along to the doctor's office. I was toting 2 sick boys and didn't want 2 sick boys running wild through the office, so I stuck Stinky in the Bolero. I put my small purse and a cinch sack style diaper bag in the basket, and it was packed pretty full. I had to unsnap the side of the basket to put them in! I wish the basket were a little larger...BUT the Bolero does make up for the small basket with the "All Purpose Canopy Pocket."
There are actually 2 pockets on the back of the canopy, which, if you plan ahead, would be perfect for your wallet, keys, and a few diapers and wipes! You could essentially leave your purse and home and your diaper bag with a few spare items in the car, and just take your stroller along! If you live in an area where you do a lot of walking rather than driving, this would really be perfect!
All in all, I LOVE the
Zooper Bolero
a million times more than I expected to! It is definitely my go-to stroller! I would highly recommend it to any of you! You can visit Zooper to find out where there's a
retailer near you
! (The suggested retail price is about $400, but I have it on good authority that you can get one on sale on
amazon.com
for about $300 right now!)
Zooper makes amazing products, people. One of those amazing products, one that I'd like to give to one of you, is the Zooper Hook-On Chair, which retails at $49! This cute little high chair folds flat for easy carrying, has a 4-point harness, and works for toddlers up to 30 pounds! This high chair is great for at home or when you're out and about! Enter below on the super easy Rafflecopter form for your chance to win!
Wanna know something REALLY cool? Right now, through the end of February, Zooper is donating $1 worth of Zooper products to Doernbechers Children's Hospital in need for every new Facebook like! That's potentially a lot of dollars! Simply by entering this contest, you could be helping Zooper reach out to people in need! I think THAT is awesome!
a Rafflecopter giveaway