CLOSED

The next time you're at Target, find this box:
Put it in your cart.
Pick a color (or colors!) of fabric bins.
Put them in your cart.
Check out.
Now, go home, put it all together, and enjoy!
Closetmaid
sent me a
Mini Cubeical and 6 fabric bins
to review during Spring Cleaning Month! Now, I'm going to tell on myself a little bit here. For some reason, I didn't expect to have to put it together. I don't know what I was thinking. People, you have to put mini cubeicals together. Be forewarned.
When Heather from
Closetmaid
suggested the mini cubeicals for review, I was immediately excited! I could think of about a billion uses right off the top of my head. To be honest, I still haven't settled on a usage just yet! I'm still playing with them and trying to decide. But think about it. The drawers are 7X7X5.75. They're not tiny. In fact, they're really a lot bigger than I expected. If you had room, you could use these mini cubeical sets anywhere! You could use them in the bathroom for all your cosmetics and hair supplies. You could use them in a child's room for smallish toys. You could use them in the kitchen for holding snacks or spices or... My current choice of uses, though?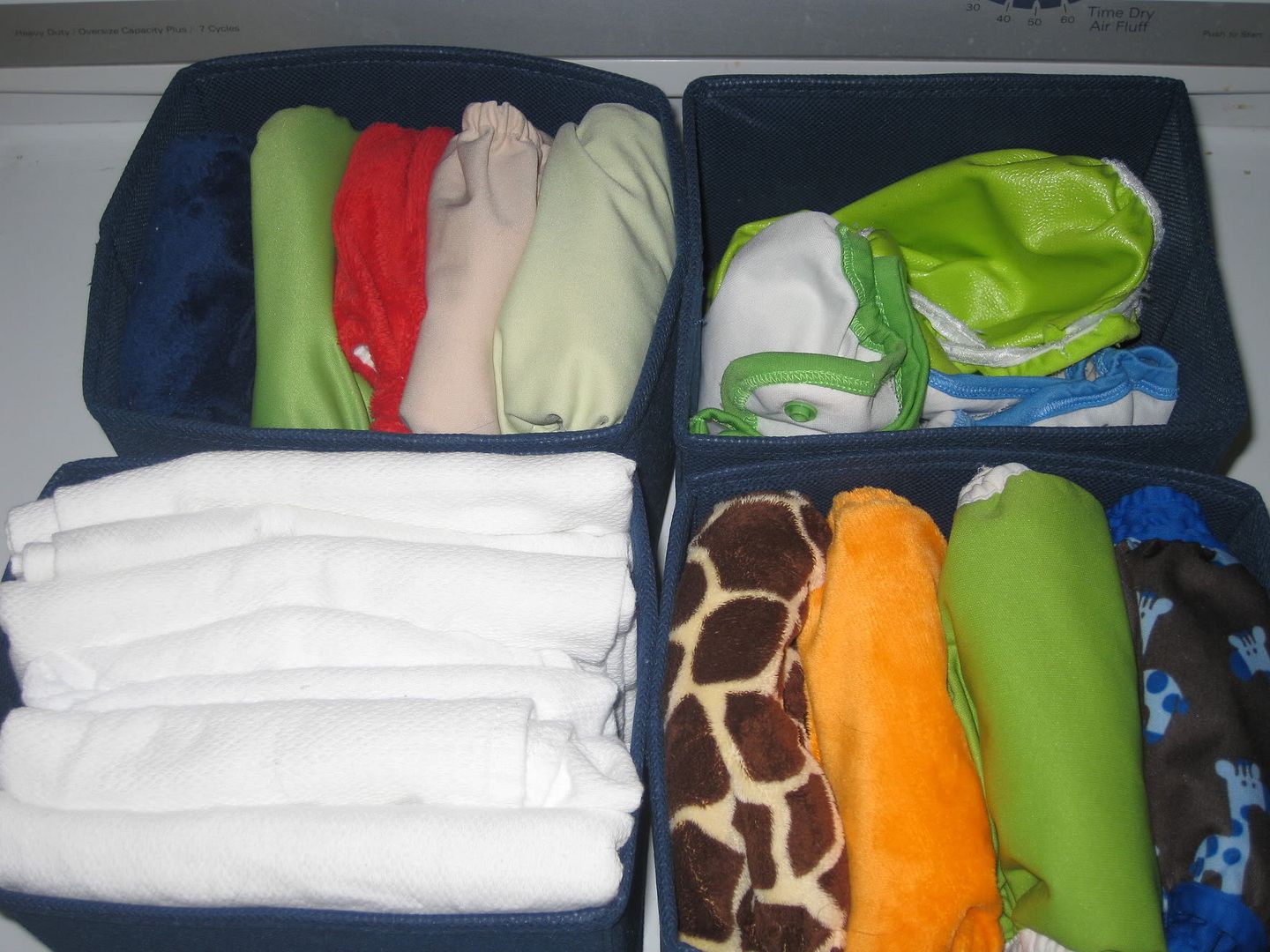 Surprised?
Now, I don't know how many diapers you have. I'm honestly diaper challenged. I haven't counted recently, but I'd say my stash is probably less than 20 diapers. I can fit my ENTIRE stash (minus a few flats and all of my prefolds, which I no longer use) in these 6 bins! 5 OS pocket or AIO diapers will fit into each bin. That means 30 OS diapers! So, this currently sits on my nightstand in my bedroom, filled with dipes.
My dryer, in the bathroom, is my changing station, so when I take a bin into my bathroom, sit it on the back of the dryer, and use those diapers. When it's empty, I swap it out for a different bin. It eliminates a ton of clutter from my bathroom, and makes for a quicker diaper change!
Despite having to put the mini cubeicals together myself, I really like them! The system looks nice. It doesn't look like cheapo junk "furniture." It looks nice, and it's really sturdy. It's super easy to put together, and it really only took about 10-15 minutes. I'd highly recommend
Closetmaid
Mini Cubeicals and Fabric Drawers
if you're looking for something to help you get organized! (Or if you're not looking for something. If you're like me, you can always use more ways to get organized!)
What don't I like about them? I'm not crazy about the "offset" design I chose. If I could choose again, I'd choose the cubeical that has 6 compartments instead. I thought I'd love the offset because I could just use a couple bins and put little knick-knacks or something in the other spaces, but it turns out I'd rather just use the 6 bins, so the regular design would have looked nicer for me. I'm also not as thrilled with my color choices as I thought I'd be. The espresso color is darker than I anticipated, and the blue is dark navy. (It looks a lot brighter, even in my pictures, than it is in real life.) If I could choose again, I'd stick with the espresso but pick a different color of fabric for the bins. These are all really choice issues, though! I have no problems AT ALL with the functionality or quality of these pieces!
As I mentioned, you can buy
Closetmaid
Mini Cubeicals at Target
,
Amazon
, and
Closetmaid
! They're super cute, very functional, and the cubeicals are just $15! Bins are an additional $8 for a set of two. That means you can have an entire adorable Mini Cubeical set for just $39 plus tax! That's a great deal! (You can also buy them from www.target.com!)
Closetmaid
has generously agreed to send a set to one SUPER lucky reader! I love my Mini Cubeicals, and I know you will too! (Contest will end and a winner will be drawn Tuesday, June 14 at 11:59am EST!)
How to Enter
*Leave a separate comment for each entry*
*Leave your email address with each entry*
Follow My This N That Life with GFC
Subscribe to My This N That Life via email
Visit
Closetmaid
and tell me what OTHER product you'd like to try
Comment on any non-giveaway post and tell me where you commented!
I was given these products at no cost to me in order to facilitate a review. I was not compensated in any other way. All opinions are my own.