CLOSED
This may come as surprise to many of you, but I have a little "thing" for cloth diapers. Sometimes when I'm bored, I actually cruise the internet looking for new diapers! I'm sure I'm not alone, right?
I found
Driline Baby
by chance on one such venture. Driline Baby is a company that designs, manufactures, and sells not only reusable baby diapers, but also incontinence products and menstrual pads...and they've been around for more than 20 years! Their diapers are "diaper service quality." They sounded great to me!
Driline
sent me a variety pack of diapers! I was super excited to receive the package, as I was hoping to get a
Pumpkin Patch
diaper to try. When I opened the box, however, there was not only a Pumpkin Patch but a
Bamboo Baby AIO
, a
Snap to Fit cover
, and a
Dri-bag
as well! What a great set!
As I mentioned, I was super excited about the
Pumpkin Patch
diaper.
Unfortunately, the one they sent appears to be a size medium, which if for newborn to 15 pounds. That's WAY too small for Stinky! But, I love it. It is super soft, both inside and outside! It looks and feels very absorbent as well.
The
Snap to Fit cover
is great, too...as long as I put Stinky in a pair of pants while he's wearing it!
(As you may know, Stinky is an Aplix MASTER!) The fit of the cover is great, though, and it hasn't leaked when he's worn it! I really like the way it covers. The Aplix holds tight and still looks nice after several washings. There are laundry tabs to prevent diaper chains as well, which is a very important feature!
I really like the
Bamboo Baby AIO
. It has an attached soaker, with is always a plus for me! I like the absorbency it provides, but also the quick drying time. I LOVE the fit of the Bamboo Baby AIO! It is a super trim fit, similar to a disposable!
The Aplix on this diaper fits so snugly! There are crossover tabs, but Stinky is just barely too big to cross over. He wears it with the tabs touching.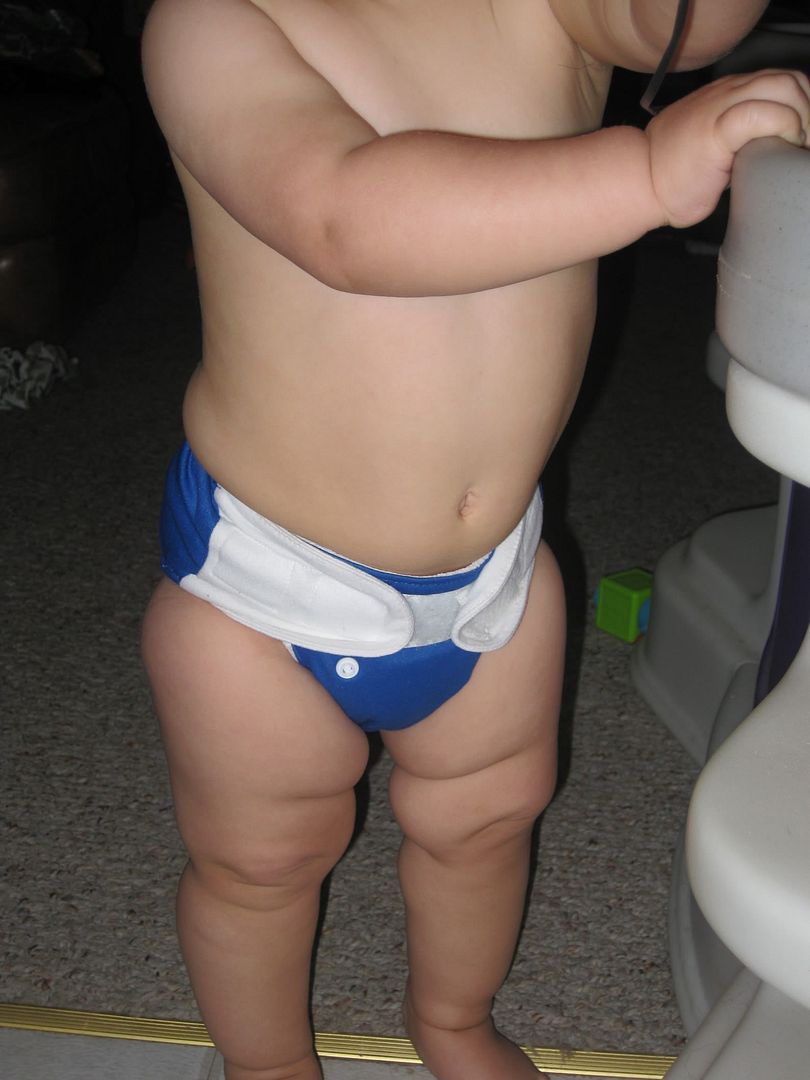 This morning, in fact, Stinky wore this diaper for 3+ hours with no leaks. It's not a great overnight diaper for him, but it is fantastic in the day!
Finally,
Driline Baby
sent a
Dri-bag
.
I wasn't so sure about the bag at first. Sure, it's big. But the fabric isn't as stretchy as the other bags I have and it's got a drawstring rather than a zipper. This Dri-bag has very quickly become my favorite "wet bag!" I love the size of it! The fabric is thicker than the fabric on my other bags. It's not stretchy, but it seems more wipeable. Despite having a drawstring rather than a zipper, I truly think it doesn't smell as much as the others do! Like I said, it's become my favorite. AND it holds a TON of diapers!
There are 15 diapers and about a dozen wipes in there!
Driline Baby
is only available through very select retails, which you can find on their website. There are currently only two retailers listed on the website, but there are more coming soon!
Driline Baby
has graciously offered to send one of my lucky readers a
Travel Change Pad
!
This isn't a product I reviewed, but based on the quality of the products I did review, I am sure it'll be a great quality pad! (Contest will end and a winner will be drawn Tuesday, June 14 at 11:59am EST.)
How to enter
*Please leave a separate comment for each entry*
*Please leave your email address with each entry*
Follow My This N That Life with GFC
Subscribe to My This N That Life via email
Visit
Driline Baby
and tell me what OTHER product you'd like to try
Comment on any non-giveaway post and tell me where you commented!
I was given these products at no cost to me in order to facilitate a review. I was not compensated in any other way. All opinions are my own.