CLOSED
I had a misconception about prefolds. I thought they were all alike. I thought they were all pretty much squares or rectangles of various sizes, and that you could either fold them into thirds and lay them in your cover or somehow wrangle them around your wiggling baby's chubby belly and try to pin them or clip them or super glue them (please don't anyone actually try that!) into place before strapping on a cover. Then I found
Dippee Dypees
.
Renee, the mama behind
Dippee Dypees
, has 4 children of her own. She tried cloth (unsuccessfully) with #1, used sposies with #2 and #3, and when #4 came along with allergies to synthetic materials, decided to go back to cloth. Because of the synthetic fiber issues, Renee discovered that bamboo was the best solution for her little princess, but she found that bamboo diapers tended to be expensive. Thus, Renee began to make her own diapers, and
Dippee Dypees
was born!
There are several items showcased on the
Dippee Dypee
s facebook page, including wipes, other types of diapers, etc, but I was sent a prefold to review and I am SO glad!
(The Dippee Dypee prefold, folded)
(The Dippee Dypee prefold, unfolded)
Now, I'll admit I was a little confused about the shape at first. I mean, I could tell how it was supposed to go (obviously), but I wasn't sure this was going to work as well as a "regular" prefold at containing Stinky's messes. I've mentioned several times that his little tummy is...volatile...and when he's off his tummy medication, things can get pretty nasty. I figured that, unlike the way I fold a traditional prefold, this thing would leak everywhere! I couldn't have been more wrong! This little gem hugs Stinky's little booty really nicely, and holds so much better than a traditional prefold!
Somewhere I have a Snappi, but I tend to just fold my prefolds into thirds, fan open the back, and lay them in a cover. I LOVE the wings on these prefolds, though! I love how easy it is to pin them on with just one pin. I love how easily the pin glides through the fabric. I love that the diaper is trim through the crotch compared to a pocket or AIO, like a prefold, but really fits more like a pocket or AIO.
I really love how trim the prefold is! I suppose this depends, somewhat, on what type of cover you use. I use mostly pul covers, and it is probably trimmer than a disposable diaper!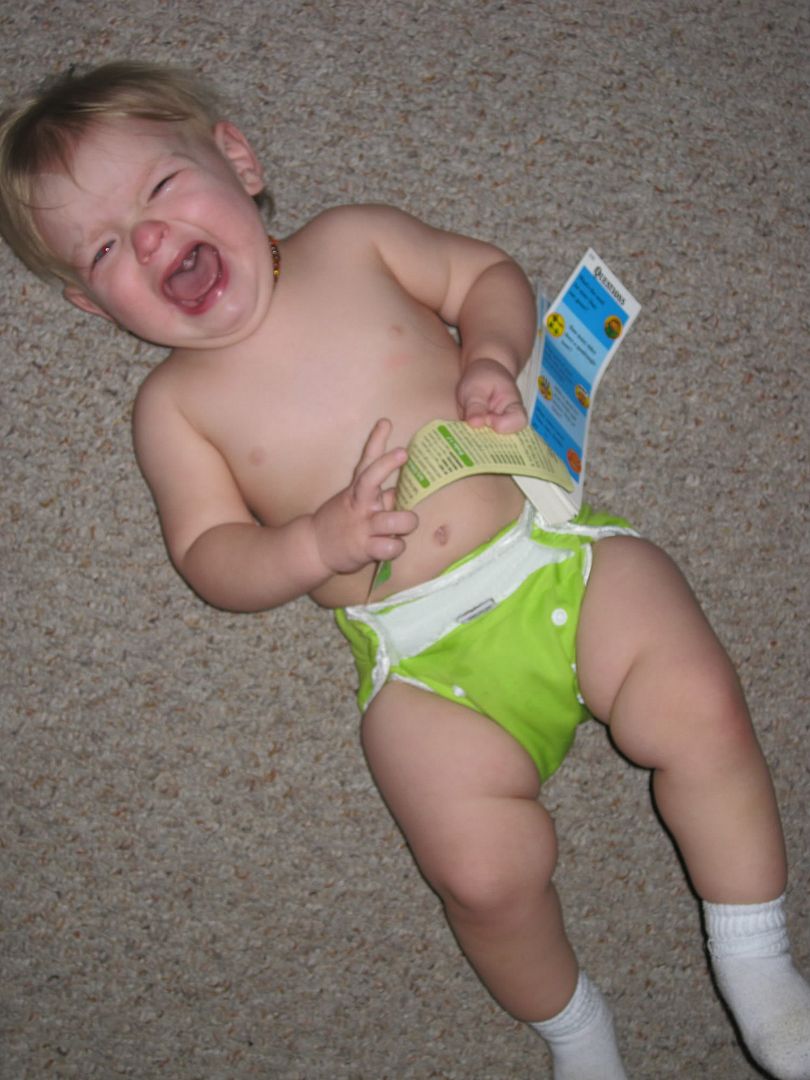 He's sad because he only has one! I'm sad about that too! The
only
thing I don't love about Dippee Dypees is that I don't have at least a dozen! It's rare that I find a diaper where I have no critiques. Thank you,
Dippee Dypees
, for being among the select few!
You can visit
Dippee Dypees on facebook
to see all of the available prints, colors, and styles. There are a lot! There's a
Dippee Dypee
Etsy shop as well, but it currently only has a few items listed. I think you'll have more luck checking out the facebook page! Because one of the issues Renee had with cloth diapers was the cost, you'll find hers to be very reasonably priced!
You can also win a Dippee Dypees prefold right here! One lucky reader will win a prefold in their choice of gender, but Renee's choice of fabric. (She'll make a great choice. She chose ours!) The winner will be responsible for paying $2 shipping. (Contest will end and a winner will be drawn Tuesday, May 17 at 11:59am EST.)
How to Enter:
*Please leave a separate comment for each entry*
*Please leave your email address with each entry*
Follow My TNT Life with GFC. Leave your username and email address.
Like
Dippee Dypees
on facebook. Thank Renee for the giveaway!
Like
My TNT Life
on facebook.
Heart
Dippee Dypees
on Etsy.
Like my new favorite website,
Give Every Day
, on facebook.
Subscribe to My TNT Life via email.
I was given this item at no cost to me in order to facilitate a review. I was not compensated in any other way. All opinions are my own.