CLOSED
This month I chose to focus on "Spring Cleaning." I didn't put a rule to that decision regarding products being "green." I didn't make any stipulation concerning what I'd be cleaning. I figured anything that would clean or organize...well...anything would fit!
Beautiful ThrowAway
s has a great Etsy shop with a lot of reusable (green) cleaning products!
When I stumbled across the store, I was intrigued by the crocheted Swiffer cloths. One of my biggest cleaning frustrations has been buying and throwing away all those Swiffer sheets! I know I could just do it the "old fashioned" way and sweep my floor with a broom and dustpan. I typically do that, actually. But I have a dog and three kids, and it's hard to sweep up all their messes with a broom! Some of those things (think sand and dog hair) just don't sweep up well! And so, I continue to buy those annoying Swiffer cloths, or use strips of flannel as makeshift cloths. Neither option makes me happy.
Karen from
Beautiful ThrowAways
agreed to send me one of her crocheted Swiffer cloths, though, and I haven't looked back! The one she sent me is white. I wasn't sure about the white at first, but for review purposes, it's perfect! Here, let me show you.
The front (floor side) of the cloth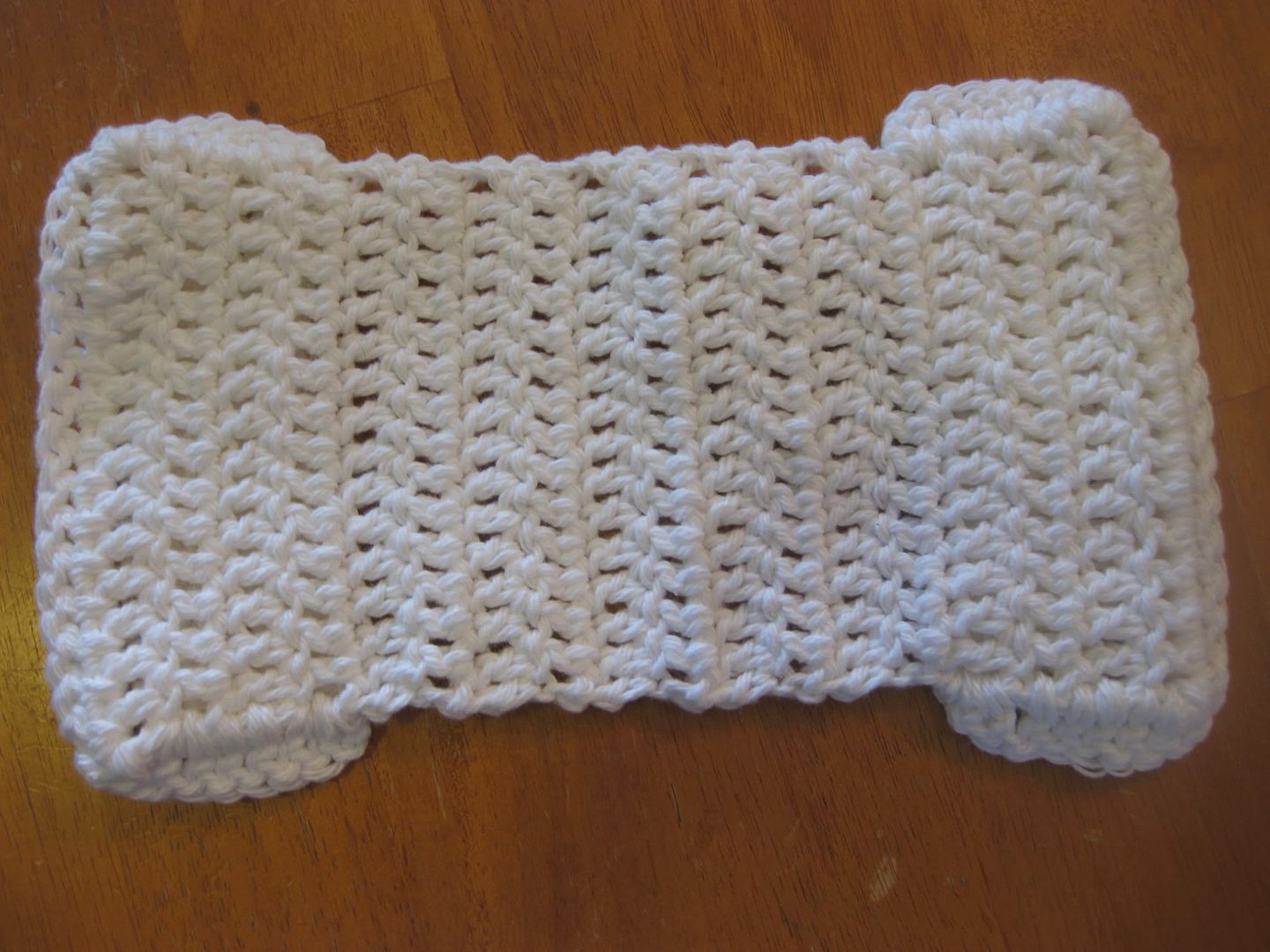 The back (tab side?) of the cloth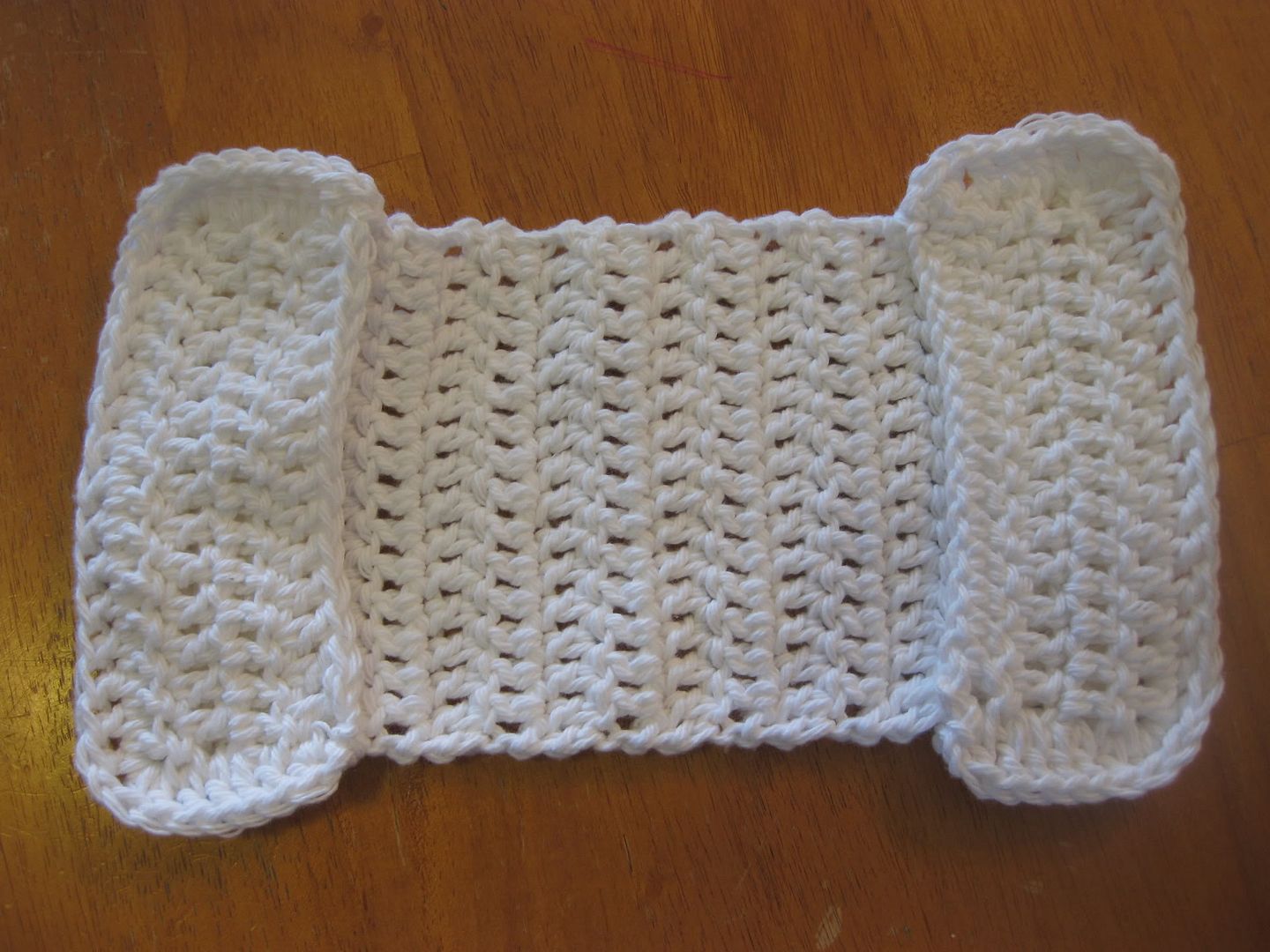 And then I used it. I hadn't swept the floor yet that day. I typically sweep at
least
3-4 times a day. I can't stand the dog hair being on the floor! So, here's what it looked like when I'd finished sweeping with a broom and then swiffering:
It was GROSS! But so awesome! I couldn't believe how much more this cloth picked up than a regular cloth. (Oh...and yes, it's on the Swiffer sweeper in this pic. I just wanted to try that. It still picks up just as much nastiness as the regular Swiffer, but the sweeper doesn't work as well because it's not right down to the floor. It's not intended to use with the sweeper, so that didn't bother me a bit.)
Once used, my concern was whether it would shrink in the wash. I typically wash my towels and such on hot, and I was worried. The worry was so unnecessary, though!
This picture is after probably close to a dozen washings. It's still bright white! It still fits perfectly on the Swiffer. I still love it just as much as the first day! Since I only have one and and am using it and washing it over and over, it has some slight signs of wear, but nothing more than just being obviously used, you know? If I could, I'd buy a set of them so I could interchange them. They are definitely on my list of things to buy when I have a few extra dollars! I LOVE the
Beautiful ThrowAways
Swiffer cloth!
Check out the color selection available:
I'd love to have one (or two!) in every color! They're great! AND the prices are amazing, too. You can purchase a set of 6 reusable Swiffer cloths from
Beautiful ThrowAway
s for just $15! You can buy smaller sets as well, if you'd rather. If I were you, though, I'd spring for the set of 6!
You can also win one
Beautiful ThrowAway
s cloth right here on my blog! (Contest will end and a winner will be drawn May 31, 2011 at 11:59am EST.)
TO ENTER
*Please leave a separate comment for each entry*
*Please leave your email address with each entry*
Follow My This N That Life with GFC
Like
Beautiful ThrowAways
on Facebook
Like
My TNT Life
on Facebook
Heart
Beautiful ThrowAway
s on Etsy
Subscribe to My TNT Life Via email
*For two extra entries: Make a purchase from Beautiful ThrowAways. Mention me when you check out, then come back here and tell me you did! (Leave 2 comments!)
I was given this product at no cost in order to facilitate a review, but was not compensated in any other way. All opinions are my own.