CLOSED
Every once in a while, a product comes in the mail and from the start I don't know what to say about it.
Isn't it adorable? I guess that's the first thing I thought. My sisters were at my house the day I got it, before I'd had a chance to wash it. We all oohed and ahhed of the adorable, soft fabric.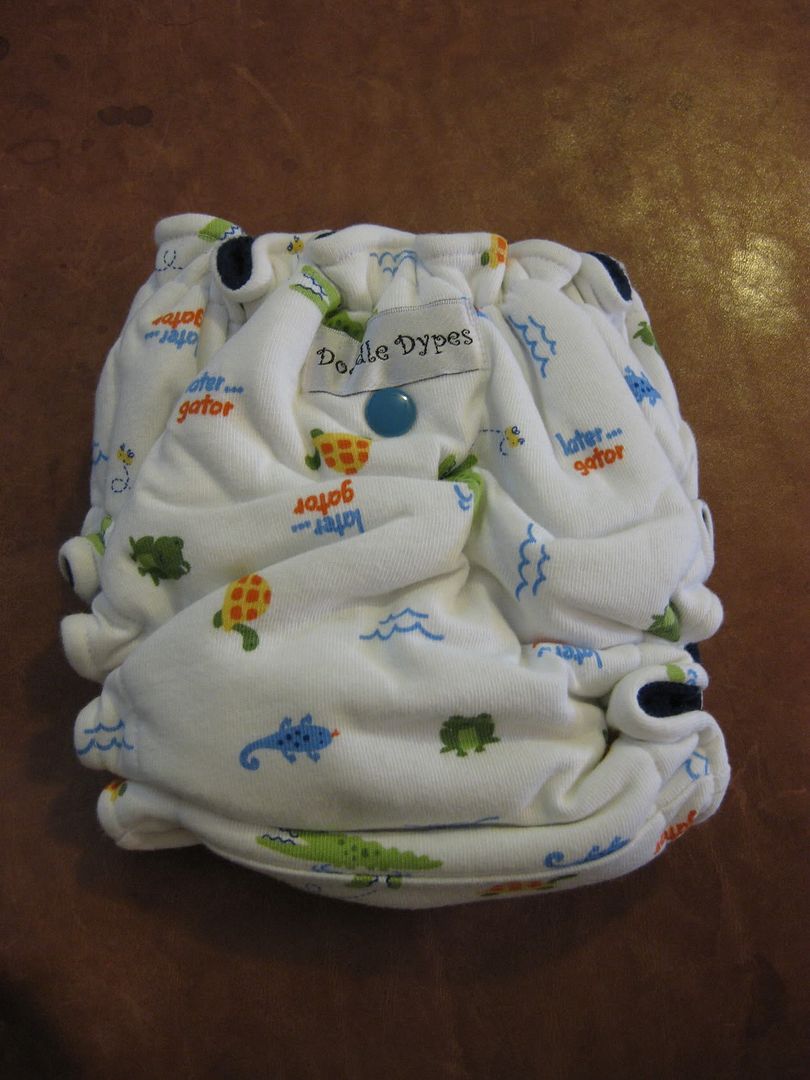 And the inside is soft, too! The soaker is different from anything I've ever seen, It's two long strips, sewn together at the top, and you fold it down to match the exact rise of your little one. I LOVE that! All too often, inserts are either too long for the diapers and are bunchy, or are too short and leave gaps where urine can easily leak. This soaker is perfectly customizable to my little one's ever-changing size!
I adore the fit of this diaper. It's a little bulkier than a lot of Stinky's other diapers, so it's harder to fit under some of his pants, but I still love it. The elastic around his little thighs is super stretchy, but he fabric in which it is encased protects his thighs from rubbing. The wings are a little wider than most of the diapers we have, which I think is great because it doesn't look like it's pinching like some dipes do!It's just a great overall fit. We have TONS of room to grow in this diaper, too! Stinky's crossed way over, and so we have tons of room to grow around, and he's got lots of stretch left in the rise as well.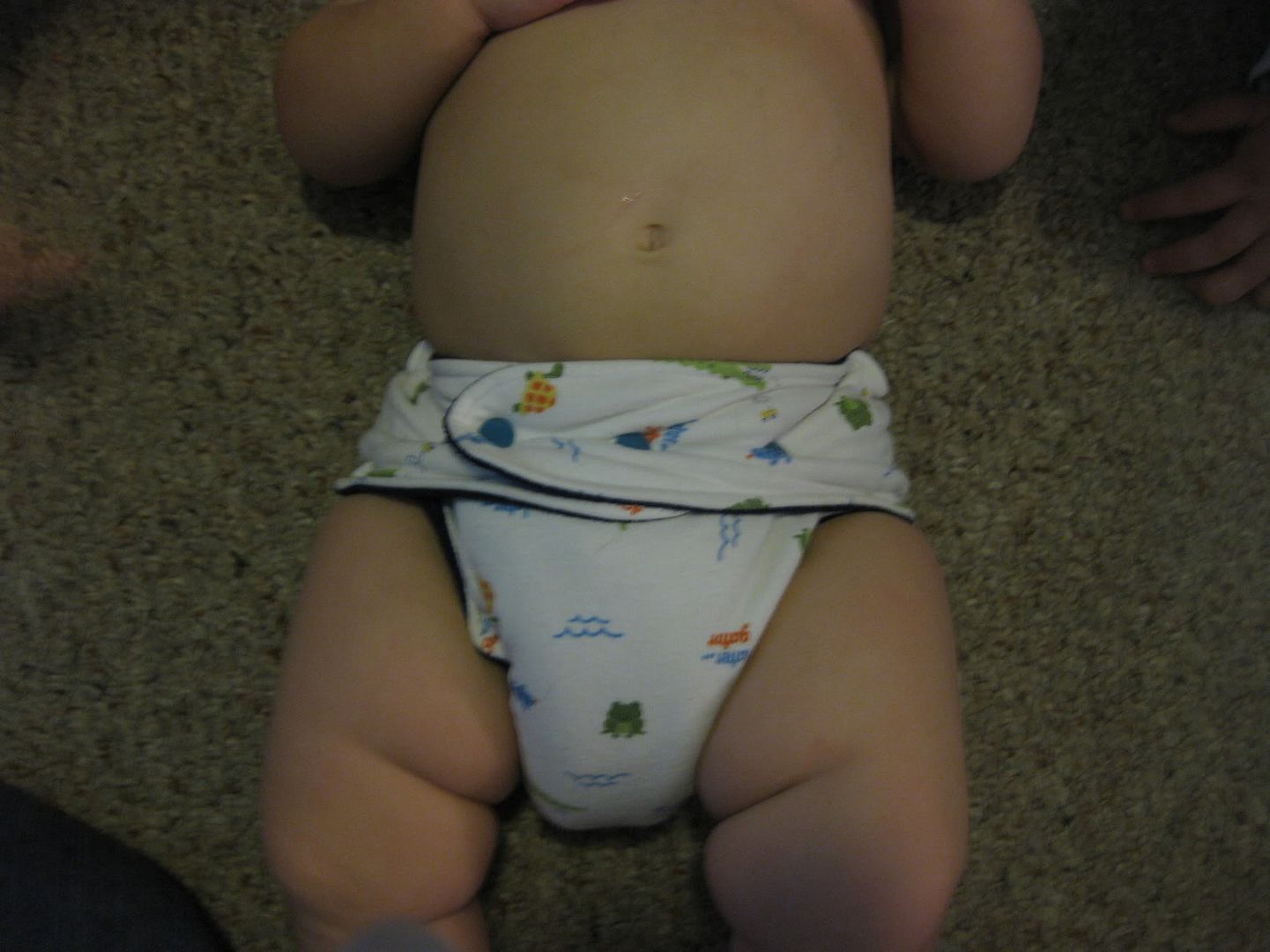 See all the stretch we have left?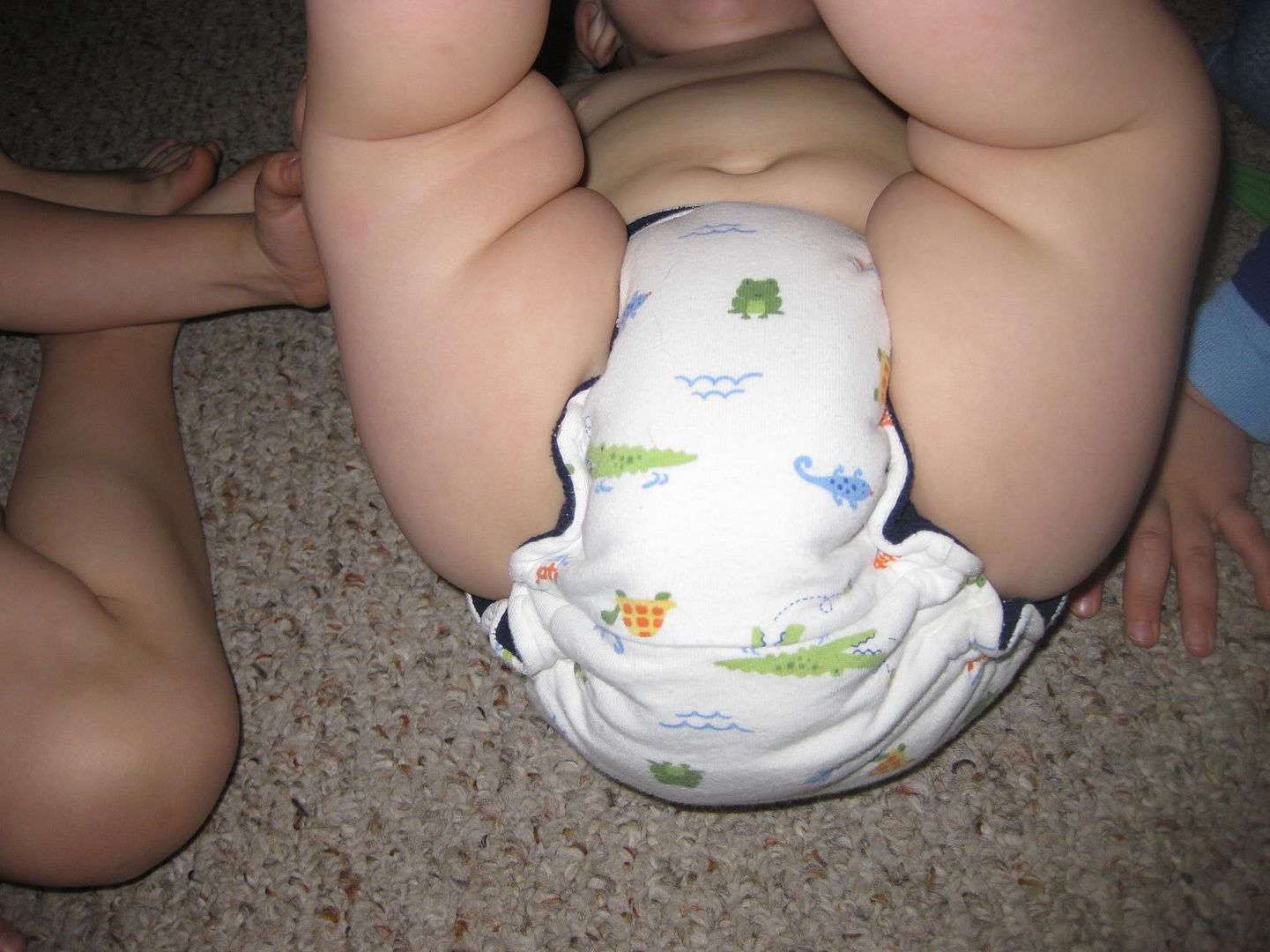 Now, let me tell you how great this diaper is. When I spoke with Sandy from
Doodle Dypes
, we discussed either a fitted or AI2 diaper. We never finalized what type of diaper I would receive. When I got the diaper in the mail and saw that amazing soaker, I assumed it was the AI2, so I used it as such. In fact, I've been using it as such for several weeks. A few times I had just a tad bit of moisture on the front after 3-4 hours of wear, and overnight the diaper was SOAKED. So, I emailed Sandy again this past week to confirm what type of diaper it is.
Folks, this is a FITTED diaper! It's supposed to have a cover! No wonder there was a slight amount of moisture! No wonder it didn't work overnight! Crazy mama! So, I can attest to this diaper's awesome absorbency. 3-4 of daytime wear later, this diaper is still usually dry to the touch, even with my super soaker! And overnight...once I figured out the need for the soaker...is no different! This diaper has an amazing amount of absorbency!
I can not think of a single bad thing to say about this diaper. I simply can't. I am in love with the
Doodle Dypes
fitted diaper! I'd love to try the AI2 as well; I've added it to my "wishlist."
You'll love the
Doodle Dypes
diapers too! I'm sure of it. What adorable, great fitting, super absorbent diapers! Try one! You won't be disappointed.
Even better...ONE of you will win a 30% off code to use on either a single custom order diaper or a diaper from the
Doodle Dypes Hyena Shop
! The next stocking at the shop is scheduled for June 1st! (Contest will end and a winner will be drawn May 31, 2011 at 11:59am EST.)
How to Enter:
*Please leave a separate comment for each entry*
*Please leave your email address with each entry*
Mandatory:
Follow My This N That Life via GFC
AND
Extra Entries
Subscribe to My TNT Life via email