CLOSED
I am a pocket diaper lover. Pockets and AIOs are my favorites. I love the ease and convenience. I love that I can "prep" them straight out of the dryer or off the line and when I am ready to use them, they're ready for me. Unlike prefolds or flats, they're just one quick step when I am ready to use them. They work like disposables! I also love one size diapers. These diapers are adjustable, typically fitting from about 8-35 pounds. I like them because they're so versatile! I only have one in diapers, so I don't have to worry about making sure it fits multiple children, but as Stinky grows, I can just adjust the dipes to fit him! I love that. (And if there are ever any more munchkins introduced into our family, they can wear the hand-me-downs this way!)
So, when Meredith from
GoGo Natural
asked me if I'd like to try a new OS diaper, I was all for it! My experience has told me that most of the OS diapers are Pockets or AIOs, so I was thrilled with the prospect! I didn't know what the diaper would be until I received it. I can't tell you how excited I was when I saw it was a
DinkleDooz
diaper! I'd been wanting to try one for a while, and when I opened it I couldn't wait to try it!
Somehow, I forgot to take pictures of the diaper before I used it. (What was I thinking?!?) And it's dirty right now, so unless you'd like me to take a picture of what a soiled diaper looks like...well, you'll just have to go with the action shots this time.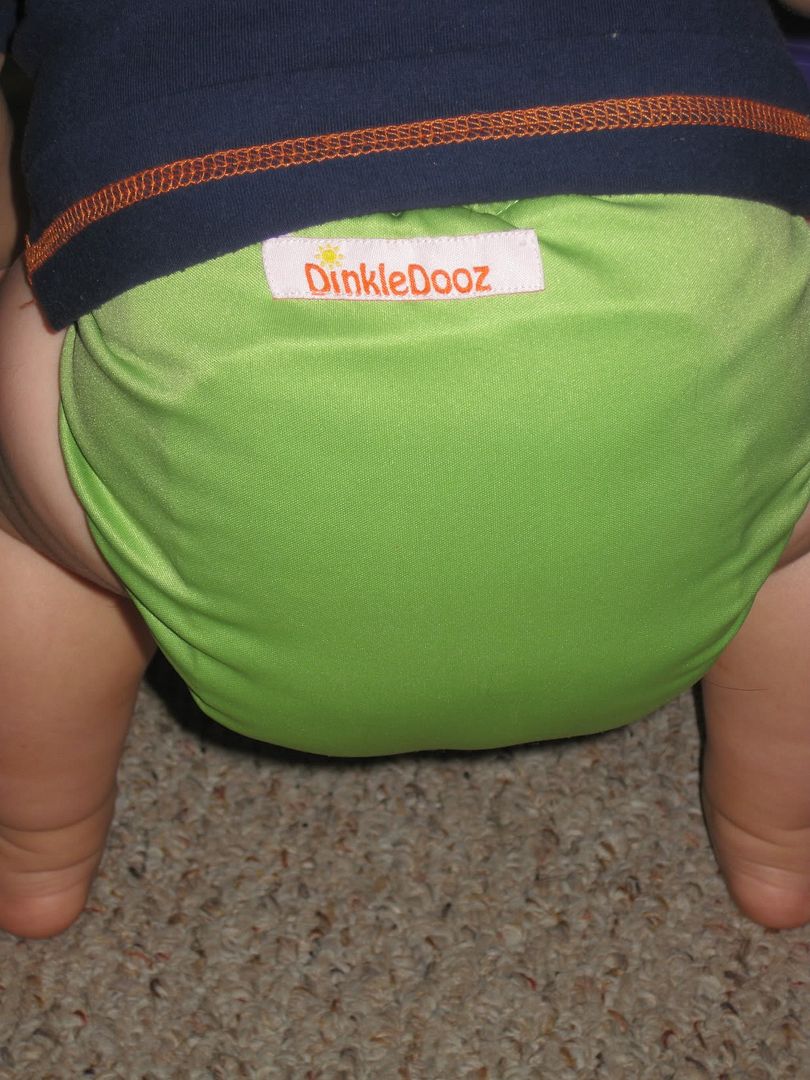 The
DinkleDooz
diaper is a one size pocket diaper with snap closure.
DinkleDooz
decided that rather than making a huge variety of diapers right now, they want to focus on one type and do it
well
. I think that's a great idea! While I like variety, I also like the idea of perfecting one thing before moving on.
DinkleDooz
is also made with super soft fabric. It's not minky soft. It's more like a silky cotton soft. I can't explain it, but it is really soft!
Not only is the
DinkleDooz
diaper a OS diaper, but it comes with two inserts, a small and a large! I think that's tremendous. If I had a baby and a toddler, it would be really easy to swap out liners depending on who was wearing the diaper! I don't, though. You'll probably remember, though, that Stinky is a super soaker. I automatically use both of the inserts every time. It keeps him totally dry during the day this way! AND
DinkleDooz
thought long and hard about the pocket. They made it extra wide and included a flap to cover the insert so it won't pop out the top!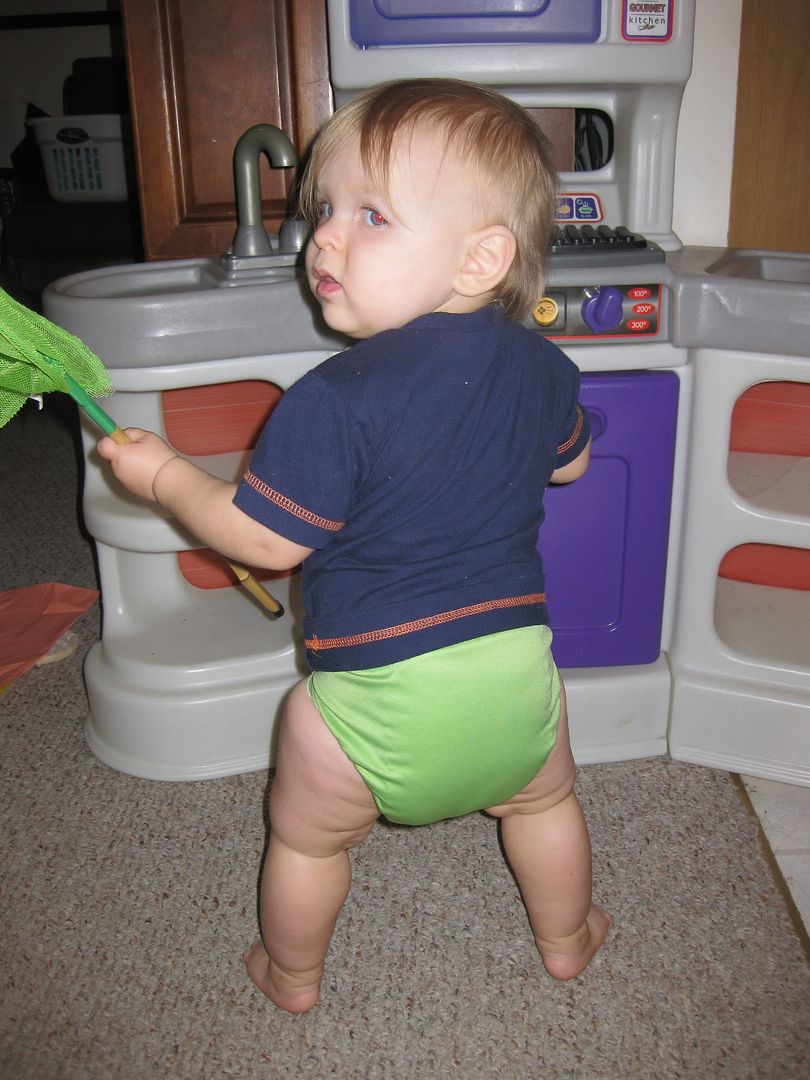 You can see that the fabric is stretched a little tight on Stinky's booty. Even though this diaper keeps Stinky dry, I can't seem to figure out a good fit for his short, stocky body. I like that the "wings" seem longer than a lot of the diapers I have, and that the back elastic holds tightly. This is part of the non-leakage, I think. What I am not sure I love is that the front panel (just at the snap area) is narrower than normal. What I mean is that there isn't as much room side to side for the snaps. So, when I snap the wings in, I have to snap them all the way to the middle to keep the top from gapping. That's no big deal...I could overlap them if he were smaller around. This would be fine, BUT his thighs are chunky. So I have to snap the thigh snaps one snap out for them to even snap, and then they're still a little snug.
As you can see, fastening the diaper this way pulls the front down a little low and tugs on the snaps a bit. (See what I mean about those thighs?! Unfortunately, he gets them from his mommy. Ugh!)
I wish the snap placement were just a little different. I'd make the front panel slightly wider at the top and place the thigh snaps out a bit further if I could. I'd guess Stinky's not the only baby with thunder thighs, and there are probably other mamas that will have to make snap adjustments on this diaper.
All in all, I really like the
DinkleDooz
diaper! I love that it comes with two inserts. It's really soft on the outside and very absorbent. I love the pocket! The overall fit, while a little difficult to adjust to Stinky's stocky body, is nice. Stinky likes it, too! (I can tell, because he "soils" it every time!)
You can buy
DinkleDooz
diapers for just $15.95 from
GoGo Natural
! That's a great price for a great pocket diaper! You'll be especially thrilled with the pocket itself! I love the way it's made.
OR
You can win a
DinkleDooz
diaper from
GoGo Natural
right here on my blog! (Contest will and a winner will be drawn May 31, 2011 at 11:59am EST.)
TO ENTER
*Please leave a separate comment for each entry.*
*Please leave your email address with each entry.*
Follow My This N That Life via GFC
Subscribe to My TNT Life via email
Visit
DinkleDooz
and tell me what color you'd pick if you won!
This product was given to me at no cost in order to facilitate a review. I was not compensated in any other way. All opinions are my own.