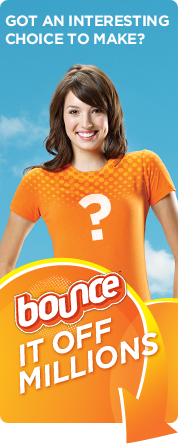 Which dress should I wear to my cousin's wedding? Should we buy the two story house or the ranch? Should I vacation in Paris or Hong Kong? Should I name my baby Ginger or Spice?
I'm sure you've got a question or two that could use some answering! We all do!
Bounce
is running a fun program right now! They've opened up a "game" of sorts on their
facebook page
. Have an important decision to make? All you have to do is visit the "
Bounce it off Millions
" tab on the Bounce facebook page. Bounce will choose 4 of the most interesting surveys and feature them on their facebook page...and allow their hundreds of thousands of fans to vote for their favorite answers!
Don't have a good question, but like
Bounce
anyway? Enter to win the
Bounce Dryer Bar sweepstakes
on the Bounce facebook page! 5000 fans will each win 2 Bounce Dryer Bars, one to keep and one to give to a friend! Enter today!
I participated in this campaign as a member of

One2One Network and am eligible for a prize drawing. All opinions stated in the post are my own.