It's August here in Indiana, and I suspect it is where you live, too. That means it's hot and humid outside, and the air conditioner is working overtime. It means school is just around the corner! Eek! Two more weeks and summer will be over!! Or will it??
At my house, at least, summer's just getting started! Sure, we have to send Little Lou to school in two weeks (1st grade! Where has time gone?), but Bugsy's been "out of commission" for most of the summer...stuck indoors because it's too hot to go out anyway, and even on the "cool" days, we can't drag out the baby pool because of his fresh incision and stitches! That's about to change, though, because we visit the surgeons on Tuesday and expect to get the "go ahead" for REAL summer fun! The boys and I are going to be hitting the sprinkler park and baby pool like it's our job! And Stinky will be rockin' the sprinkler park in style, in his
Monkey Doodlez
swim diapers!
Monkey Doodlez
was born out of necessity on a kitchen table. It was named Monkey Doodlez in honor of the little sweetie for whom it was created, who shared the name as a nickname. Monkey Doodlez is a Canadian-based company, with as many components as possible coming directly from Canada. Because of the size the company has become, they could easily move to a factory environment, where they could more quickly and easily mass produce their diapers, but they've chosen instead to employ an army of work from home moms! This is my personal favorite part of their story. And they say that their quality is better because of it, which I totally believe because moms that get to spend ample time caring for their families are bound to be happier moms!
Monkey Doodlez
offered to send one of their new Snap Swim Diapers for review!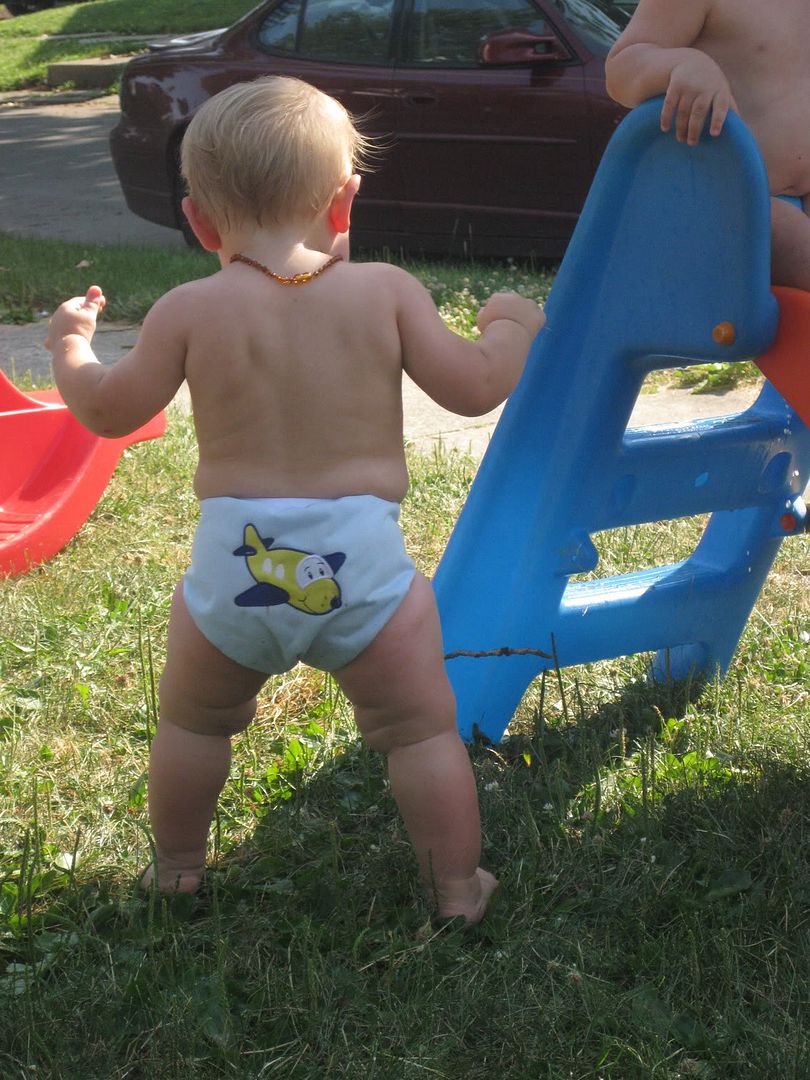 Just a couple weeks before I received the snap diaper, I purchased one of their Pull Up Swim Diapers from Bundles and Buzz, so you'll see some images and thoughts about that diaper as well.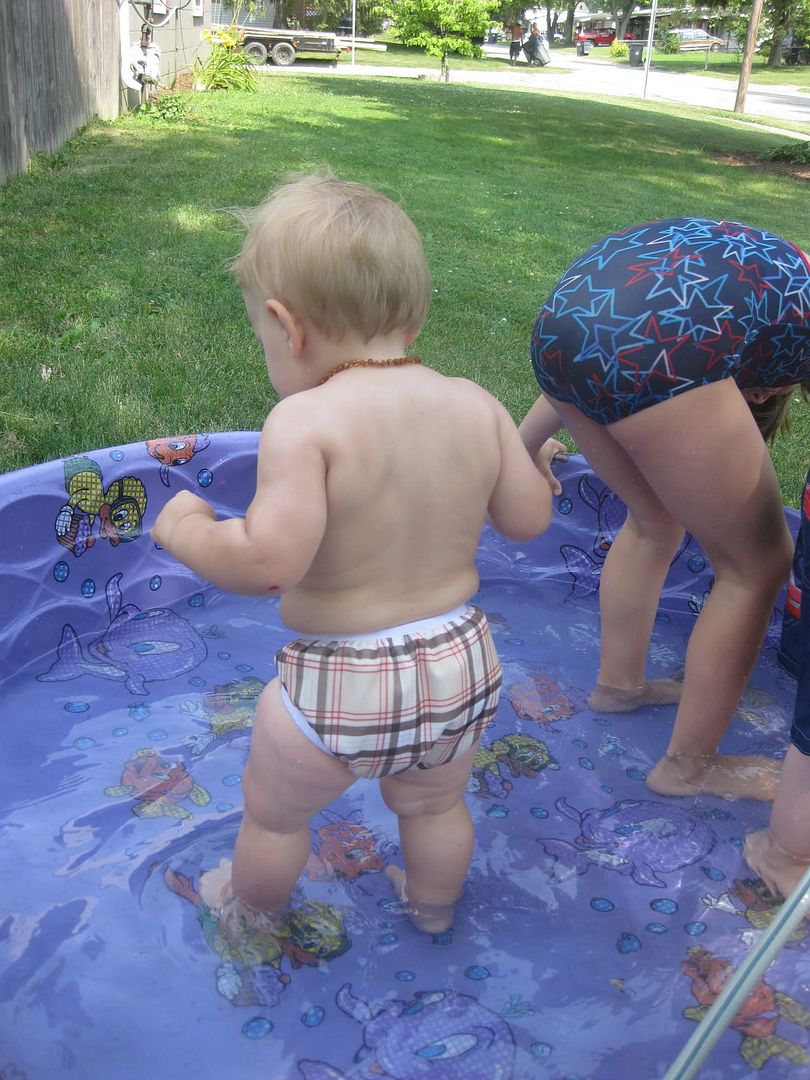 The cute factor.
The Pull Up style diapers used to come in prints, but now all the
Monkey Doodlez
swim diapers come in solid covered with adorable appliques on the backside. The colors are vivid and bright without being too bold. Even if your baby isn't a cloth diapered baby, even if you use these as a "swimsuit" over top of a disposable swim diaper, they'll be the perfect little swimmies for your little one!
The hold.
Yes, that's right, the hold. As in, the poo hold. I hadn't thought too much about swim diapers in the past, because honestly this is our first summer ever using cloth. I always assumed that swim diapers held just like regular diapers, just more trimly. Did you know that swim diapers really aren't made to hold pee, they just contain the poop? It makes sense now that I know it! And the Monkey Doodlez swim diaper does an excellent job of holding in even Stinky's most...volatile...poos! Two thumbs WAY up there, MD!!
The fit.
The first time I put the Pull Up style
Monkey Doodlez
swim diaper on Stinky, I was a little concerned about the fit around his thighs, It looked a little snug to me, but never caused a red mark. Then I received the Snap Swim Diaper. I LOVE the fit of the large Snap Swim diaper, even on Stinky's thunder thighs! He's a 27 pounder (almost), so right in the middle of the weight range for a large. He's short and stocky, though, so he wears the Snap Swim Diaper on the biggest setting. It really fits perfectly! (If he doesn't get a little taller soon, though, we're going to have to size up!)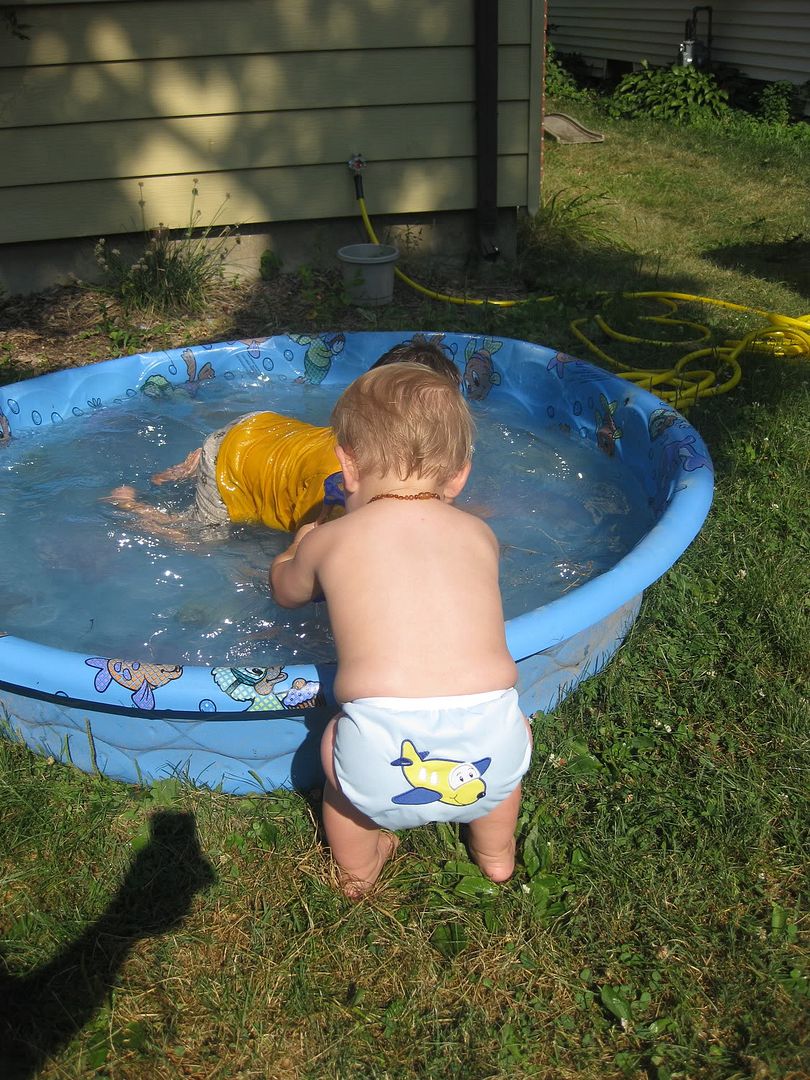 The quality.
The Monkey Doodlez swim diaper are amazingly well made! I would never have guessed that they're made by that army of moms I told you about. I honestly would have guessed they were machine mass produced. They're so professionally and well made! Great job, Monkey Doodlez moms!
Washability.
Maybe it goes without saying that a swim diaper will be washable, but the
Monkey Doodlez
swim diapers have a soft polyester lining that's almost mesh-like. It's extremely breathable for baby, and easily washes clean for mama! And they don't absorb water like a regular diaper, so they stay trim no matter how long your little water baby plays!
As you can see, washability is VERY important at my house!
The snaps.
I LOVE the snap feature of the Snap swim diaper. I think it makes the fit more perfect and personalized. What I don't love is the way the tabs bulge out when snapped. It may just be Stinky. As I said, he's short and squatty, so it may just be that the front of the diaper can't lay flat against his belly. It seems to me, though, that at least on this particular diaper, the snaps on the tabs are a little farther apart than the snaps on the front of the diaper, leaving a funny gap.
Do you see how it sort of "pinches" in at the tabs?
The size.
As I said earlier, the fit of the Snap Swim diaper is perfect, but I think the Pull Up style swim diaper is a little snug. I'd recommend considering sizing up on the Pull Up style if you have a chunky legged baby, but the Snap diaper is perfect!
Stinky is adorable in his
Monkey Doodlez
swim diapers. They're soft and comfortable. The fit is great and the poo hold is fantastic! You'll likely only need a couple swim diapers for a whole season if you use cloth swim diapers, and I truly think that the Monkey Doodlez swim diapers are well worth the few extra pennies you'll pay for their quality compared to some other brands. If you're looking for a swim diaper to finish out the summer, look no further!
Monkey Doodlez
has you "covered!"
In lieu of a traditional "giveaway,"
Monkey Doodlez
would like to offer each of you a 15% discount on both their Pull Up AND Snap swim diapers! What a fantastic deal! You'll need to
go here
and order directly through the Monkey Doodlez website, and use the code thisthat15 at checkout! The 15% off code will only be effective until August 12, so ride on over to
Monkey Doodlez
today, folks! Happy shopping and enjoy your swim diapers!
The Monkey Doodlez Snap Swim diaper was provided to me at no cost in order to facilitate a review. I was not compensated in any other way. All opinions are my own.