On June 1, 2011 I officially jumped on board a lifestyle-changing mission toward weight loss and fitness. I gathered my "gear," switched my brain over to "motivated," went to the grocery and bought all the necessary "healthy" foods, and got started! Following the LeanGreenMama bootcamp blueprint, the pounds started FLYING off. After a few weeks, though, the weight loss sort of began to taper off. It was still coming off, of course, but much more slowly than at the very beginning. Desperate to pick up the pace, I began searching for the perfect pedometer to help motivate me to take more steps each day and slowly boost the calories I was burning.
After tons of searching, online review reading, store browsing, and finally giving up, I stumbled across a review for the
Fitbit
fitness tracker!
Fitbit
is a California based company "dedicated to helping people lead healthier, more active lives." Their monitor looked amazing! They claimed to be able to track your calorie intake, your calories burned, your steps, the distance you walk...even your SLEEP patterns! Fitbit agreed that their monitor would be a great addition to my weight loss and fitness process, and they agreed to send me one of their monitors.
The size.
The
Fitbit
monitor is small. In fact, it's so small you don't even notice it when you're wearing it! The monitor itself is about 2 inches long, but only about half an inch thick. I love how small it is compared to other pedometers I've tried!
The website.
When you purchase a Fitbit monitor, you automatically receive the basic
website
membership at no additional cost. The website has tabs to log your food (so it can track your caloric intake), your activities (so it can accurately track your calories burned) and a weight tracker! There's also a Fitbit community where you can log in and talk to a mentor or just generally chit-chat. You can view today's progress or go into "historical" mode and see results from any date you choose. There are charts and graphs of all the activities you've done today! The whole website is really amazing and has so much to offer.
The durability.
Granted I've only had the
Fitbit
for a couple weeks, but so far it's holding up really well! I was a little concerned that it would snap in half, but so far it's held up and still looks brand new. I'm pretty careful with it, though.
The versatility.
Mostly, here, I'm talking about the ways you can clip it on. The Fitbit comes with a holster that you can slide it into to hook it onto thicker clothes. You can slip the monitor itself directly to thinner clothes. Fitbit says many women will clip it directly to their bra. I personally clip it to the waistband of my underwear. No matter where on your torso you decide to clip your Fitbit tracker, it will work just as well!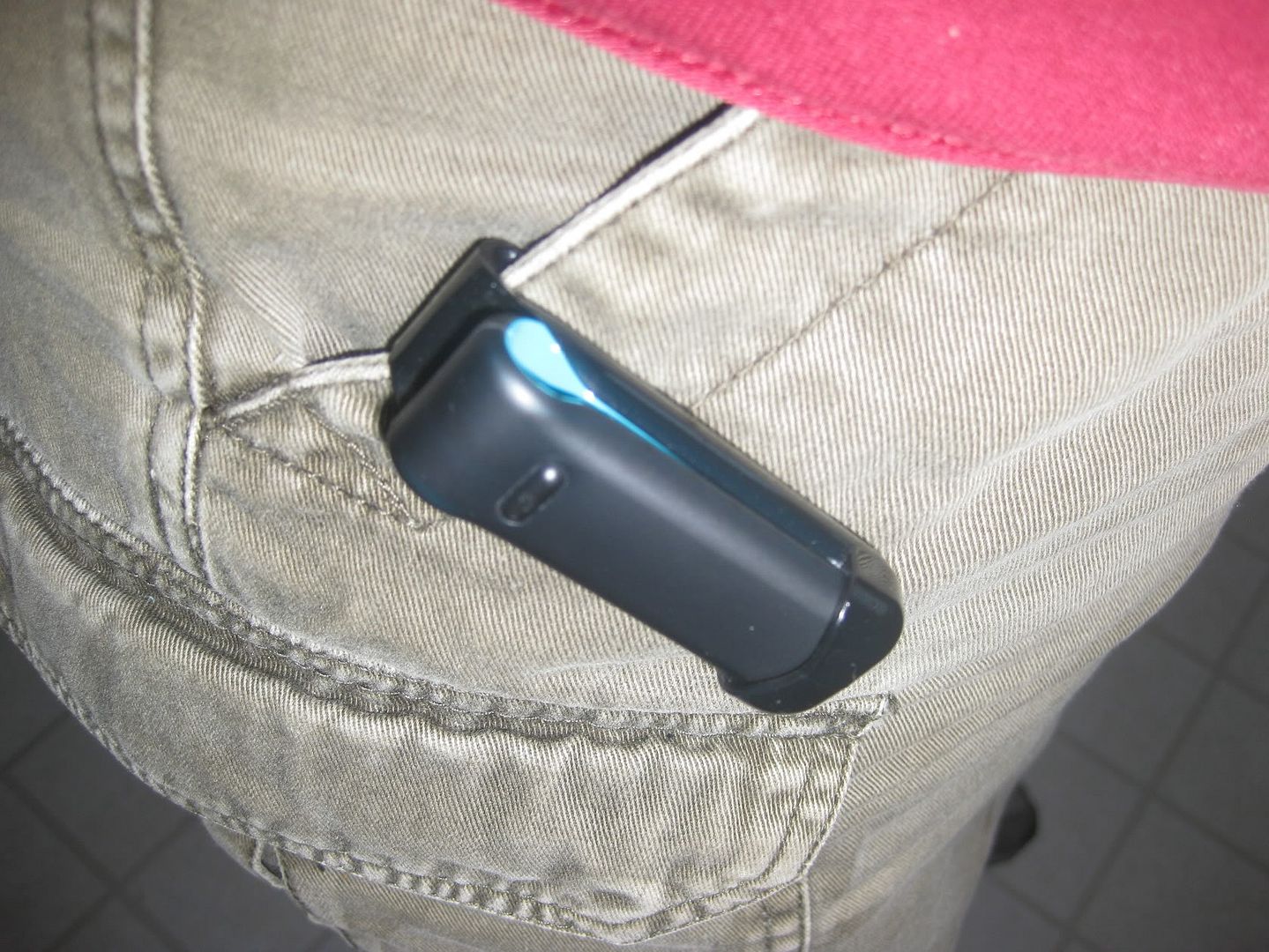 The motivation.
The Fitbit monitor does a great job of tracking my steps each day, and I try to increase my steps. It tells me how many calories I should burn each day (2394) and how many I have burned (so far today? 1007). It tells me how many hours I've been lightly active, fairly active, very active, or sedentary. (Today the pie graph isn't pretty.) Each day I strive to do better than the day before. On the first day I just went about my "normal" day to see how many steps I took. The results were scary...only about 3500 steps! Eeep! Since then, I've strived to increase that number each day. I've had as many as 12,000 steps in a day, but am currently striving to hit at least 7000. I know I SHOULD be aiming for 10,000, but that's a huge leap that I'm working up to! As I said, it's helping to keep me motivated!
The sleep tracker.
This, my friends, is one of my favorite parts. I guess I can't say for sure how accurate it is, but what I can tell you is that on days when it says I didn't sleep well/much, I am tired and draggy all day. On days (like yesterday) when I have a good night's sleep and get at least several uninterrupted hours, I'm much more perky. The
Fitbit
comes with a wristband. The idea is that you will strap the band to your non-dominant wrist (I don't know why) and slide the monitor into it. I tried it for a few nights, but since have been leaving it on the waistband of my underwear and I think I'm getting a more accurate measurement (for me anyway).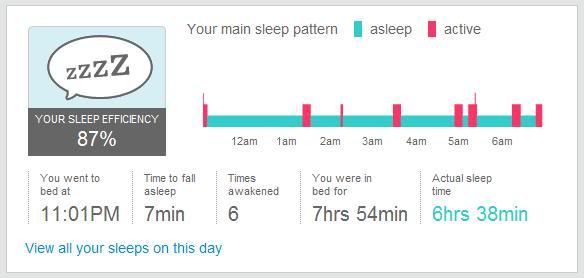 The wrist strap.
I think it's uncomfortable. It makes my wrist sweat. The velcro scratches my arm. The Fitbit tracker doesn't always stay in the wrist strap. I don't use the strap.
The holster.
I don't use it either. In fact, it sits on my bathroom counter. I don't mind it if I clip it onto my pocket, but I'm afraid the monitor will fall out, so I turn it so the monitor is into my pocket. I figure if I'm going to have it in my pocket anyway, there isn't a lot of point to even using the clip! I tried hooking the holster to my waistband but the edges are "sharp" and it's not comfortable.
The sync.
The Fitbit is supposed to wirelessly sync automatically to its base every 15 minutes, as long as you're within 15 feet of the base. I think 15 minutes is a long time, especially if you are near it right at the beginning of that 15 minutes but miss the time. In that case, you either have to
wait or you have to put the Fitbit onto the base and force it to sync. It's not a huge deal, but it IS annoying, especially first thing in the morning, to have to wait.
The customer service.
Every question I've asked has been answered. The trouble is, ever question's taken about 48 hours to answer. When I have a question, I expect it to be answered quickly, particularly if I ask during business hours. The answers I've received have been VERY helpful. The just haven't been quick.
I love the
Fitbit
fitness tracker! There are some things that I don't love, but they're not really monitor issues, they're more peripheral issues. The tracker itself and the website that accompanies the tracker are great! I think the monitor would be a fantastic asset to anyone who is trying to lose weight or become more physically fit. If you purchase a Fitbit monitor, you won't regret it!
Are you trying to lose weight, get fit, or know someone who is? Do you love having the newest cool gadgets? Are you curious to see how well you're sleeping? You'll want to jump on this giveaway! ONE of my US readers a
Fitbit
monitor of your very own! (Retail value $99.95)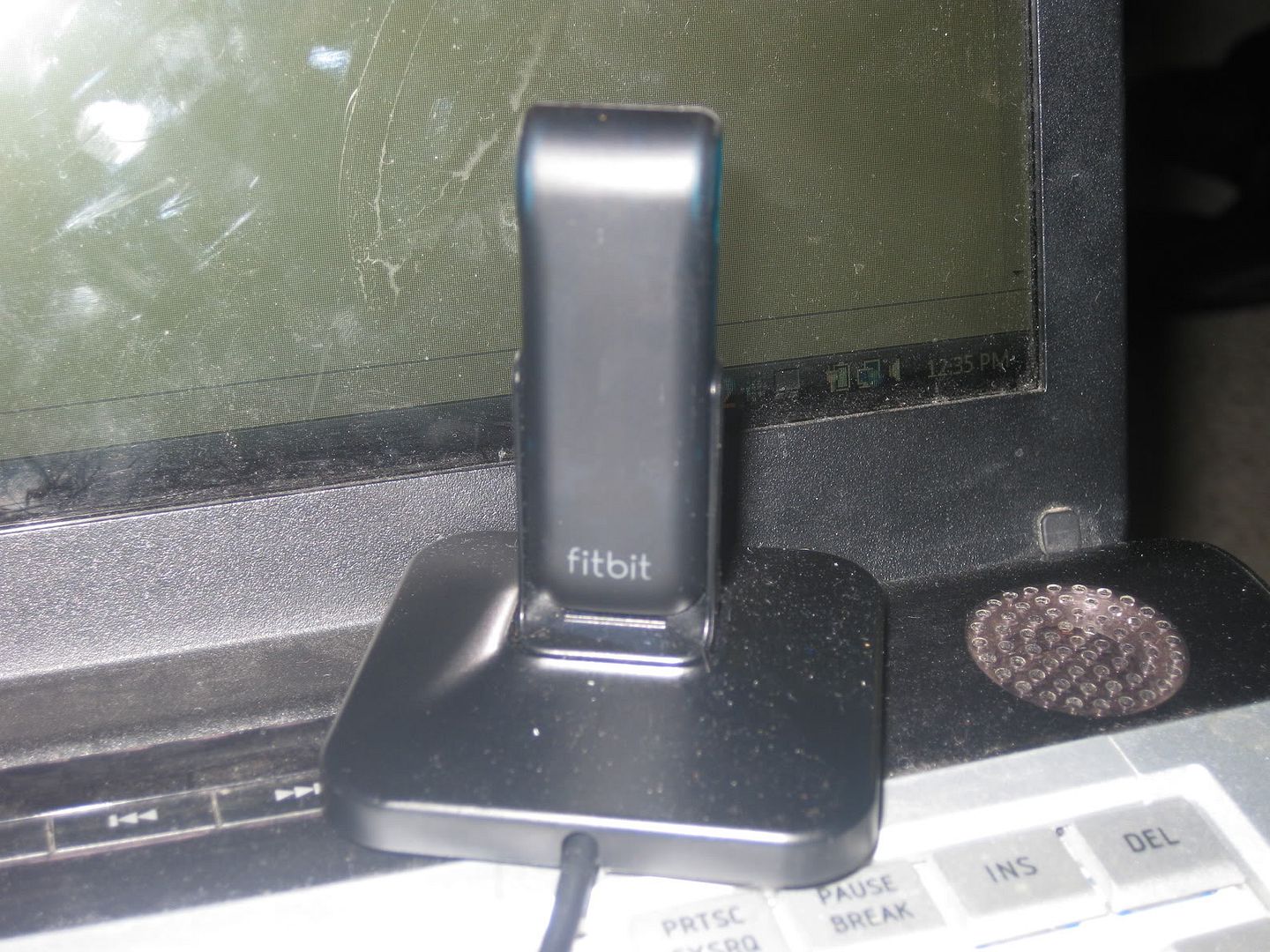 US only. Contest will end and a winner will be drawn Monday, August 15, 2001 at 11:59am EST.
How to Enter:
*Leave a separate comment for each entry*
*Leave your email address with each entry*
(Mandatory) Follow My This N That Life with Google Friend Connect.
Visit the
Fitbit
website and tell me something you've learned.
Tell me why you deserve to win a Fitbit tracker.
Comment on any ONE non-giveaway post and tell me where you commented! (Must be a new comment.)
I received this products at no cost to me in order to facilitate a review. I was not compensated in any other way. All opinions are my own.