In January of this year, I told my hubby that he needed to start taking lunch to work each day, rather than continuing to eat out. I figured it'd save us a ton of money, and likely save him even more calories! I started packing up some "leftovers" before we eat dinner each night, and sending them along with him in the mornings. I can't really attest to the calorie savings (although I'm sure it's there), but I keep track of the bank account and I KNOW there's a difference there!!
When we first started the lunch-taking endeavor, we were using a lot of plastic baggies and the like. There was a ton of disposable trashiness going on, and frankly I got tired of it! I began a quest for GOOD reusable containers. I found a few I liked and a lot I didn't really care for.
Then spring came. We picnic a lot in the spring. We're used to taking our sandwiches in, you guessed it, plastic baggies! We take our baby carrots in...plastic baggies. Our grapes? Uh huh. You get the picture.
Ugh.
So, the search began again! I found myself on the hunt for something reusable, sustainable, responsible. Something that would pack easily and stack nicely in a picnic tote. Something that would be great for the hubby's every day lunch use, but adaptable for family use come picnic time.
What I found was
ECOlunchbox
! ECOlunchboxes are great little bentos made of non-toxic stainless steal! They're oval or rectangular or round or square. ECOlunchboxes are washable fabric wraps, sacks, pouches, and napkins. They're bamboo or stainless steal "sporks." They're exactly what I was looking for!
You all might think I'm crazy, but I LOVE the
ECOlunchwrap
! What a neat idea! It's a 24"x24" square of
fair-trade, hand-printed, BPA-free fabric
. It's machine washable. It's convenient. It's easy to use. Not to mention you just look cute carrying your little wrap full of yummy stuff! This might sound a little crazy, but I love that I can actually use the lunchwrap as a napkin! I don't have to carry a napkin along, because it's washable fabric and I can just use it, wrap it back with the mess on the inside, and take it home to wash it! It's not super practical for a family picnic unless each family member carries one, but for lunch at work (or a kids' lunchbox!) it's perfect.
I have a thing about food storage containers. I sort of "collect" them. Ask my hubby. We have two cabinets overflowing with them. I actually asked my mother-in-law for storage containers for Christmas one year! I have one VERY strict rule about my containers: they have to be dishwasher-safe! (I know, I know, there are many
many
more important things, but we all have our priorities, right?) My
ECOlunchbox Oval
is absolutely dishwasher safe, as is the small round cup that comes inside and its lid! Score one for ECOlunchbox!
The containers are lead-free stainless steel, and the plastic lid for the small cup is BPA-free! Score two for ECOlunchbox!
I have to be honest, I was a little concerned about putting food in the containers and then putting them in hubby's lunch cooler. They said the cup won't leak, but would it really? I put some water in it, turned it upside-down, shook it, rolled it across the kitchen floor (no kidding) and it didn't leak a bit! So, I figured we'd be safe. We have been totally safe!
My hubby doesn't seem to mind at all unsnapping the sides of the oval...or at least if it bugs him he's never said anything about it. I actually think the metal clasps are easier to open than a plastic container's lid can sometimes be! The lid of the small cup seals really tightly, but there haven't been any complaints about that, either. (That's what keeps all that moisture inside!) What hubby has complained about is that I like to put a sandwich in the oval, and it's a pretty tight fit.
(I promise you, the bread was already squished, thanks to Stinky who squishes my bread at the grocery EVERY week!)
I understand that if you cut a sandwich in half it'll fit stacked with room for other yummy goodness, but hubby doesn't want his sandwiches cut. He just has to wiggle the sandwich out. No biggie!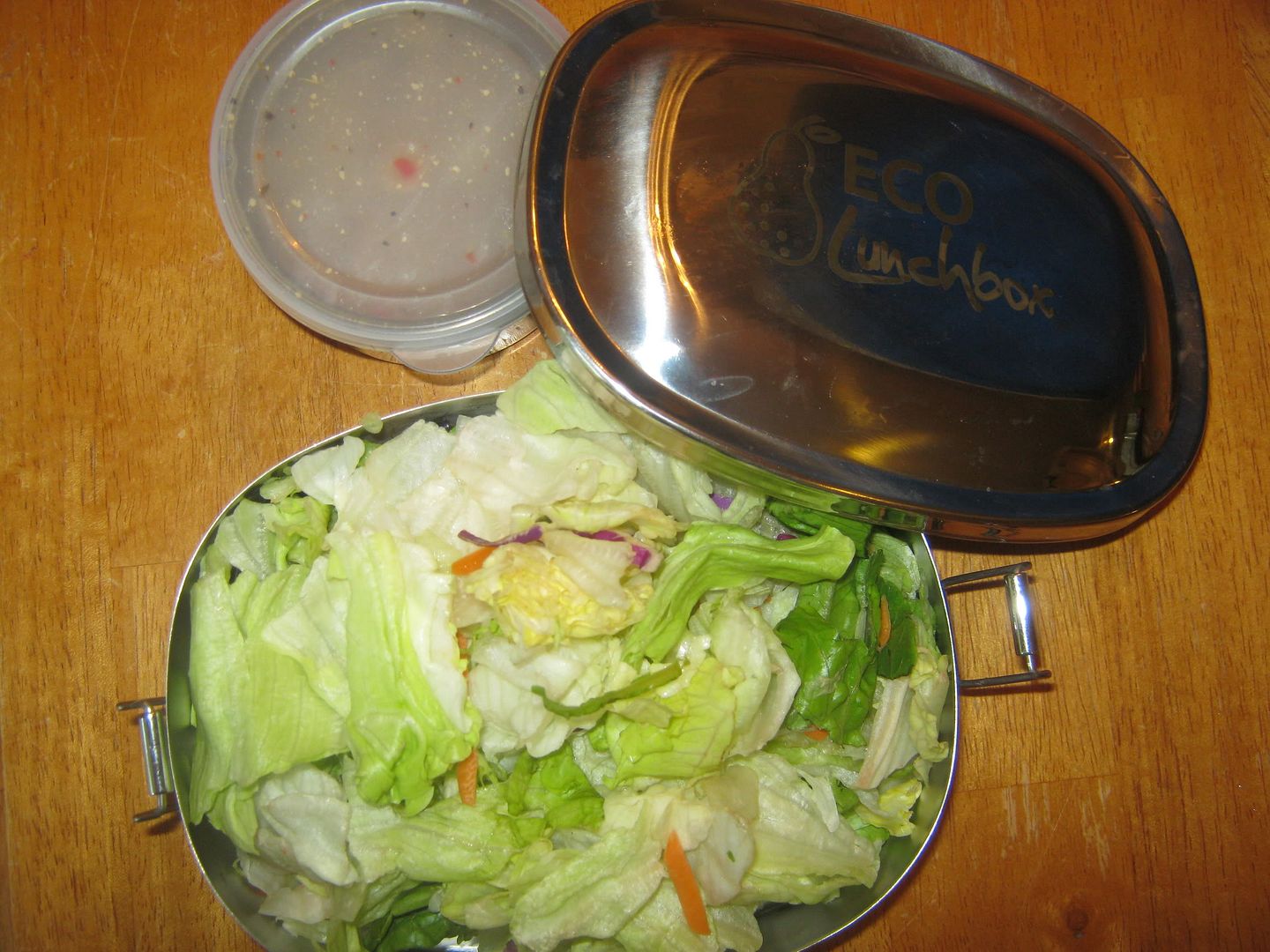 I love that I can secure a good amount of salad in the oval, and then put exactly as much dressing as I need in the cup! I'm not worried the lettuce will get soggy from dressing, and I'm not worried the dressing will leak! In fact, hubby's cooler isn't exactly the right shape to hold the oval laying down, so I stand it on end. The cup typically has to go on its side next to the oval. Still, no leaks...ever!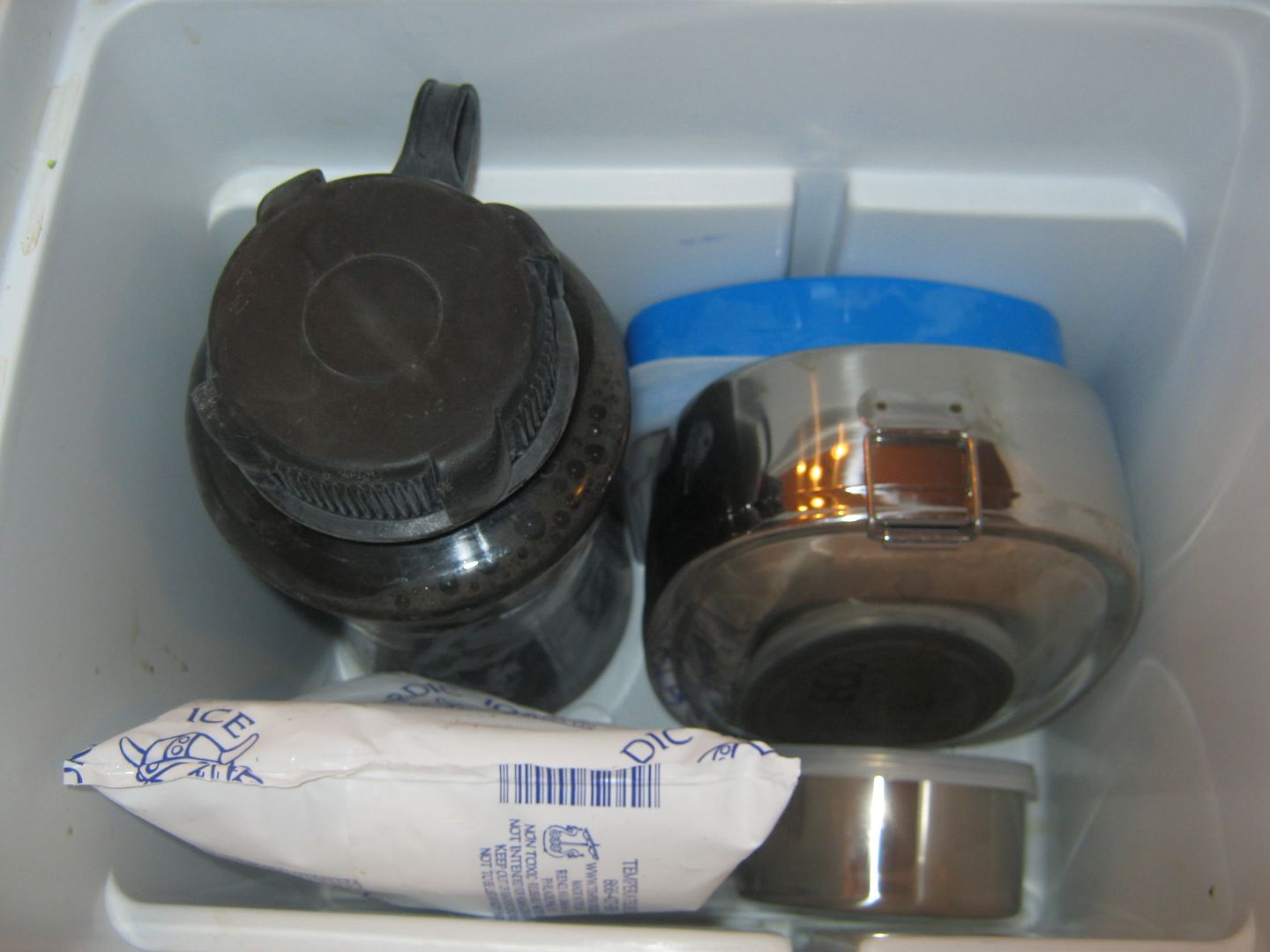 (Yes, there is a plastic sandwich container in there as well. I haven't been able to completely change over my stock...yet!)
Isn't that a nicely organized cooler? If you know me, you know I love organization!
ECOlunchboxes
have changed the way I am thinking about food storage and transport. I really love them! I'd love a cabinet full! (Or two...who's counting?)
Do you want some of your own? You can purchase the
ECOlunchbox oval
from ECOluncbox for $22, and for another $15, throw in a reusable
ECOlunchwrap
! You won't need to buy plastic baggies anymore, and you won't have to carry your lunch in an old grocery sack!
One of you is going to be super lucky next week and win your very own set! You'll get to carry your own ECOlunchbox oval to work in your very own ECOlunchwrap! Will it be you? You can't enter if you don't win! Be watching on Sunday!
I was given this item at no cost to me in order to facilitate a review. I was not compensated in any other way. All opinions are my own.