Have I ever told you I have kids? I do! Three of 'em! Two boys and a girl. Three boys and a girl, if you count the 4-legged boy!
We've already established, of course, that my house is completely spotless nearly 100% of the time. Or not. I'll let you believe whichever. Just promise to give me at least a 30 minute notice before you show up on my doorstep, okay? Not that I need it, of course. You know, it's just common courtesy. And for real, if I'm going to whip up a fresh batch of cookies for you, I'd like to be able to use that 30 minutes to at least sweep up the flour dust...
What? You don't believe me? I thought I was pretty convincing!
In real life, though, I live in a small house in a small town in Indiana. We don't have room for such luxuries as a mud room...except for in months like April when our whole house is pretty much a mud room! If you've ever lived in this area, you understand. April showers really DO bring May flowers! (Except, of course, for this year, when March showers brought April flowers. But whatever.) So, I'm left mopping my kitchen floor EVERY day, vacuuming the floor more than once most days, and feeling like this: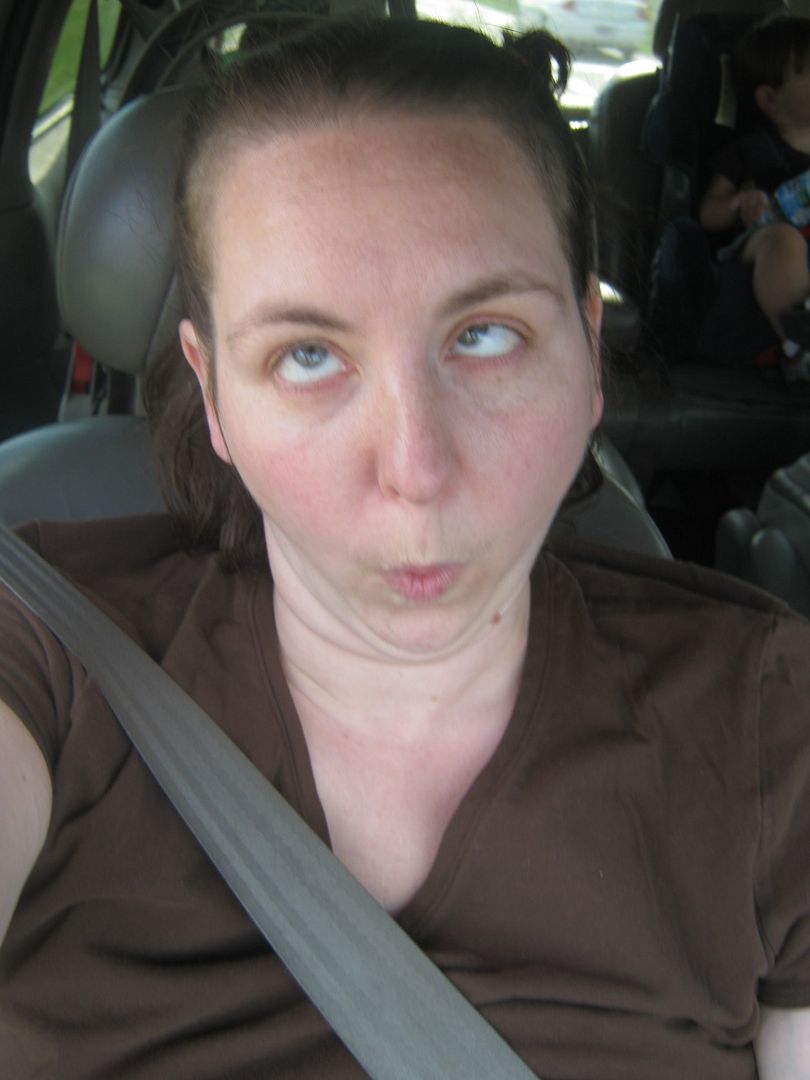 (Hehe...
my sister
left this gem on my camera!)
Do you know how frustrating it is when the minute you finish mopping, which even in my small kitchen takes a good 45 minutes or so, someone (2 legs or 4, it makes no difference) goes stomping across the sparkling wet floor and leaves a mess of muddy paw prints? If you don't know that feeling, you're probably not the one that mops at your house. Go get that person and bring them back here to read this. Go ahead, I'll wait...
Hi there! I hear you're the one that mops the floor at your house! That's fantastic. Let me tell you something that happens on occasion at my house. I mop my kitchen floor. I do. At least once a week, usually more...and right now, as I've already mentioned, almost daily. The floors as clean as I can get it with a mop and bucket and a bit of Lysol. Every once in a while, my toddler drops a bit of food on the floor. Believe it or not, sometimes that little guy picks up the crumbs sooner than I can get to him to stop him!
Imagine, for a minute, a sweet blond 2-year-old eating crackers at the table while his mommy mops. With Lysol. Imagine that sweet little boy drops a cracker onto the wet floor, and before mommy can get to the cracker, that little sweetie has picked up and eaten the Lysol-ed cracker! I don't think that tiny amount of chemical nastiness is probably going to hurt him, but still it bothers me to think about him eating cleaning products!
This is one of the main reasons I am SO thankful for
Haan
! Haan has a line of residential steamers to fit a wide range of needs, including the needs of my crumb cruising toddler!
If ever there was a time of year that floors could get messy, I'd say it would be springtime. Spring is messy. Let's face it. We've been cooped up inside all winter. It's warming up and we are desperate to get outside and enjoy the change of pace! Spring is wet, though, and the grass hasn't grown to cover all of the winter's muddiness just yet. If you love the messiness of spring outside, but are disgusted by it inside, look no further than Haan!
They have a variety of products, as I mentioned, from hand steamers to garment steamers to floor steamers! Brand new this season is the
Haan Total
, a great multi-purpose floor sweeper!
The
Haan Total
isn't a steamer. It isn't a vacuum. It's amazing!
This sweeper/steamer can be used on tile floors and carpeted floors. It can be used to sweep up a cheerio mess or mop the spill of a cup-training toddler. It'll steam urine out of your carpet! (Uh...not that I know from experience...okay, okay, I do. Stinky's potty training and the Total has been a life saver!)
I love that the sweeper and steamer can be turned on to run simultaneously! It's never been easier to clean my kitchen floor. I can just kick the kids outside, heat up the Haan Total (it only takes 20 seconds for the steamer to be ready!) and sweep, mop, AND sanitize the kitchen floor in about 10 minutes! The best thing about sanitizing the kitchen floor with the Haan Total is that when Stinky drops his crackers onto the freshly cleaned floors and then eats them, he's eating--get this--WATER! That's right! The Haan Total cleans with hot water! And it does it well!
The
Haan Total
is super easy to put together, too. It comes looking like this:
But no kidding, the whole thing just snaps together, in about a minute, and you have this: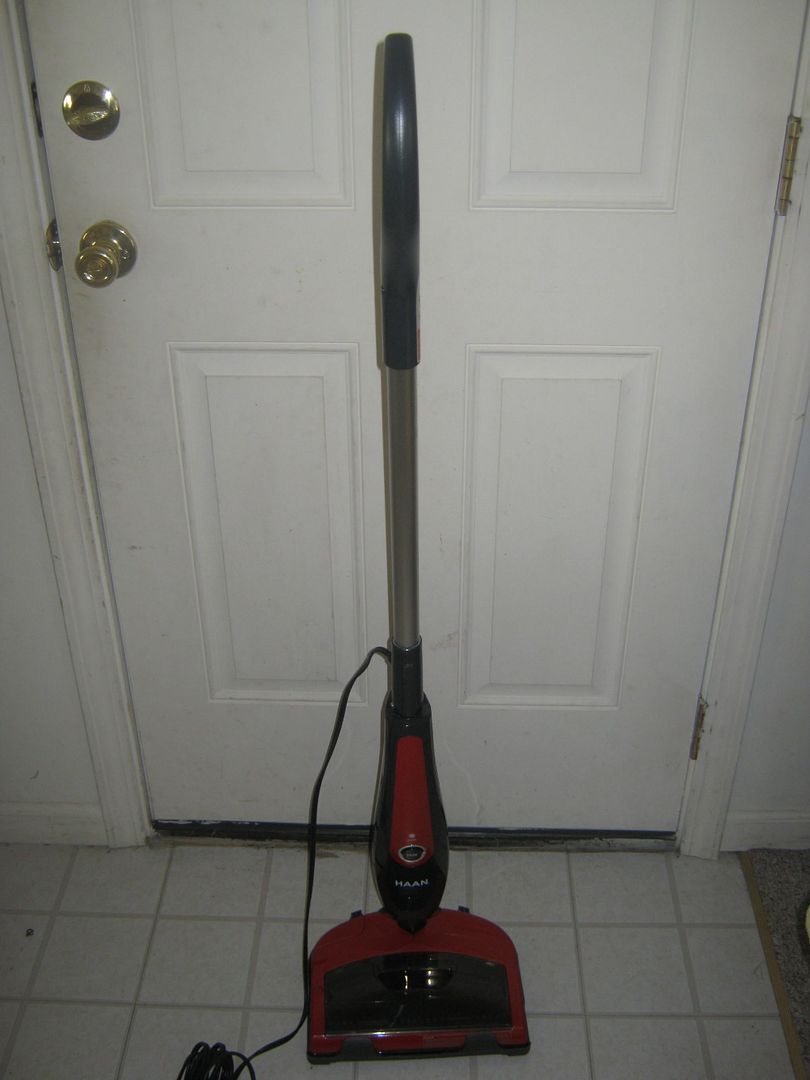 It's easy to put together, sweeps and mops well, and is very intuitive (if you know how to use a vacuum cleaner, at least).
The only problem I've had with the Haan Total is that if the floor is really "hairy," like when you've been too busy to clean the bathroom floor for a few days, you really need to run the sweeper function and then run the steamer. Otherwise dog hair will mix with the water from the steamer and collect in your corners! Remember to run the sweeper function first, though, and you don't have a bit of a problem!
Haan
has made a really great product with the Total! It does exactly what it's made to do. It's lightweight and portable, and moves easily into corners and under furniture. I'd highly recommend the Haan Total, particularly to anyone who has children or pets or who ever ventures outside in the spring and then comes back in!
Do you want to try the
Haan Total
yourself? You can order your very own from
HaanUSA
for $149.95! It's a great deal for this multi-purpose tool! Haan has also agreed to give one of my lucky readers a Haan Total of your very own in my Spring Fever giveaway, which starts on Sunday! Be watching!
I was given this product at no cost to me in order to facilitate a review. I was not compensated in any other way. All opinions are my own.