A Flea!
(A Flea!)
A Flea, a fly!
(A Flea, a fly!)
Flea, fly mosquito!
(Flea, fly, mosquito!)
Itchy, itchy, scratchy, scratchy, ooh I've got one down my backy!
(Itchy, itchy, scratchy, scratchy, ooh I've got one down my backy!)
Beat that big bad bug with the bug spray!
Shhhhhhhhhhhhhhhhhhhhh!
~~~~~~~
That's right. I was a Girl Scout (albeit briefly) and I went to day camp. We sang this little ditty as we were walking. I don't know why I remember it. I was probably 6. It's in my head, though, so you needed to hear it!
This year, spring sprung early! It did here, anyway, with temperatures in the upper 80s in March! That might now sound all that crazy to you, but our averages in March are in the 40s. It was bizarre! (Very, very welcome, but also bizarre!) The problem with warm weather, though, is that for some reason, all the bugs think it's time to come out of hiding.
I don't know how it is at your house, but at my house, we've got a bit of bug-loving going on...AND a bit of bug-phobia going on! My boys could sit and watch ants crawl all day. Bugsy loves hunting roly-polies in the back yard. (He's staked out a great spot in an old log!) He'll even pick up spiders--SPIDERS--with his bare hands and move them somewhere else! Little Lou, though, could see a bug three counties over and come running, panicked, with a desperate need to be inside. NOW.
Many of you probably remember last year at this time when
I talked about Selestial Soap
and their awesome detergent and bleach alternative. People, it's awesome, but it doesn't keep bugs away.
What DOES keep bugs away is
Selestial Sun
's newest product, I'll Fly Away!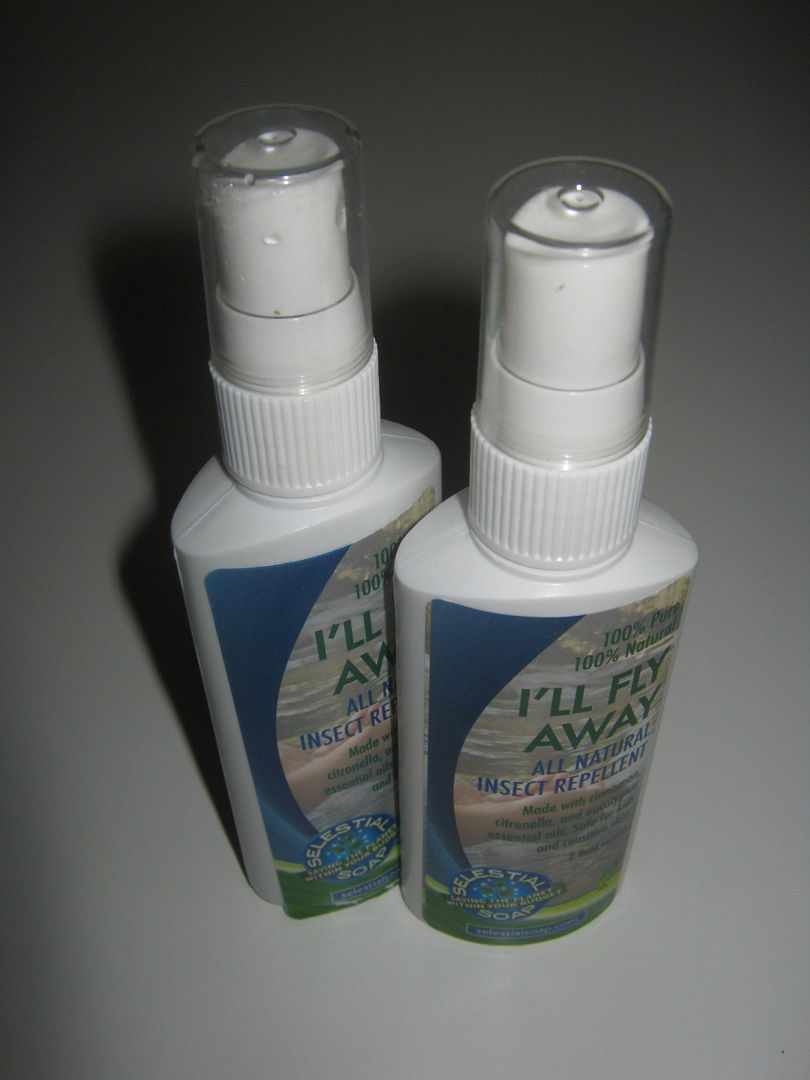 I'll Fly Away is brand new. SO new, in fact, that you can't even buy it on the
Selestial Sun website
yet! You're not going to be able to find many reviews about it, because it just hasn't started circulating yet, but you might as well just take my word for it. It works!
As I said, Little Lou has a fear of anything that buzzes. She runs, literally runs, from mosquitoes! Most years we would have a bit of time yet before we had to worry too much about the little pests, but this year, they're already out in force, especially in the evening--and especially when we're having a cookout. I'm so glad we have I'll Fly Away on hand this year!
I mentioned
yesterday
that I hate putting chemicals into my kids' bodies. I also hate putting chemicals ONto my kids' bodies, because I know that whatever is ON their skin is going to soak in! Bug sprays and sunscreens, while very helpful in the spring and summer months, are so chemical laden I'm hesitant to use them because of the chemical leeching I'm sure their little bodies are experiencing!
Selestial Soap
has solved that problem, at least on the bug spray front, with I'll Fly Away, a natural insect repellent!
When you first use I'll Fly Away, you'll likely notice a strong cinnamon smell. At first I wasn't sure I liked the smell, but it grew on me very quickly. It's that cinnamon that deters the critters! Who knew?? (Well, that and the combination of other ingredients Selestial Soap uses.)
I'll Fly Away will be available on the
Selestial Soap
website very soon, for just $11.99 for a 9 oz bottle! That's a fantastic deal for a natural, safe bug spray! Your kids are worth every penny of it!
Don't want to wait for I'll Fly Away to hit the virtual "shelves?" You don't have to! Be watching on Sunday to enter to win your very own I'll Fly Away straight from
Selestial Soap
...but not a 9 oz bottle of it! Nope...FIVE 9 oz bottles of it! You'll be set for spring!
I was given this product at no cost to me in order to facilitate a review. I was not compensated in any other way. All opinions are my own.