Every once in a while I get a wild hair and we throw out the dinner plans, slap together a few peanut butter sandwiches, and head outside to eat. I am the queen of forgetfulness, though. What typically happens is we get to our destination, only to discover that mommy forgot to pack a blanket, or sunscreen, napkins, or even plates! We're left to eat off our laps in the grass, and if we're lucky I've brought along the diaper bag and we can clean up with baby wipes. It's a little frustrating and annoying, but hey, it's life!
This year, though, when we hit the yard, or the park…campground…beach…sprinkler park…we won't have to worry as much! This year, we'll be able to sit and eat in the shade! This year, we'll be using the
LightSpeed
Quick Cabana tent!
I can hear our questions. How is that going to solve any of my problems? Isn't that just one more thing to forget remember?
Yes, yes it is. But it's really one of the most important things to remember!
The Quick Cabana tent sets up super quickly.
Less than a minute, no joke. It takes a teensy bit longer to set up if you're short, but it's still quick and easy! (I stand on my front step when I'm setting it up in my yard.) If we're picnicking at the park, I can quickly set it up before I even get the kids out of the car…OR while they're all getting unloaded! It's that quick!
I know it doesn't sound like a huge deal to some of you, but I often forget to bring a blanket. We're scouring the park for benches or a log or a smooth patch of grass. Not anymore though, because the
LightSpeed
Quick Cabana tent has a floor! Not just a small floor either! There's a floor big enough that all 5 of us can sit on the floor of the tent, and if we want we can even sit on camping chairs on the tent floor!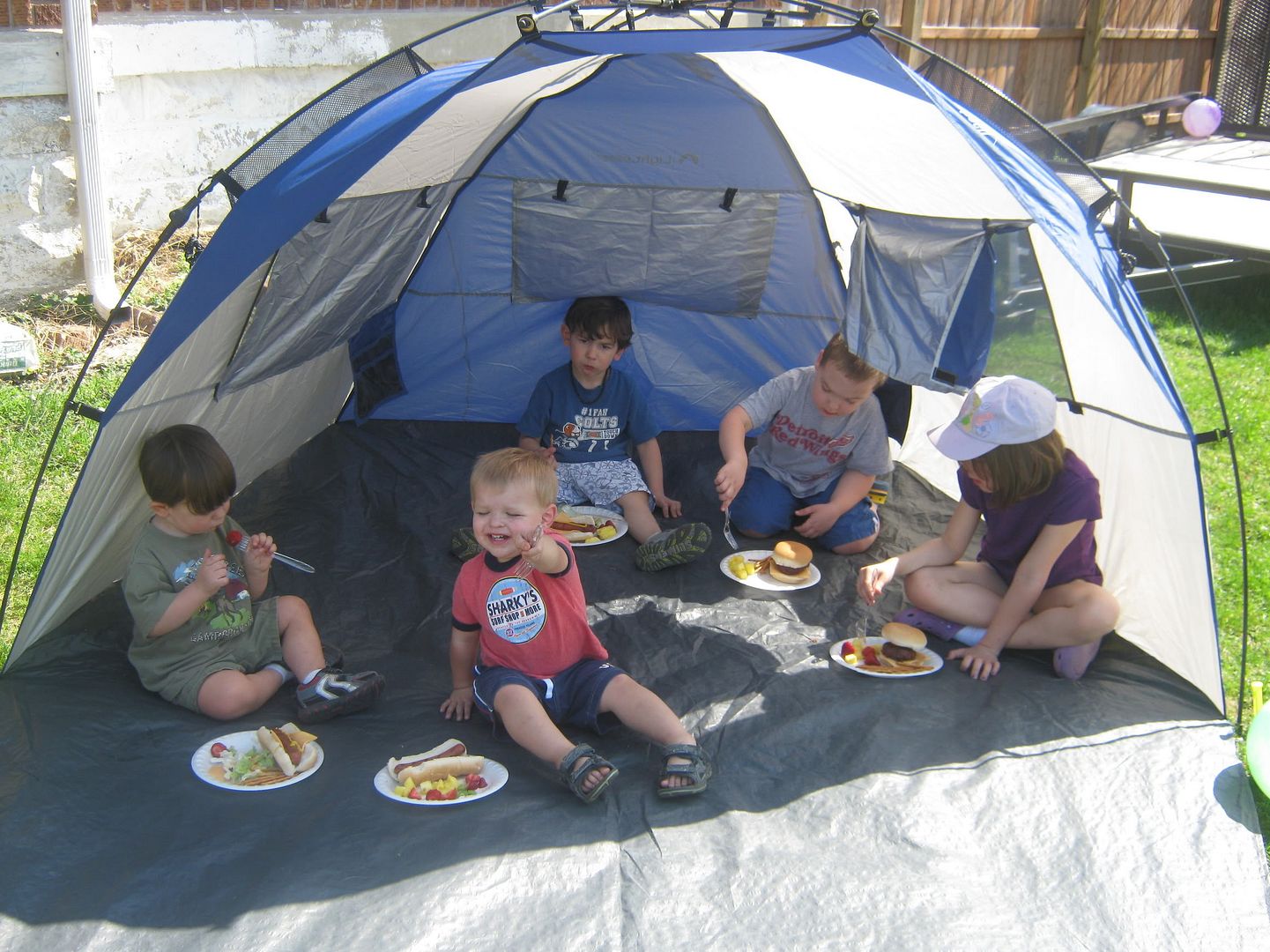 I told you I don't always remember plates. The truth is, I pretty much never remember plates. We're left eating our sandwiches and fruit slices and pretzels (or whatever) off our knees! Remember that floor I was telling you about? It's wipeable! When we finish a picnic, we can sweep it out and wipe it down and we're good to go! If (when) I forget the plates, we're fine to just eat right off the tent floor! (It's definitely not idea, but people, when you're eating in the great outdoors, nothing's inherently clean, you know?)
One of my favorite features of the
LightSpeed
Quick Cabana tent is shade! I don't know about your house, but at my house there's one tree. At the park we visit there are a couple of picnic tables, but they're kind of graffiti covered and nasty. Shade is pretty sparse. The Quick Cabana fixes that problem! We just position it so that the sun is behind the tent, and we're good to go!
The kids LOVE the windows! It's nice to have a breeze blow through the picnic anyway, but they love that they can open the windows themselves. The just roll up and hook with little hooks and buttons. They provide a nice spot for a view or a breeze, but are able to be closed when mom and dad get tired of the wind!
All in all, the LightSpeed Quick Cabana tent is a great little tent. There's not room for an adult to stand up in it (my hubby's biggest complaint) and it's like a cave, so there's no door or anything. A zippered flap would be kind of nice, but it is great and functions exactly as it's supposed to the way it is!
We really enjoy the
LightSpeed
Quick Cabana tent, which you can buy from
Sam's Club
or
Amazon
! It's currently $64.28 from either retailer, but the regular price is $74.99! Particular if you are an avid camper or regular picnicker, you'll love the easy and shelter of the LightSpeed Quick Cabana tent!
Do you LOVE the
Quick Cabana
tent? Wanna win one? Be watching next week for your chance!
I received this product at no cost to me in order to facilitate a review. I was not compensated in any other way. All opinions are my own.