If there's one things my kids love, it's getting dirty! Okay, so maybe they don't LOVE getting dirty, but they sure seem to attract the stuff like it's their job! (It is, though, isn't it?)
When I was busy planning Little Lou's birthday, I got a great email from
Melissa & Doug
, offering to send me an awesome prize package full of sand toys...the perfect dirt-friendly set! Of course, I accepted the offer.
You've probably heard of
Melissa & Doug
. It's an amazing toy company, founded over 23 years ago in a garage! Melissa & Doug toys are great for kids of all ages, durable, and FUN! We were very blessed to receive four great products for review:
Seaside Sidekicks Sand Cupcake Set
Seaside Sidekicks Sand Baking Set
Clicker Crab Pail and Shovel
Seaside Sidekicks Sand Molding Set
Now, I have to admit that these were all sent for reviewing along with Little Lou's 6th birthday. That is a LOT of sand toys for one birthday, though! It's especially a lot when you have just one small sand table. Instead of opening them all right away, the kids received two sets on Little Lou's birthday and a third set on Bugsy's birthday. The last set? Well, I've held that back for one of you!
Durability.
These toys are made of very sturdy plastic. They're not going to fall apart any time soon! There aren't tons of "pieces." In fact almost all of the
Melissa & Doug
sand toys are made of one single piece!
The colors.
These are bright. The colors are so fun and bold! I adore them.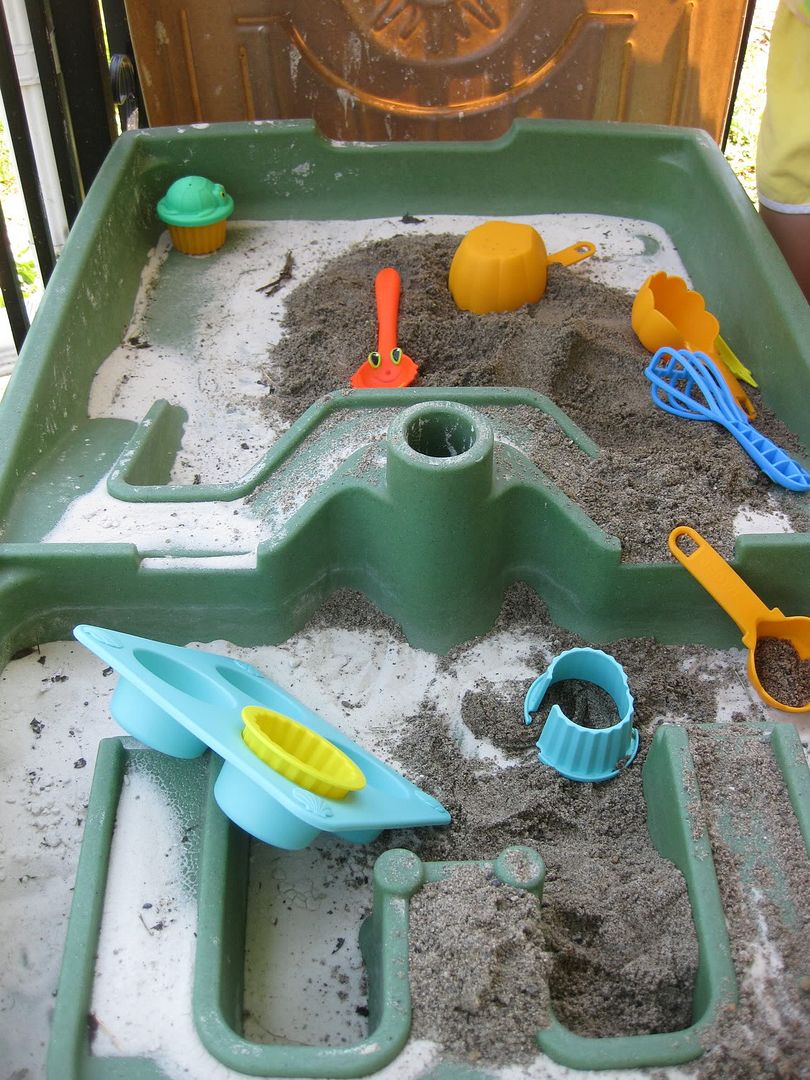 The fun.
The
Melissa & Doug
sand toys form a perfect union of two of my kids' favorite things: sand and cooking. They love "baking" cupcakes to share, "measuring" ingredients, and of course, "tasting" the sandy deliciousness!
The prices.
Melissa & Doug toys are reasonably priced, especially when you consider the quality and durability!
The fit.
My biggest complaint about the toys we reviewed is that it's difficult to fit all of the baking toys back into the bucket of the Seadside Sidekicks Sand Baking Set for storage. As I mentioned, we just have a sand table, so there's not a ton of storage space. It would be great if the bucket were just a tad bigger or the handles of the utensils were just a tad shorter so that they'd fit more easily.
Compatibility.
I wish that it were just a little easier to play with the WHOLE set of toys as a set. Each pack of Seaside Sidekicks toys is really fun, but it's a little hard to use them together. Maybe that's just because we don't have a lot of room.
Little Lou and Bugsy LOVE the
Melissa & Doug
sand toys! I asked what their favorite thing about the sand toys is, and Bugsy quickly responded, "We have them!" Little Lou's response was a little more specific: "They're awesome!"

From mom's perspective, the Melissa & Doug Seaside Sidekicks sand toys stand up to the Melissa & Doug standard. They're very durable, fun, and colorful, and I know they'll last us a long time!
Remember I said I'd saved one set back for one of you? I did! I am giving away the
Melissa & Doug
Seaside Sidekicks Sand Molding Set I received!
One of my very lucky US readers is going to have some VERY happy kids soon!
AND
Melissa & Doug
is working on building their
facebook fan
base! For every 1000 fans they gain on their journey to 100,000, they're giving away a free Trunki! All you have to do to be entered is like Melissa & Doug on facebook and enter via the sweepstakes tab on the left of their page!
(Blog contest open to US readers only. Contest will end and a winner will be drawn Aug 10, 2011 at 11:59 am EST.)
How to Enter:
*Leave a separate comment for each entry*
*Leave your email address with each entry*
(Mandatory) Follow My This N That Life with GFC.
Comment on any ONE non-giveaway post and tell me where you commented! (Must be a new comment.)
I received these products at no cost to me in order to facilitate a review. I was not compensated in any other way. All opinions are my own.