In a world overrun by greed, I am impressed and blessed when companies, especially small companies, are willing to "give back" in meaningful ways. Such is the case with a great company I recently found,
envibum
! envibum is a wonderful cloth diaper company started by a mom after years of making cloth diapers for her own babies. Here's my favorite line from the "about us" page on the
envibum website
: "
Our focus is babies health and helping families. We love the benefits of saving the Earth but feel investing in people's lives is where God's heart is.
"
How powerful! My experience already with envibum shows me that this truly is where their hearts are, and that they are committed to not only excellence in manufacturing, but excellence in customer relationships and care for people!
The Scoop
I was recently sent an envipolka diaper to review.
The envipolka is just one of the adorable, soft minky diapers from envibum. envibum makes both pocket diapers and covers. The diapers and covers are all one size, which I LOVE, and the rise adjustablitiy comes through encased leg elastic. There are also crossover tabs, which I love, and laundry tabs. For every diaper sold, envibum donates $2 to a great cause. The cause to which they donate depends on the diaper. For the envipolka, like I received, $2 goes to mom4mom ministries. For every cover sold, envibum donates a cover to mom4mom ministries!
The Good
The absorbency! I made the "mistake" of putting this diaper on Stinky for the very first time when we were starting out shopping at my aunt's annual neighborhood garage sale. It's an amazing huge event with street vendors and the like. Crazy! At any rate, I put the envipolka on Stinky (with no pants) and strapped him onto my back, where he stayed for the next three hours. It was risky business, but I did it without thinking. At the end of the 3 hour walk, I removed Stinky from his carrier and his envipolka had not leaked! I was very pleasantly surprised. (This was after just one prep wash!) In fact, after this, he played for about another hour before I changed him!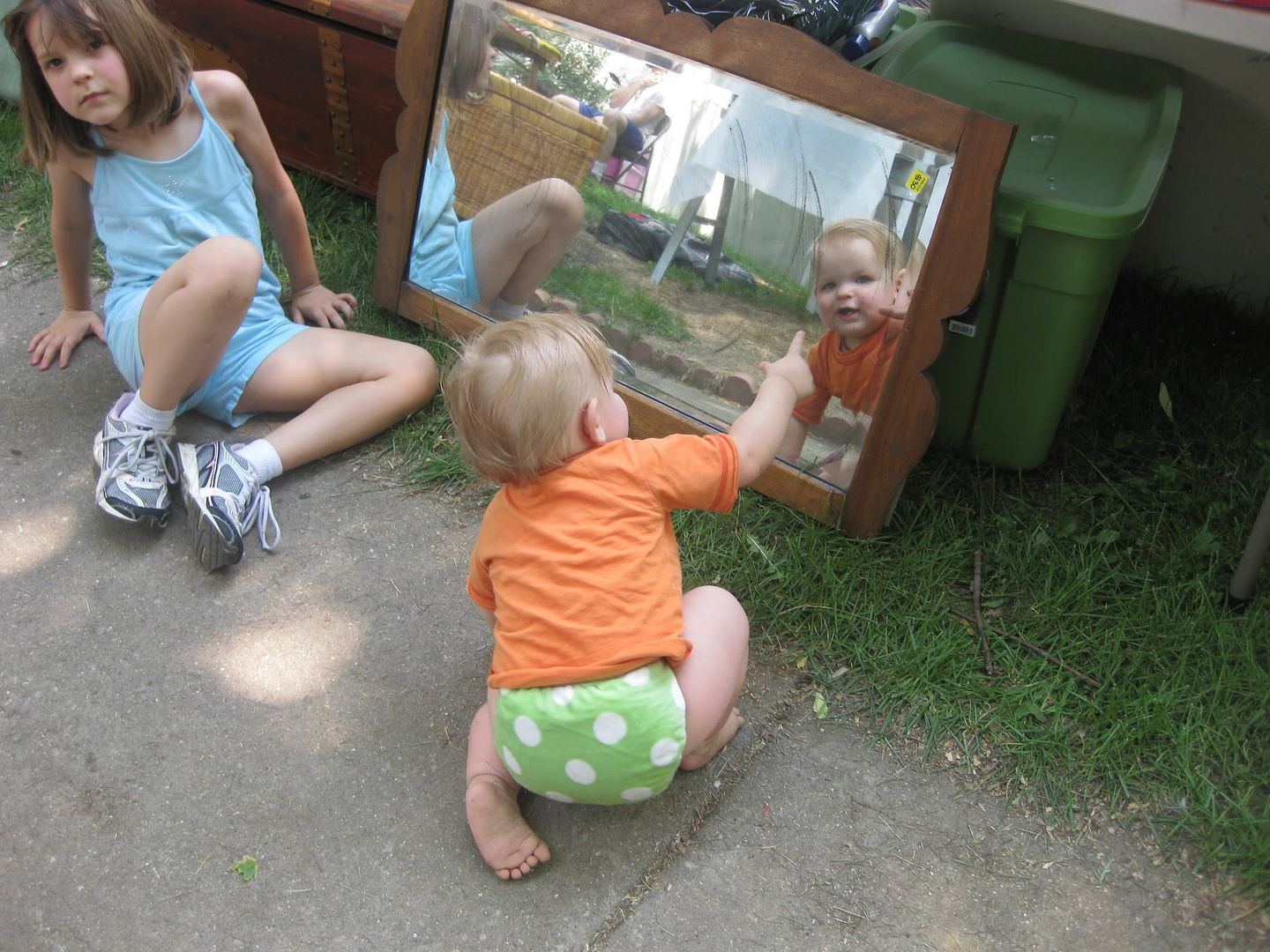 The fit! These diapers are amazing. When you first open your envibum diaper, particularly if you have a toddler rather than a newborn, you'll think, "There's no WAY that's going to fit on my baby!" The diapers have that leg elastic rather than snaps to adjust the rise. While this makes the diapers look small, they are a great fit! In fact, Stinky is about 25 pounds and wears his envipolka with the tabs nearly touching in the middle! The fit is truly one of the best I've see.
The attached soaker! I've seen attached soakers before. I've even reviewed a couple other diapers with attached soakers. I LOVE attached soakers because they don't get lost in the wash. I don't have to pair them up with the correct diapers later. They're easier in a lot of ways. This soaker, though? Amazing. Not only can you tuck it into the pocket, but you can fold it back the other way and use it more like an insert. This particular soaker is a great one for potty training because if used as an insert, it allows the toddler to feel the moisture!
The Bad
The VELCRO! Don't get me wrong. The velcro on envibum diapers is great! It holds up well. It washes well. It's strong. But, alas, it's velcro. Envibum doesn't have a snap option. I've said it before, I'm a snap lover. Stinky, on the other hand, LOVES velcro...because he can "work" it. When we were at my aunt's house for the garage sale, he wore just a tshirt and diaper. (He was in the carrier all morning and it was HOT.) Can you guess what he did first when I let him down? Yep...took off the diaper. Thank goodness it was just wet!
Overnights. You all know I have trouble with overnights. Stinky's a heavy wetter, and I need something super duper absorbent. There ARE extra inserts for the envibum, and I imagine with an additional insert the diaper would be perfect for us. He has just a tiny bit of wicking when he wears the envipolka overnight. It's typically not enough that his bed is actually wet, but I still don't love wet babies! (I love the babies. I don't love the wet!)
I am in love with envibum! I love what they stand for. I love their professionalism. I LOVE the diapers! There are far more positives about the envipolka than I could list here, and the positives outweigh the negatives by far! When I think of my favorite diapers, this is one of the very top on the list. Not only is it simply adorable, but it fits great and works even better! Thank you, envibum, for sending an envipolka for me to review!
When you try envibum diapers, you will not only be impressed with their quality, but you'll be helping someone in need at the same time! What could be better than that?
Rachel, the founder of
envibum
, has generously agreed to send one lucky blog reader their very own envibum diaper AND an additional soaker! Winner, you're going to LOVE this! (Contest will end and a winner will be drawn July 18, 2011 at 11:59am EST.)
How to enter:
*Leave a separate comment for each entry*
*Leave your email address with each entry*
Follow My This N That Life with GFC
Subscribe to My This N That Life via email
Visit the
envibum
and tell me something you've learned!
Comment on any non-giveaway post and tell me where you commented!
I received this product at no cost in order to facilitate a review. I was not compensated in any other way. All opinions are strictly my own.