A couple of months ago, on our way to Mammaw and Pappaw's house in Ohio, we had a very serious conversation in our car. We like to challenge the kids' thinking, and so when Little Lou told us that Annie was her favorite movie, I asked her if she thought Annie was a static or dynamic character. (Yes, Little Lou was 5. Yes, these are really the kinds of conversations we have.) She said she was pretty sure Annie is dynamic, because she has red curly hair. That, of course, led into a whole discussion about static and dynamic characters, what cartoon and movie characters fit into different categories, etc.
I'm telling you this today because I would like to submit Little Lou as a candidate for the "Dynamic Character" category. She's SO dynamic, in fact, that she's unpredictable. She might wear a dress one day and one of Bugsy's shirts the next. She might play with stick guns in the backyard in the morning and Barbies in the afternoon. She might be in the middle of a screaming tantrum at 3:00, and laughing at 3:01. You just never know. She's constantly changing!
One thing about Little Lou that never changes is her love for socialization. Don't get me wrong, she's pretty shy around people (especially grown-ups) that she doesn't know well. But she LOVES to be involved! This past year, in kindergarten one of her favorite activities was Daisy Girl Scouts! It was an hour and a half every other week of pure chaotic kindergarten joy. She LOVED that! She was really sad when the last meeting of the year ended. Girl Scouts, and everything involved, made her happy!
The Scoop
When I received an email from
ColorTime Crafts and Markers
inviting me to host a review of one of their products, I was excited. When I looked at the website and saw that ColorTime is an official GSUSA (Girl Scouts USA) vendor, I was giddy! I couldn't wait to host a review! I quickly agreed and a package arrived within a few days.
(I apologize, ColorTime...My computer fell on the floor at the hospital...the hard drive crashed...and I lost almost all of my pictures! I had great ones!)
The Good
The cool thing about
ColorTime
's products is that kids get to decorate them all by themselves. They're pre-printed with pictures that are fun for kids, but the kids themselves get to make the choices about where to put the color, or if they even want to color them at all! It's a really neat idea, almost like a wearable coloring book!
The markers are permanent. They're not going to run or wash off in the washing machine. Whatever your child draws or colors on the product is going to stick! It's great to see that they won't wash off. We had to put our tote bag through the washer right away, and nothing ran at all!
Everything is functional! From t-shirts to backpacks to pillowcases, everything is usable. It's not just more clutter in your child's bedroom, it something that will be used every day. Little Lou even ditched her regular backpack in favor of her Daisy Girl Scouts backpack after she colored it!
Quality construction. As I mentioned, Little Lou replaced her regular backpack with this one. Now, kindergarten isn't known for its heavy books, of course, but for more than a month it held up to the regular day-to-day back and forth of school. It's on sabbatical for the summer, but I can definitely see it making its way back into the rotation come fall!
The price! The bag that we received is just $4.75! The more you order, the cheaper you get. You really can't beat that!
The markers are permanent. I don't typically let my kids color with permanent markers, because I don't really want them, their clothes, or my furniture to end up stained. Did you notice this is also one of the good things? While it's great that the colors don't run, it sure would be great if there were a solution that would make the color "stick" to the product without being permanent.
The price. While the bags, shirts, etc. themselves are cheap, you have to purchase the markers separately. After you purchase your item, you also have to purchase the markers, which range from $2.35 for a single marker to $13.20 for a "value pack." Now, as a mom I think that's a bit pricey. If I were purchasing a set of backpacks and some markers, say, for my Girl Scout troop, it wouldn't be so bad!
The markers are permanent. They bleed through the fabric. If you follow the instructions (and we did) the marker will bleed through onto paper towel or cardboard or some such thing. There will be no damage to your finished product. BE SURE TO FOLLOW THE INSTRUCTIONS! One of the pictures I lost showed the paper towel that was between our layers. It was COVERED in marker. In fact, we'd doubled the paper towel and our second layer had a few marks on it. Just keep in mind that it WILL bleed.
Overall, I really like the ColorTime Daisy Girl Scout backpack that Little Lou colored and carried for review! It has held up to kindergarten well. Little Lou LOVED coloring the bag! She's really good at coloring anyway, but I think that even if she weren't, she'd have taken her time and colored really nicely!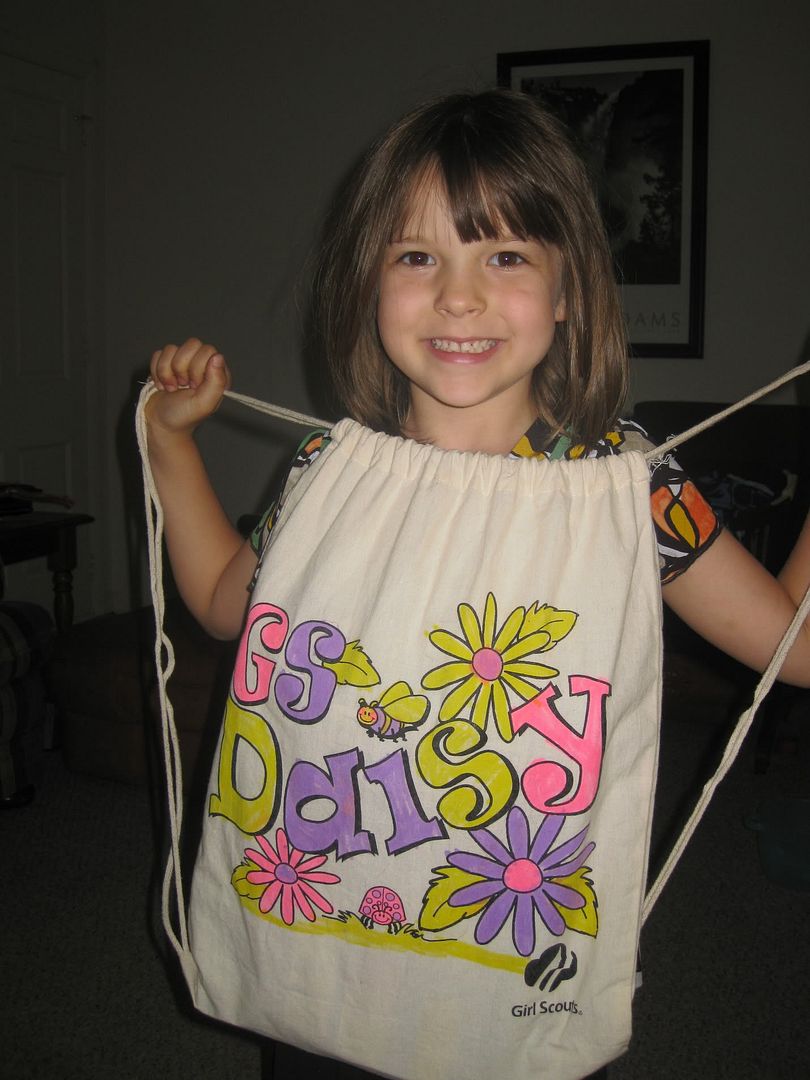 I'd love to have the money to purchase these for her whole troop for the fall! In fact, I contacted her leader about the site at the end of the school year. Wouldn't it be fun for the whole troop to decorate t-shirts at the beginning of the year and wear them when they go on outings?
There are other cute things besides scouting "gear," but I highly recommend the scout stuff. If you are a troop leader or parent, it's definitely worth looking into ColorTime Crafts and Markers!
The Giveaway
ColorTime Crafts and Markers has a really neat giveaway going on on their facebook page!
Every week they randomly draw the names of 3 fans to win a free product! I won't be hosting a giveaway here on the blog, but if you'd love to be entered to win one of their weekly drawings, simply become a fan on
facebook
! When you do, please be sure to mention that My This N That Life sent you!
I received this product at no cost to me in order to facilitate a review. I was not compensated in any other way. All opinions are my own.