Somehow, over the course of the last year, I have become much more aware of not only what goes INto my kids' bodies, but what's going ON them as well. I can't say for sure what has caused the changes in my attitude, but I've found myself being much more concerned about chemicals and additives not only in their foods, but in their skin care products as well. As summer rolled in this year, I was looking for a great SAFE sunscreen for kids. What I found was
TruKid
!
As I began searching for a natural sunscreen for my kids, I stumbled across TruKid. TruKid is a great company with an amazing selection of natural, organic bath and body products created just for kids! TruKid "strives to impact the world one healthy habit at a time," and they're doing this by selling only the best quality ingredients they can find for kids!
Jennifer, founder of TruKid, is the busy mother of six adorable kids herself, but she still found the time to personally correspond with me. Jennifer gladly sent three TruKid products for review: Bubbly Body Wash, Sunny Days SPF 30+ Face Stick, and Happy Face and Body Lotion!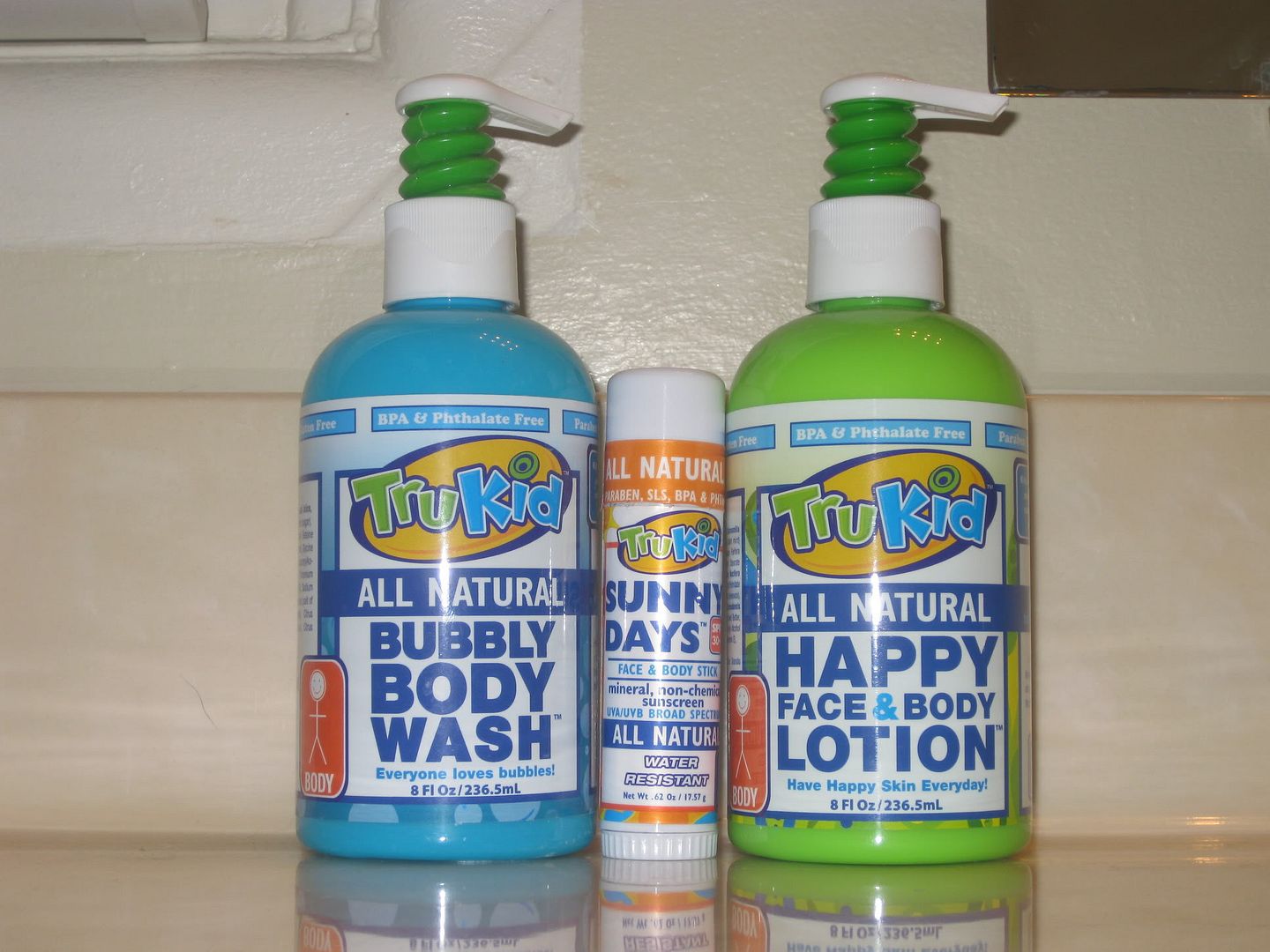 The SMELL! I know it's probably not the most important thing about skincare products, but it's absolutely the first thing I noticed about TruKid, and one of my very favorite things still! I don't know about anyone else, but I always smell things like this. The TruKid products have a distinct fruity smell that I love! Even the sunscreen smells tropical, but not like sunscreen.
All Natural. I love knowing that only natural, organic ingredients go into TruKid products! There's never going to be anything in the lotions, washes, etc. that I can't pronounce. The only thing "produced" is the actual products, not their ingredients!
They're "user friendly." These products are made for kids, right? Kids aren't notorious for their reading skills, particularly little kids! We reviewed the Bubbly Body was, as I mentioned, but what if we'd reviewed the Helping Hand Wash as well? Bugsy can't read. They both come in blue bottles. How would he know which to use to wash his hands and which to use to wash his body? TruKid has an innovative labeling system that actually SHOWS kids where to use the products!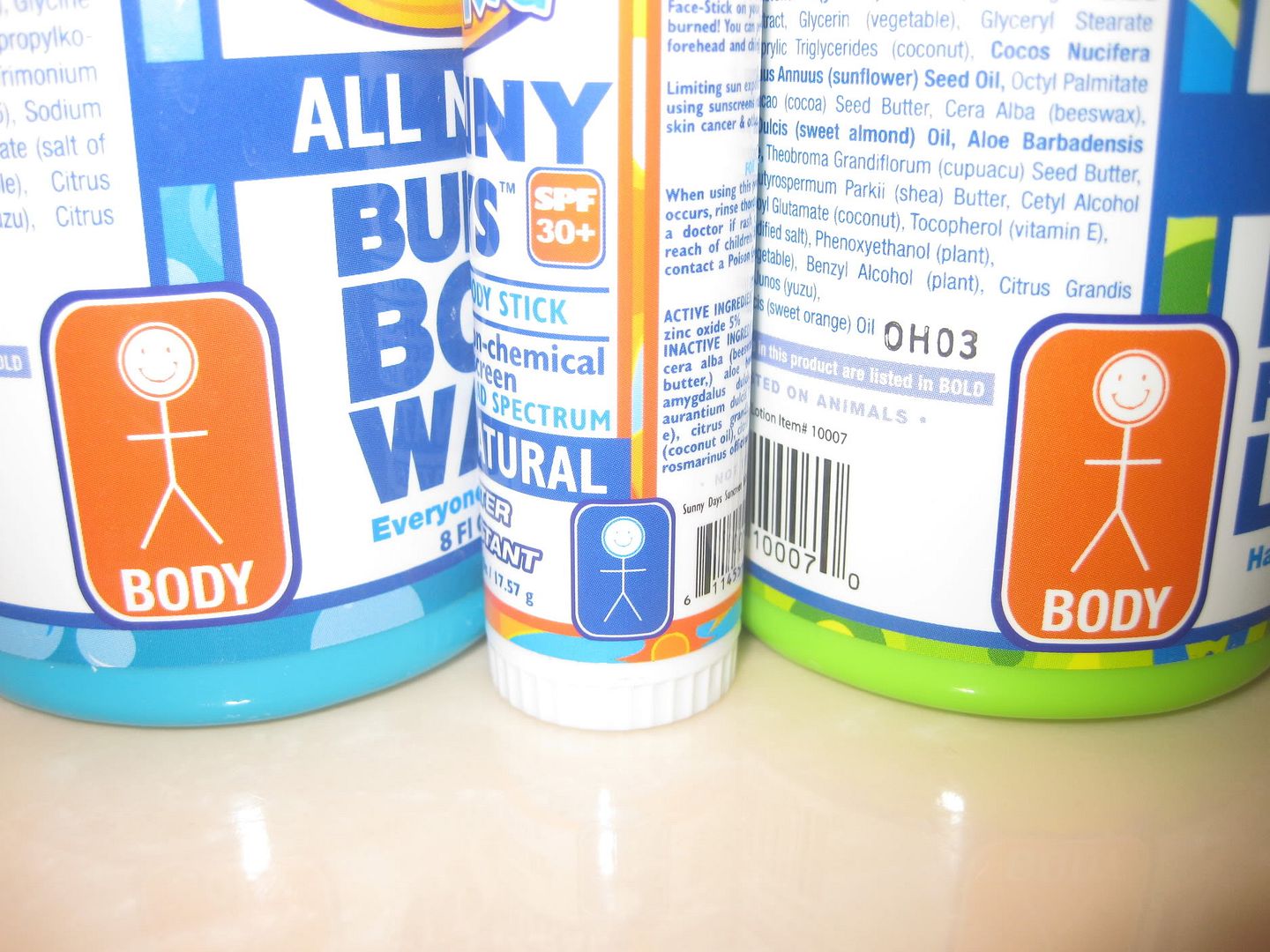 They're GENTLE! Little Lou uses the Body Wash for her body and hair. She loves the smell, and I figure she's still getting pretty clean! She's never once complained that the soap hurt her eyes. My kids have sensitive skin, and none of these products have broken them out a single bit! I'll be honest, I've commandeered the Happy Face and Body Lotion. I have eczema, particularly during certain time of the year. (Right now, for instance.) Most lotions burn when I use them, and my skin gets more and more scaly. That's not true with TruKid, though! Not only can I use it even on my eczema, but it makes my skin feel soft, AND I only have to use one small squirt for my hands! It's great!
The sunscreen stick. Little Lou is 6. Six year olds are, by definition, independent. She thinks she can do everything herself, but her mommy is pretty protective and still prefers to do a lot of things for her. With regular sunscreen sticks, I don't feel comfortable just handing them over. With TruKid, though, I am totally comfortable handing her the reigns and letting her sunscreen her own face! She loves being independent, and I love that the sunscreen WORKS!
(See how shiny her hair is? That's from TruKid Body Wash!)
I have to be picky here, or else I wouldn't be able to say anything bad at all. The only
issue I have with TruKid is cost. Now, I've checked out some other natural, organic products that are similar, and the prices overall are very comparable. Since I'm used to department store prices for "regular" brand products, though, the prices seem a little high to me. For what the products are, though, they're probably perfect prices and they're totally worth it!
I LOVE TruKid. I love every one of the products I was sent. I really want to try the Sunny Days Sport Sunscreen...oooh, or the detangler...or ANY of the new adult products! Yep, you read that right...there are now adult products in a new line called, "TruVillage!" I highly recommend giving TruKid a try if you're looking for natural skincare products for your kids or yourself! You'll be glad you did!
Jennifer
from
TruKid
LOVES sharing her products, and has graciously agreed to send one of my super lucky readers a prize pack containing a 3.5 oz tube of Sport Sunscreen, a Silly Shampoo and a Cool Conditioner! What a great prize! (I'd like to win right along with you!)
Contest will end and a winner will be drawn Monday, August 1 at 11:59am EST.
How to Enter:
*Leave a separate comment for each entry*
*Leave your email address with each entry*
(Mandatory) Follow My This N That Life with GFC
Subscribe to My This N That Life via email
Visit the
TruKid
and tell me something you've learned or which product you'd like to try!
Comment on any non-giveaway post and tell me where you commented!
I received these products at no cost to me in order to facilitate a review. I was not compensated in any other way. All opinions are my own.