Sometimes, it's better (even when we don't realize it at the time).
I insisted I wouldn't be induced. I was with Little Lou and hated it. My doctor finally agreed to "let nature take its course." Three weeks before Bugsy was due, he measured 7 pounds, 14 ounces, and the doctor once again tried to convince me to be induced. I refused. But God had other plans. Four days later, pre-eclampsia reared its ugly head, and induction was scheduled. I went into the hospital Thursday evening, and slept all night.
Promptly
at 10:30 Friday morning, induction medication started.
My first real contraction came at 12:30, and my doctor went to get her hair done. I was still just 2 cm dilated. Little Lou's labor had been 12ish hours. We had plenty of time. I insisted I didn't want an epidural. I had one with Little Lou and I hated it. I still felt
every
contraction. I still knew exactly what was going on. It was hard to push, though, and I felt groggy afterwards. I didn't want that again. Until 1:30. I
NEEDED
that epidural. But God had other plans. I called the nurse who checked me and said I was 7 cm dilated and she'd call for the epidural team. It took them a LOOONG time (5 minutes) to get there. As was customary, the nurse checked me again when the team arrived. Then she sent them away. I was 9 cm and it was too late!
Another million hours (5 minutes) passed, and I felt like I needed to push. The nurse didn't believe me, but when she checked she said I was ready. My doctor wasn't back yet, so another doctor would stand in. They'd call my doctor and she'd hurry over, but this other doctor would be there just in case. I should "try not to push" until my doctor arrived. But God had other plans. The Bug was ready. NOW. If you're a woman who has given birth, you may understand the impossibility.
I did not push.
It took every ounce of energy I had, but I did not. Finally, after an eternity of not pushing, my doctor walked into the room. In street clothes. With her hair half done. It was 1:45. A nurse put a glove on her left hand. She caught his bottom. The nurse put a glove on her right hand. She caught his head.
And I did not push
. And, believe me or not,
it did not hurt
.
It should have been impossible. I shouldn't have been able to deliver Bugs. I should have needed an emergency c-section. It should have been the most painful of all my deliveries. It was not. It didn't hurt. Among a myriad of other evidences, these were just further proof that God's hand was already on our Little Man even before he was born!
Little Lou meeting Bugsy (the glow worm) for the first time.
Bugsy's head wasn't the right shape. I didn't way a word because I was sure it would be passed off as "molding" from birth. He was jaundiced. YELLOW.
He wasn't perfect
. I was disappointed. I'll admit it now. I wasn't prepared for MY baby to be "that" baby. We'd always talked about adopting special needs babies. We weren't expecting to give birth to one.
We spent our first 9 months as parents of 2 with little (or more often no) sleep. The Bug spent his first 9 months crying. I spent his first 9 months angry with God for making MY baby that way. It wasn't supposed to be mine. WHY did He let MY baby be the one with problems? I wasn't expecting MY baby to have 2 12-hour surgeries before he was a year old. I wasn't expecting MY baby to start early intervention at 10 weeks and have therapy 3 times a week for 3 years. It wasn't supposed to be MY baby. I was expecting to be that mommy to someone else's baby. But God had other plans.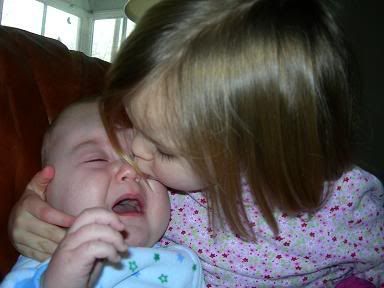 She adored her little brother. Even when he was crying. She's always been his "protector."

When Bugsy was 9 months old, he had his second surgery. He spent 12 hours away from us. When we saw him in the recovery room, he was swollen. He was angry. He was not my baby. We'd anticipated a 5 day stay in the hospital, as with the first surgery. But God had other plans. For the first time ever, Bugsy rolled over in the hospital! His eyes never swelled shut, and less than 48 hours post-op we headed home. We didn't take the same baby home with us that we'd taken to the hospital. This one didn't cry all the time! This one
slept
. This one smiled easily and laughed a lot! THIS was the baby I'd expected!
Maybe two weeks post op, surgery 2.
When we finally got to "meet" our sweet Bug, we fell head-over-heels in love with him. That's right. I don't know about anyone else, but it took my that full 9 (1/2) months to really fall in love with him. I will always feel guilty about "missing" the first 9 months because I couldn't get past my own frustrations. It took 2 surgeries. It took divine and earthly intervention. Before, I'd loved him out of obligation. Now I loved him completely!
The road has been long. We're hundreds of doctor appointments, even more therapy sessions, 8 doctors, 6 surgeries, a million smiles, and 4 years into this thing called life. It's not what we'd planned for. It's not what we'd expected. But it's SO much more!
The happy baby we brought home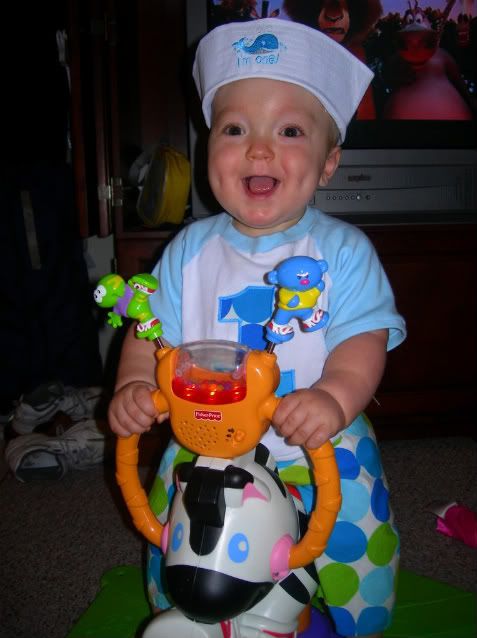 Happy first birthday, Bugs!
We've met a lot of neat people along this journey. This is Melissa. Her son and Bugsy are "cyber-twins"...born on the same day, both with craniosynostosis. We met Melissa while she was on a business trip near our home. She's such a sweetie!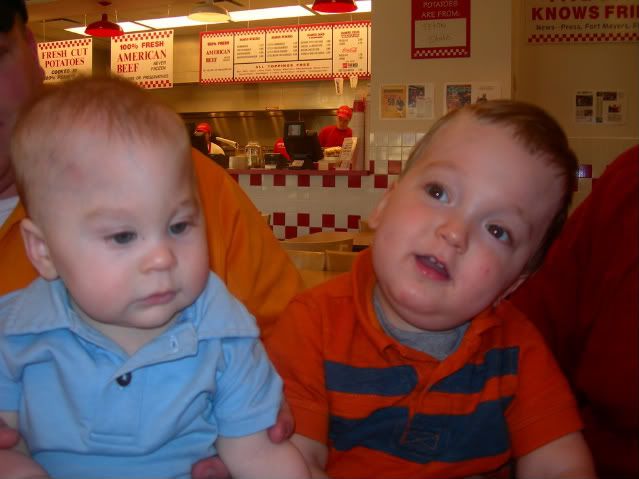 Another little friend we met through our journey. This little guy had craniosynostosis, too. His parents have become some of our close friends! In fact, they kept Little Lou and Stinky when Bugsy had surgery last month!
Bugsy, I love you! I love you completely. Unconditionally. Selfishly, probably. You came crashing into this world on storm clouds, but there's a rainbow after the rain. You've proven to be the ray of sunshine we weren't sure we'd ever get with you. You're an amazing, smart, talented, goofy, sweet little boy. You love dinosaurs and bugs and cars and LIFE. You've taught me so much more than I would have ever expected. You've taught me more about myself than I could have imagined. You've been a miracle from day one, even when I couldn't see it. You are wonderful. You are LOVED!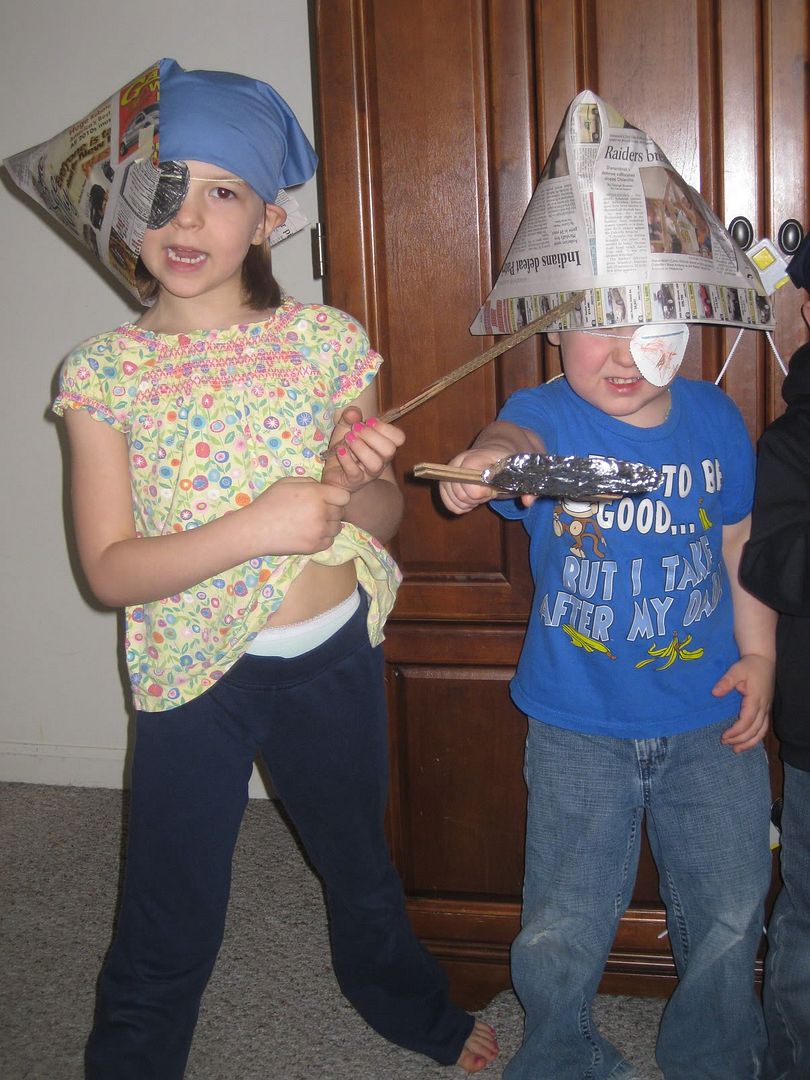 Happy happy happy 4th birthday, Little Man! May your life continue to be filled with blessings and may you accomplish all your dreams!
Bugsy, this morning. He's wearing the shirt Melissa sent him (see the picture above from when we met her!) and listening to Aunt Jennifer and cousin Monkey sing happy birthday. Happy birthday, sweet boy!