Yesterday after work and school were done for the day, we loaded up the car and headed to Mamaw and Papaw's house in Ohio for the weekend! The kids were super excited (as always) about going for a visit, but not so excited about the LONG car ride! Two hours doesn't seem long to me or the hubby. We enjoy the chance to sit and chat with one another. The kids, though? They think it's torture!
The weekend has been scheduled for a while now. Hubby's cousin got married today, so we'd been planning a visit anyway. Hubby's little sister and her family moved back to Ohio a couple weeks ago, and today is her littlest love's 1st birthday! Parties all around today! We decided that since we'd be nearly there anyway, tomorrow would be Renaissance Festival day. Hubby and I went a few times while we were dating, and we've gone the last two years. We've decided to make it an annual family tradition, so this will be year 3.
Except.
There's always a glitch, isn't there? Nothing ever goes quite as planned, does it?
Stinky was sick earlier in the week. Tummy bug. Nasty. I don't know where we picked it up. The poor boy's belly is so volatile, though, that when he gets a tummy bug it just hangs on forever. So, the poor kid vomited for most of 3 days and had diarrhea for most of 5 days. He was FINALLY better Thursday.
Or so we thought.
On the way to Ohio yesterday, we picked up Arby's. Stinky's first real "meal" since Monday at lunch. At 2 this morning, dinner revisited. For an hour. At 3? Bugsy woke up. Vomiting. I now think it was his asthma, but who knows. And he was up until after 5. At 7? Mamaw brought him to me. Bugsy had been up for an hour and had thrown up 3 more times. ACK!
We came home. All two hours. Bugsy cried because he wanted to go home. Little Lou cried because she didn't. Stinky cried because he was tired and hungry...and because they were crying. It was a glorious car ride. :/ The Hubby and I, though, did no crying...and had another great chat.
Miraculously, everyone has been fine and dandy since then! We played cars and legos and micro machines, courtesy of Hubby. (He still has a whole stash of childhood toys!) We ALL ate dinner! Not a very belly friendly dinner, either. I served black bean enchiladas.
And then?
We were brave. Hopefully not too brave. But against "medical advice," this Mama suggested ice cream. We had a GREAT evening gorging on the creamy deliciousness at a local ice cream shop.
Little Lou chose Mint Chocolate Chip
(Could her eyes BE any more brown?)
And Bugsy chose Vanilla
(I chose soft serve for him because it's cheaper and he doesn't care.)
Stinky didn't get a choice, but if it's full of sugar, he eats it!
(Where did we get a lefty? He's super with silverware!)
Even though the weekend isn't going exactly (or at all) as planned, we're enjoying a family-filled weekend. We're still going to go to that festival. We're sad we missed today's birthday party and wedding, but sometimes you have to adapt.
You know what my favorite part of the weekend was, so far anyway? Here it is: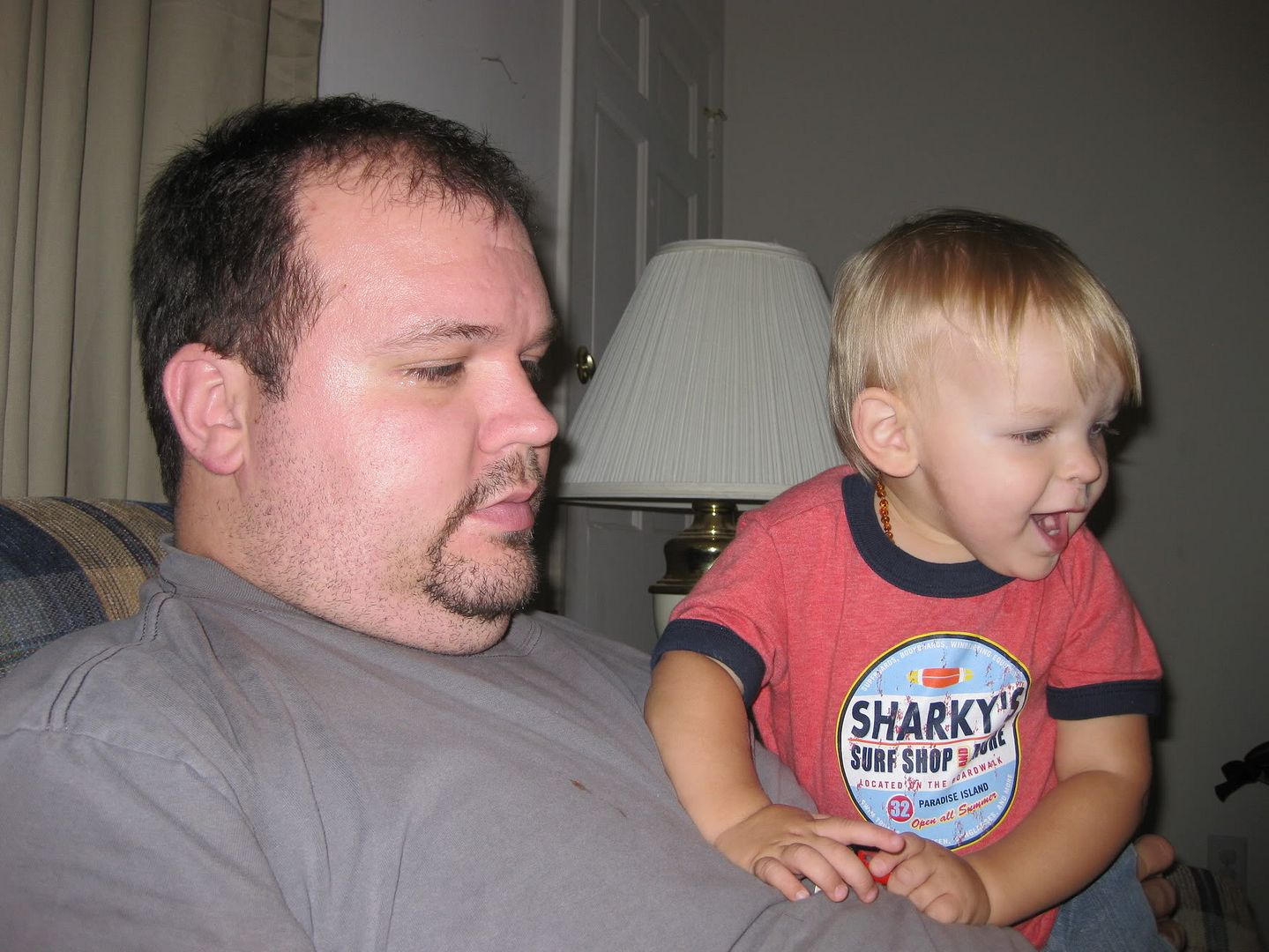 Those two guys? Some of my favorites! Do you know what Stinky and Hubby were doing at 9:30 tonight? They were watching worship songs together on YouTube. There is nothing...NOTHING...like watching your toddler dance and clap along to songs about Jesus!
Thank you, family, for being adaptable this weekend! And thank you, Jesus, for always watching over us!