You all are going to think I'm crazy, but I just bought a swimsuit from
www.swimsuitsforall.com
...in October...just as the weather is starting to get cool. I hadn't heard of the site before today, but they have a great selection that is fun to browse, at the very least!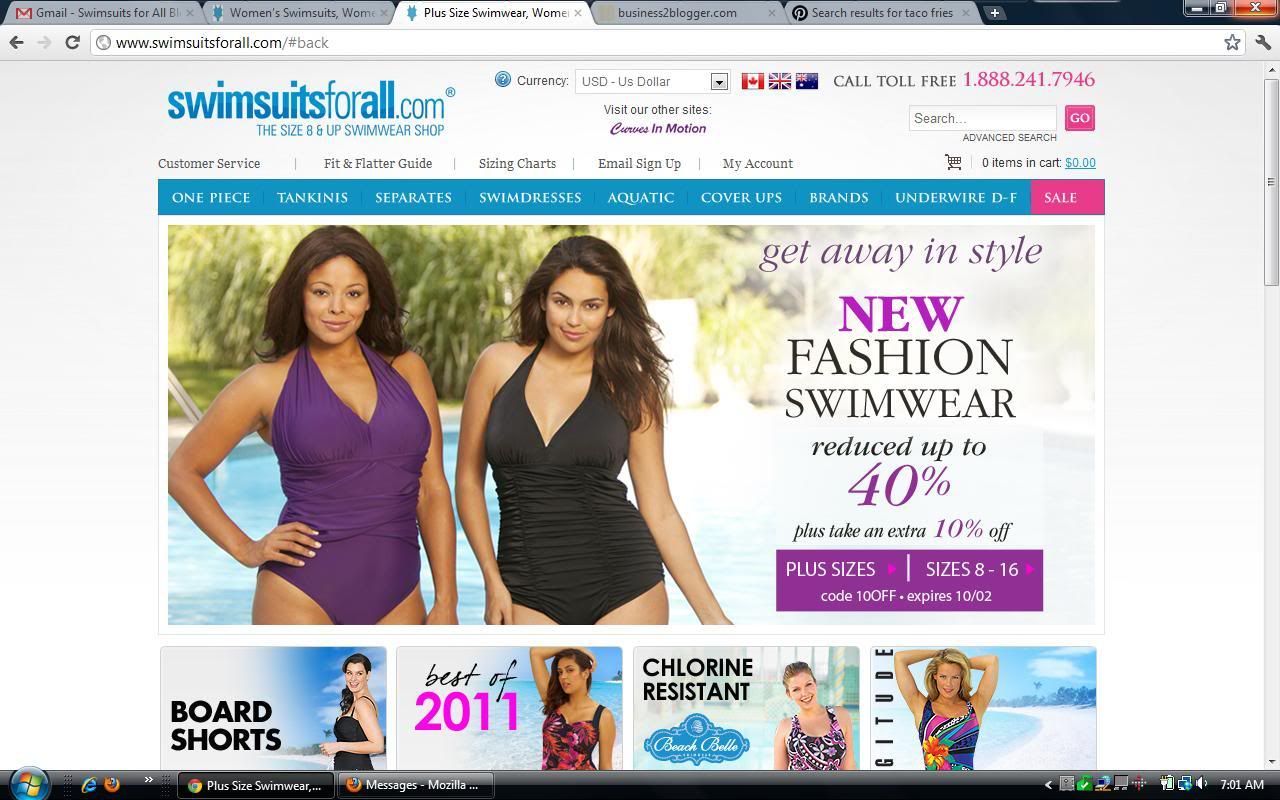 The only reason I think I'm crazy because I truly have NO idea what size swimsuit I'll wear next summer...well, that and that I never put a swimsuit on
once
this entire summer. Why do I think almost October is the perfect time to buy a swimsuit, though? Because in the fall, companies put swimsuits on clearance so they can clear out this year's inventory and get ready for next year! I haven't purchased a new swimsuit in several years, and it was certainly time! I only ever buy swimsuits when mine wear out or I can't fit into them anymore, so I hang onto them for several years. This year? This year I've lost 40 pounds and my old suits just plain don't fit anymore!
Even though the
www.swimsuitsforall.com
"regular" prices seem a bit high to me, the sale prices are SUPER! There's a 10% off code right there on the front page, which will save you a couple of bucks. If you sign up for their email list, you can save 10% off your first purchase as well! I couldn't get both codes to work together, but you may be able to. You'll even get a confirmation that your discounts were added!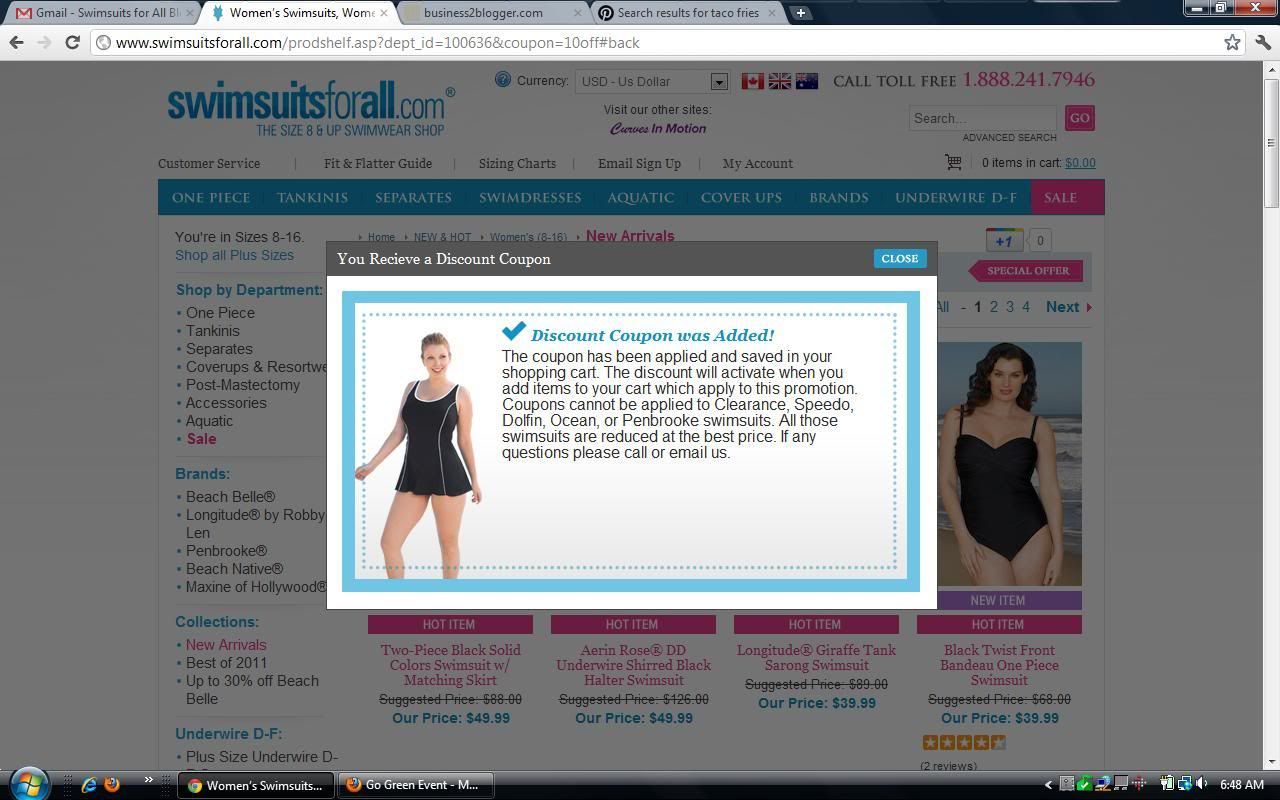 I'm probably not alone in this, but when I am shopping online I go straight to the "sale" section. (It's not exclusive to online, either. I do it in stores as well. What can I say? I love a good clearance rack!) www.swimsuitsforall.com has a HUGE amount of sale suits right now! Some of them are gigantic discounts...even as much as 50-75% off!
Www.swimsuitsforall.com
is a really nice online swimsuit shop specializing in suits for "plus sizes" which start, at this shop anyway, with size 8! Now, I am currently in a 10 or baggy 12 for most of my clothes. I don't consider myself to be "plus sized" anymore, and I
certainly
don't consider an 8 to be plus size. www.swimsuitsforall.com has suits organized by both "type" and size, so you can go straight to the page of the style you're shopping for! Not sure what size you should buy? There's an easy sizing guide that gives you the option to check each brand's sizing chart OR search by "general" sizes!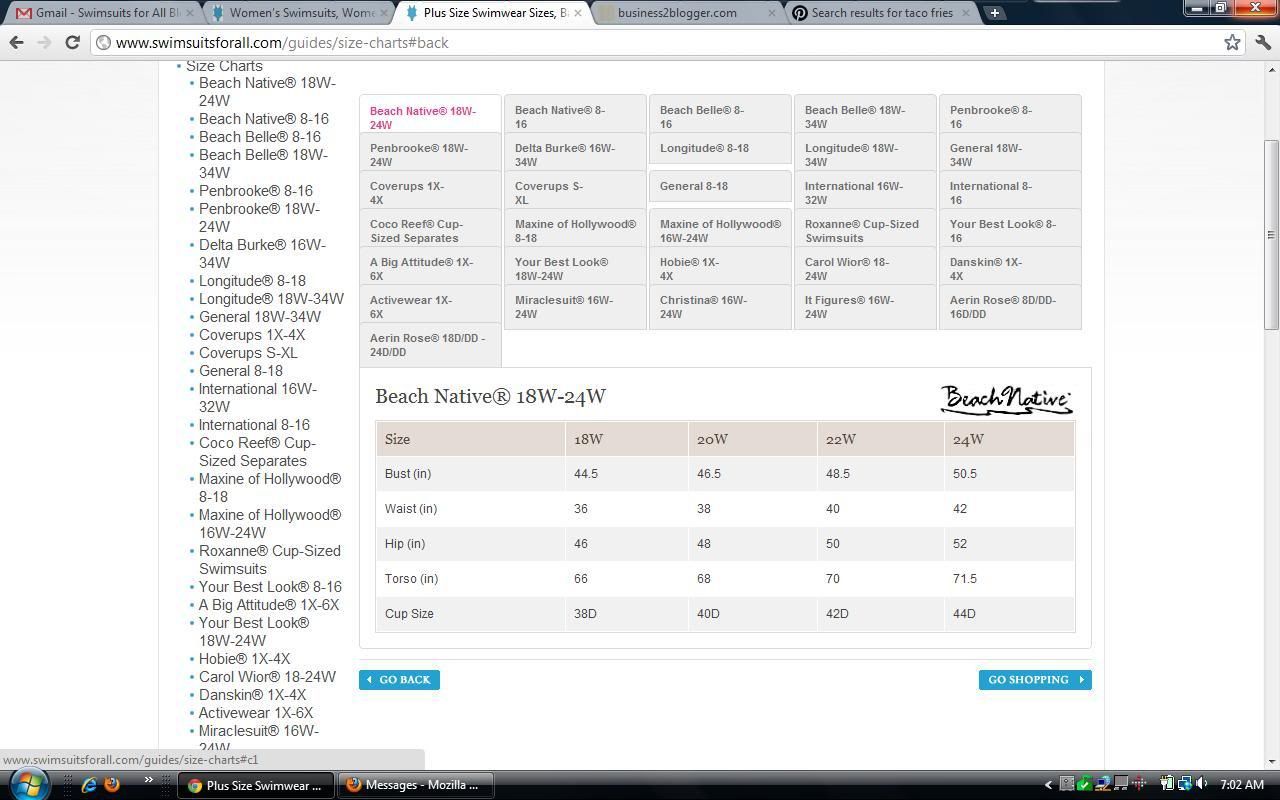 I'm a tankini lover. I like the look of a one piece, but the convenience of two. I'm not a bikini person. I like to leave some things to the imagination, even when I'm in a swimsuit. But when I'm at the beach or the pool or wherever, I like to be able to potty easily. When I've been a nursing mama at the beach, tankinis have been a super easy solution as well! So, after quickly browsing the rest of the site, I found myself scouring the tanking section for my top choices. There were so many to choose from, it was almost impossible to pick just one!
Do I go for something a little on the wild side?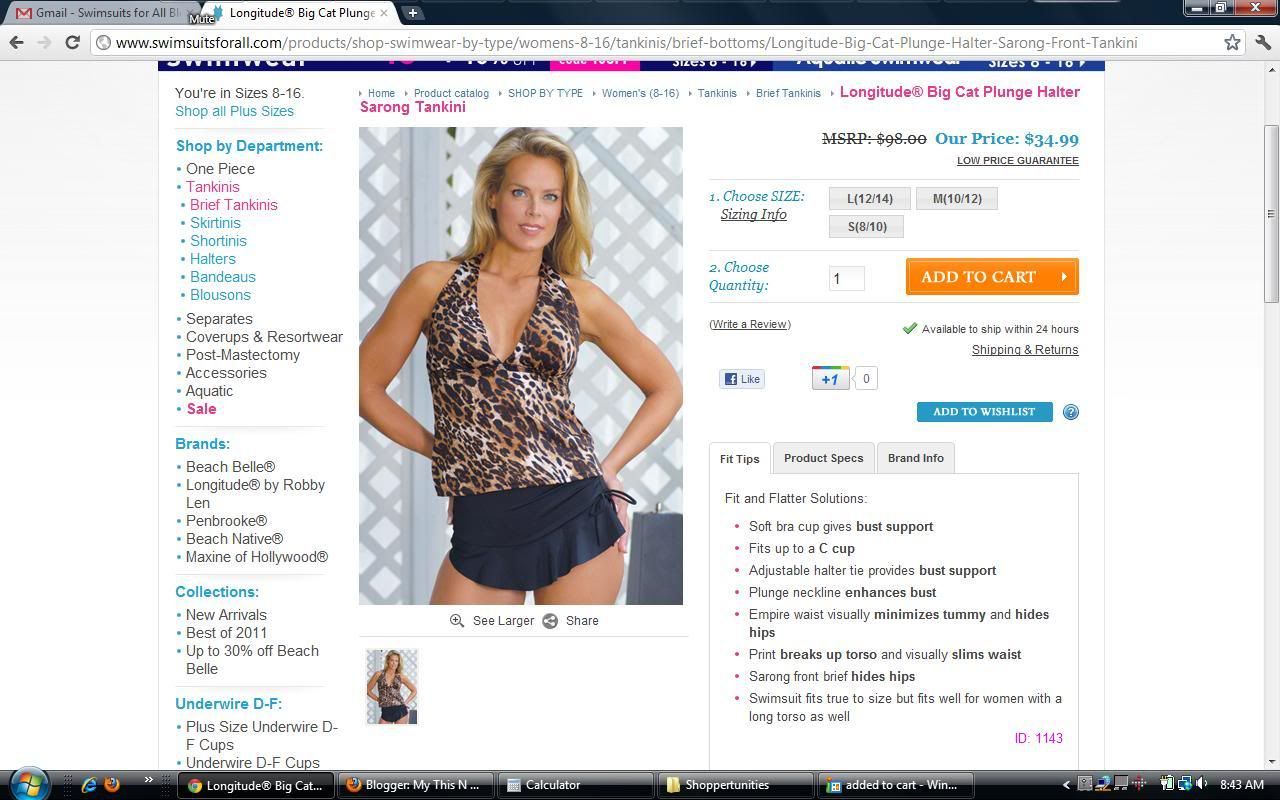 Or something more subdued?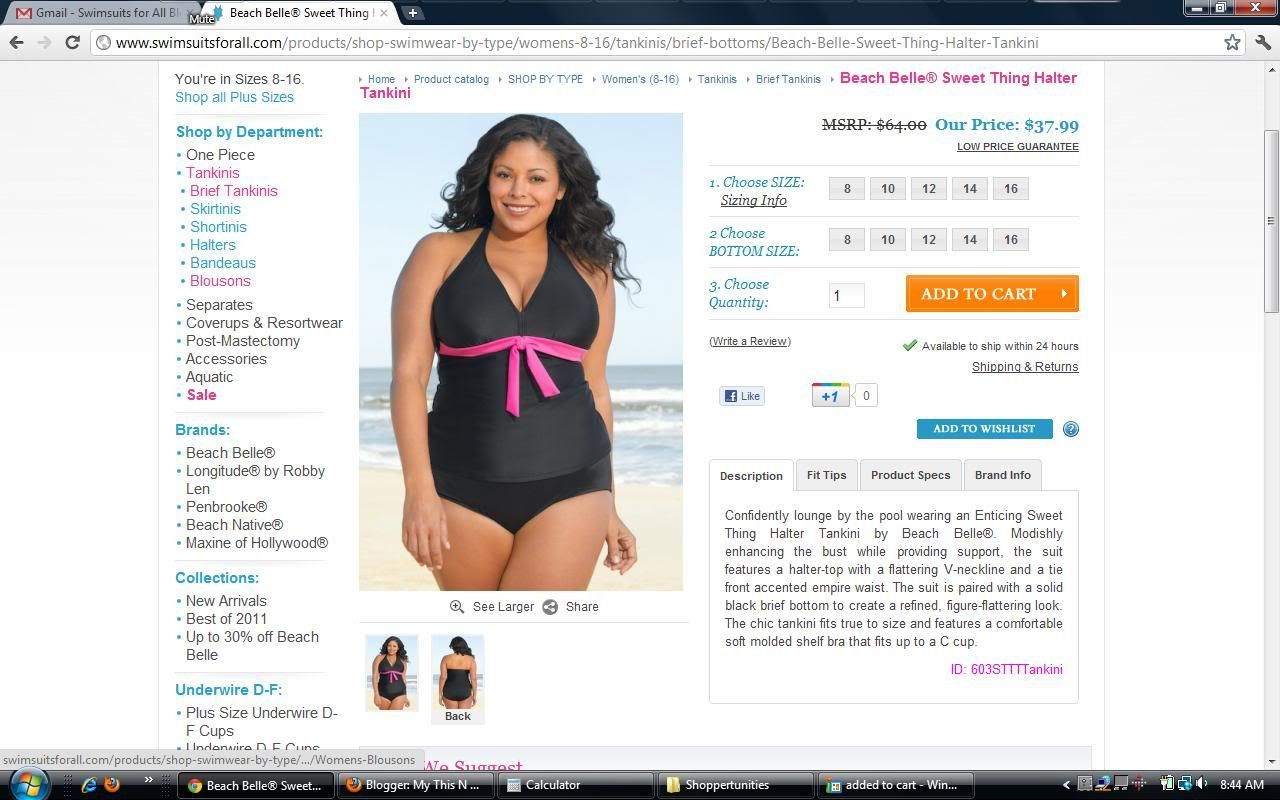 Do I pick bikini bottoms?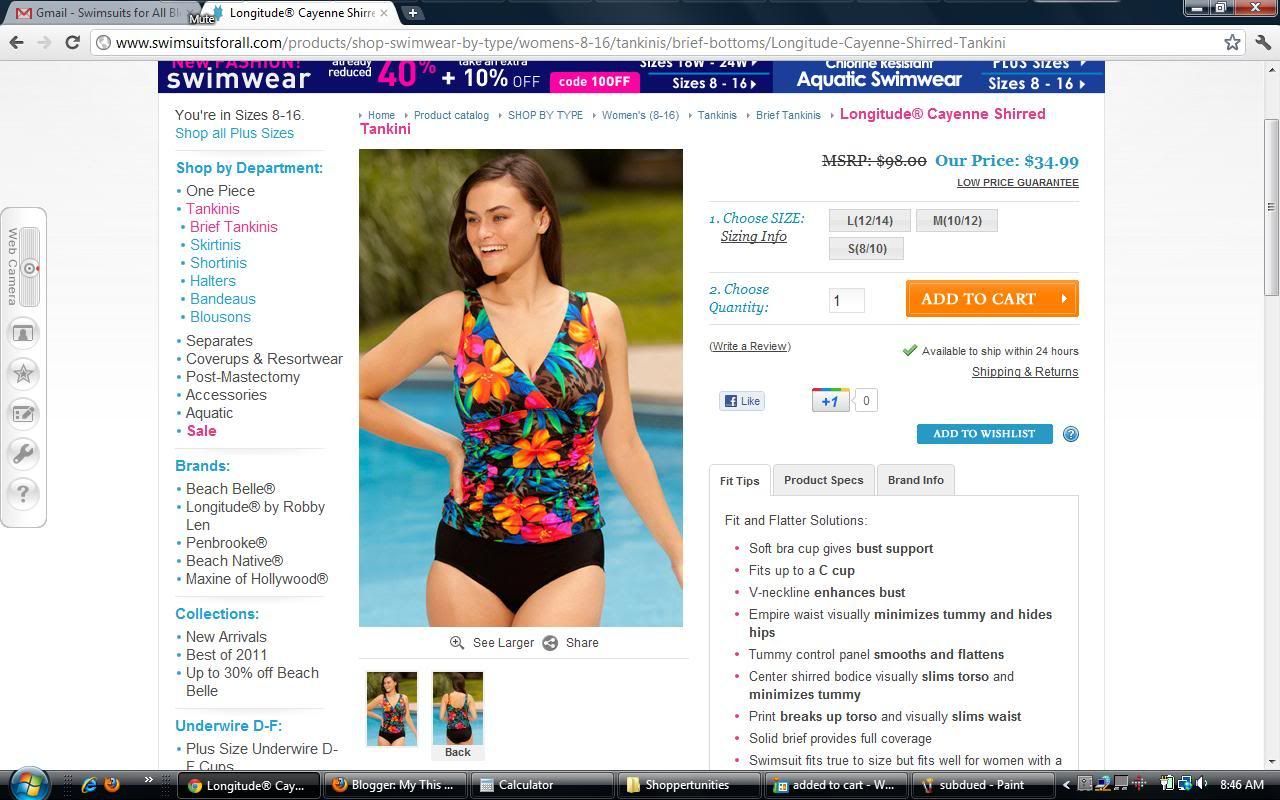 Or "skirtini" bottoms?
Straps?
Or a halter?
Or do I just forget about it and get a one piece?
I was having trouble deciding between a couple, so I sent the links to my sister for help...and I asked Bugsy what he thought. I didn't listen to either of their opinions. I finally picked a skirtini with straps...relatively subdued. I won't receive it for a few days, but if it's like the picture, I'm in love! (Although I think the model is making kind of a funny face.)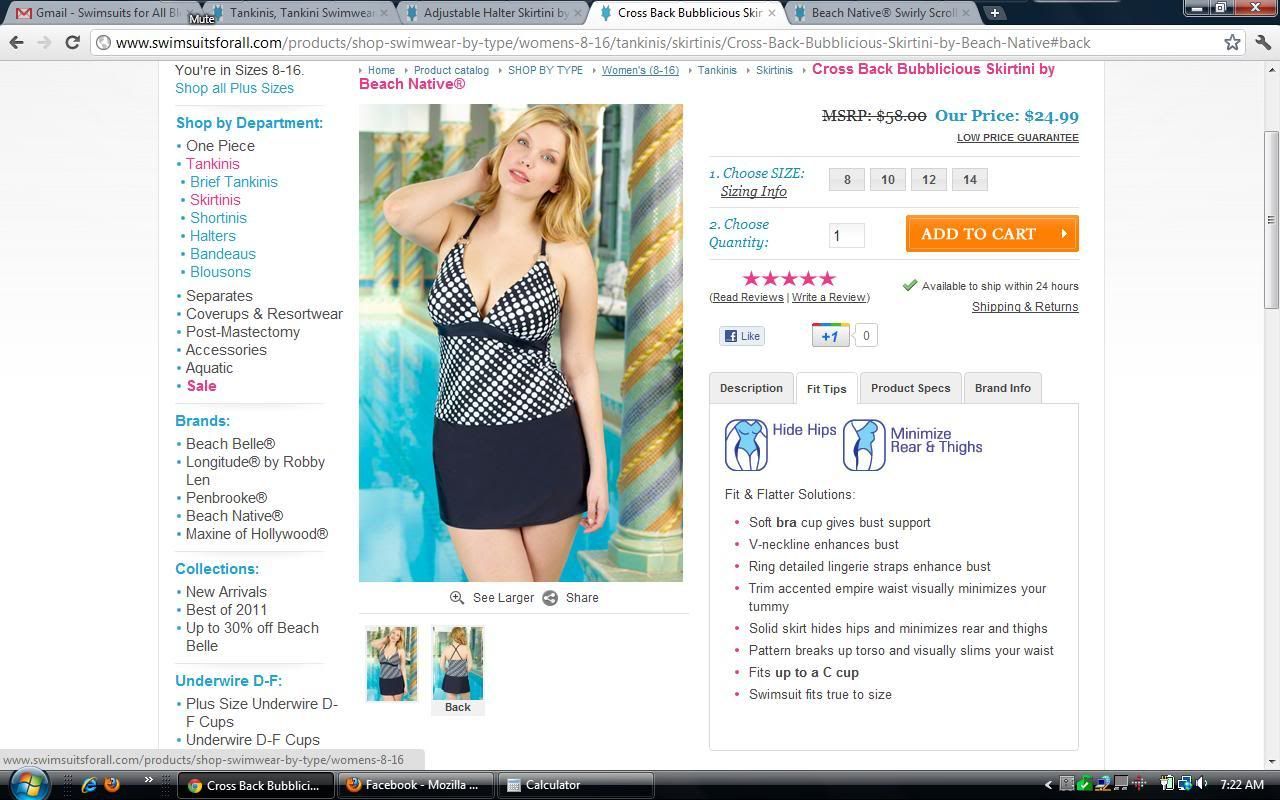 I really loved that I could check the "fit tips" and be sure that the swimsuit I loved would hide the parts that need to be hidden and accentuate the parts I don't mind. (See them up there on the pic?)
And then I checked out.
Checkout with
www.swimsuitsforall.com
is super easy and user friendly. I was disappointed by two things, though: 1) my suit won't be here until around Oct 10 ($5.95 shipping for the slowest option seemed a little high to me, but it was my best option) so you won't get to see it until then - and neither will I! and 2) I couldn't checkout with Paypal! I had money in my account I was hoping to use. Instead, I used my debit card and then transferred the money from Paypal to the bank, but I just LOVE being able to shop with Paypal!
Oh, and you get a nice printable confirmation page as well!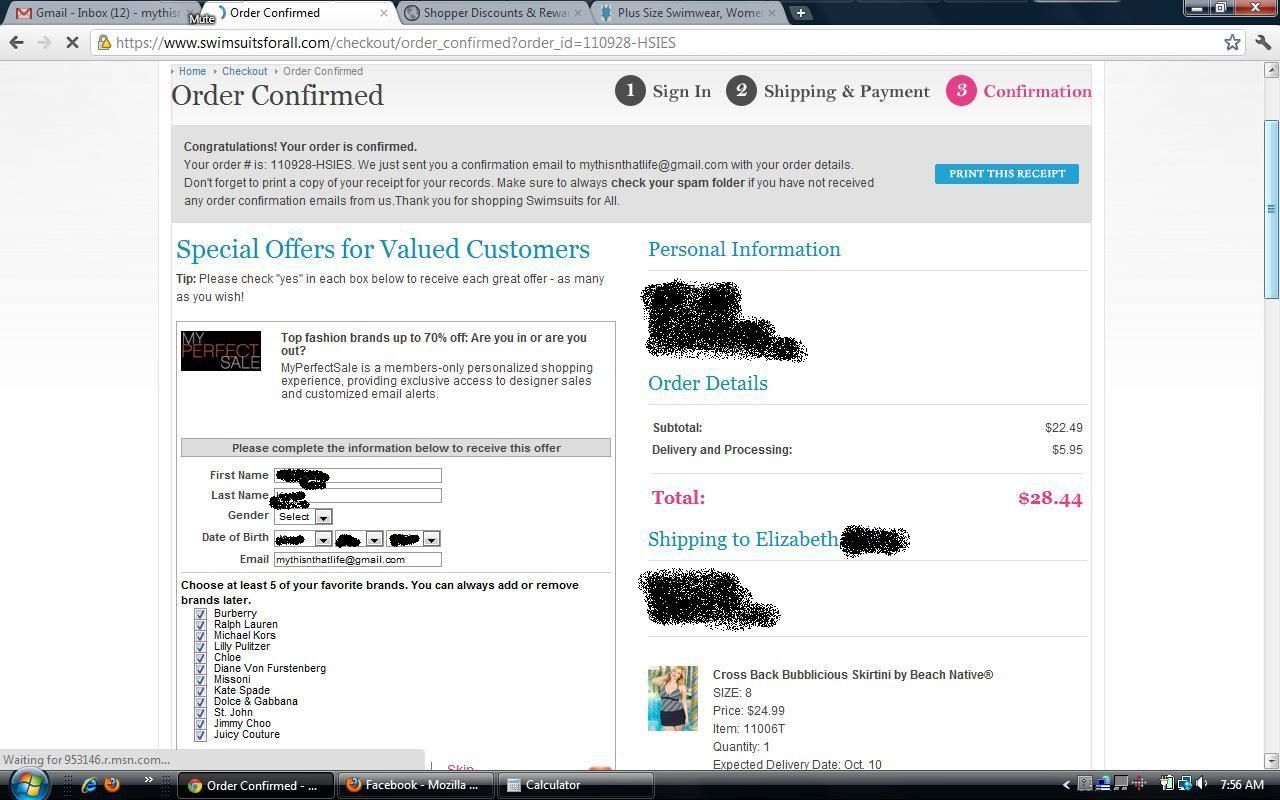 Shopping
www.swimsuitsforall.com
was a nice, easy process. There were a lot of suits (and other accessories) to choose from, and I loved so many of the styles! The regular prices of most of the suits were out of my budget, but the sale prices were great, even compared with department store prices. The suits look to be a good quality. Since there are so many brands, styles, and sizes to choose from, there is sure to be something with which you'll fall in love!
"This shop has been compensated as part of a social shopper insights study for
Collective Bias
. #CBias All opinions are strictly my own."