CLOSED
I'd like to take a moment to introduce you to one of my favorite baby product stores:
Go, Baby, Go!
I recently discovered this store, and LOVE what they have to offer!
Go, Baby, Go!
offers everything from diapers to baby carriers, from skincare items to teething necklaces!
Go, Baby, Go!
have everything! AND beginning April 1st, they're sweetening their deals even more by offering reward points for every dollar spent! When you buy items from
Go, Baby, Go!
you earn free products! It doesn't get any better than that!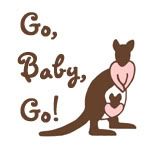 Another great feature that sets
Go, Baby, Go!
apart from a lot of similar companies is their consulting service!
Go, Baby, Go!
probably has a consultant that's (somewhat) local to you! These consultants can answer questions, help you choose diapers, etc. There is a small fee for using consultant servies if you don't make a purchase during your consultation, but if you make a purchase that fee is waived.
In addition to the regular consultant services,
Go, Baby, Go!
offers diaper bouquets, should you want to do something a little "out of the ordinary" for baby showers! What a neat idea!
Go, Baby, Go!
graciously sent me a
baltic amber teething necklace
to try on Stinky! I have to admit, I've been a bit of a skeptic when it comes to teething necklaces. I'm more of a "traditional medicine" kind of girl, and the teething necklaces sort of feel like "alternative medicine" to me. But, at the same time, I've been curious for a while as to whether or not they actually help.
I was super excited to receive the necklace, and of course put it on Stinky right away! He fought me, but I won. ;-) The necklace came on a week when I'd been up 3 out of 4 nights with Stinky because of teething pain. I didn't really think I'd be saying this, but he slept through the night that night! Not only that, but his nose stopped running and his appetite returned. Instant change! I could say it was a fluke, but I've tried taking it off. I've left it off for a couple days at a time, and when I do, the snot starts pouring again. The fever spikes again. The slobber runs again. The crying...oh, the crying... So yeah, I'm totally sold. Thank you, THANK YOU,
Go, Baby, Go
!, for the necklace! I had no idea it was exactly what we needed!
You can buy a baltic amber teething necklace of your own right
here
at
Go, Baby, Go!
OR you can win one right here! (But only if you live in the US or in Canada and have a US address. Sorry!)
Contest will end and a winner will be drawn on Tuesday, April 5, 2011 at 11:59am EST.
MANDATORY ENTRY
Follow this blog with Google Friend Connect AND visit
Go, Baby, Go!
and let me know something you learned while you were there! Leave your email address.
EXTRA ENTRIES
Like
Go, Baby, Go!
on facebook! Leave your username and email address!
Like My This N That Life on facebook with the easy button at the top of this page! Leave your username and email address!
Follow My This N That Life on twitter with the easy button at the top of this page! Leave your twitter name and email address!
I was given this product to review at no cost, but was not otherwise compensated for this review. The opinions are my own!