Have I mentioned that I
love
the
Stepping Stones Together
curriculum? I think I have. I don't think I've mentioned that I'm surprised I love it as much as I do! I started out the program with Bugsy excited, but a little skeptical. I was concerned that he would quickly-very quickly-tire of it. The program is somewhat repetitive. The books and stories are different every couple days, but the overall program is the same, day in and day out.
BOY was I wrong! We've been at this for a few weeks now. I guess it's been roughly 6ish weeks. Rather than having to fight Bugsy to the table each day, he asks when it will be learning time! Not only that, but the boys I babysit want to try it too! I mentioned before that the older boy and I were using another reading program. We've abandoned it now, in favor of
Stepping Stones Together
and another program. (That program is also currently featured on my blog.) Now, not only is the 5 year old doing the program, but the younger kids are drawing the pictures!
Sometimes they read the books together. When they do this, I hear the same book over and over and over and... sometimes upwards of 10 times! They LOVE that they can "read" the books themselves!
The Bug likes the one-on-one time with Mommy, though, so he'll send the others out of the room.
Here's one big step we've taken this week:
It may seem insignificant, but Bugsy is now pointing to the pictures as he says the words! I guess that sounds silly, but before he'd just say the words and I could never be sure whether he was just reciting from memory. Now he's pointing and I know he's actually associating the pictures with the right words! That may sound small to you, but I think it's HUGE! AND the five year old I babysit has started pointing to the words as he's saying them! They're really starting to "get" it!
Not only that, but there's already been a big change in the Bug's fine motor skills, just in the last few weeks! He's gone from a few scribbles on the page to drawing something that, somehow, resembles his words!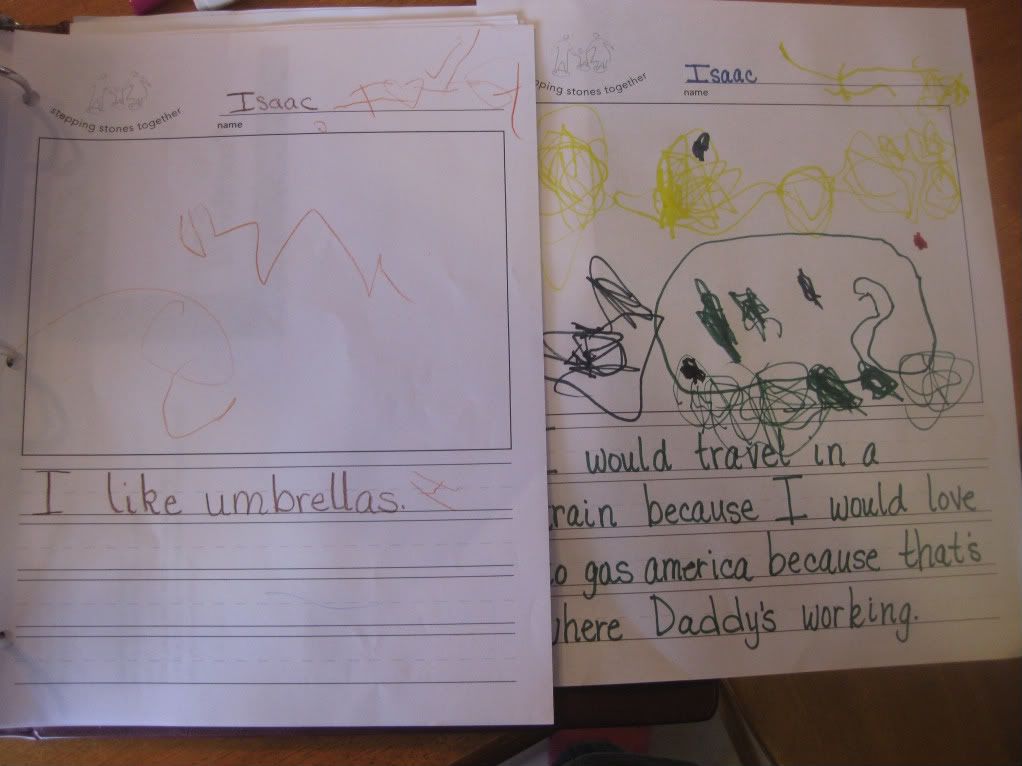 That second picture totally looks like the Bug in a train on the way to Daddy's work, doesn't it? Do you notice the seven suns at the top? They made me chuckle.
As you can see,
Stepping Stones Together
isn't
only
helping to teach reading skills! The pre-writing skills are coming along nicely as well!