CLOSED

Stinky's overnight diapers were wet and...stinky. Skunky. Gross. His daytime diapers were fine, but those overnighters, with the ultra-concentrated urine...yuck. I thought it was the diapers at first. I had received a couple of new ones, which I had used only for overnights so far, and wow. They were bad. Fresh out of the wash? They smelled fine. No trouble. Perfect. But after a long night? Beware!
I love that
Rockin' Green
anticipates funk. Even on the sample sizes, there are instructions for diaper soaking! I immediately put my dipes in for a soak. I'll warn you...the water will look NASTY. Mine was grey. I did not expect that! Were my diapers really that gross? But I followed the directions exactly, and my diapers came out fresh and clean. (Now, keep in mind, I thought they were clean already. I was really curious to see how the overnights would go.) Well, guess what? Since soaking my diapers, following
Rockin' Green
's instructions, I haven't had any funk at all! Yay! This stuff Rocks!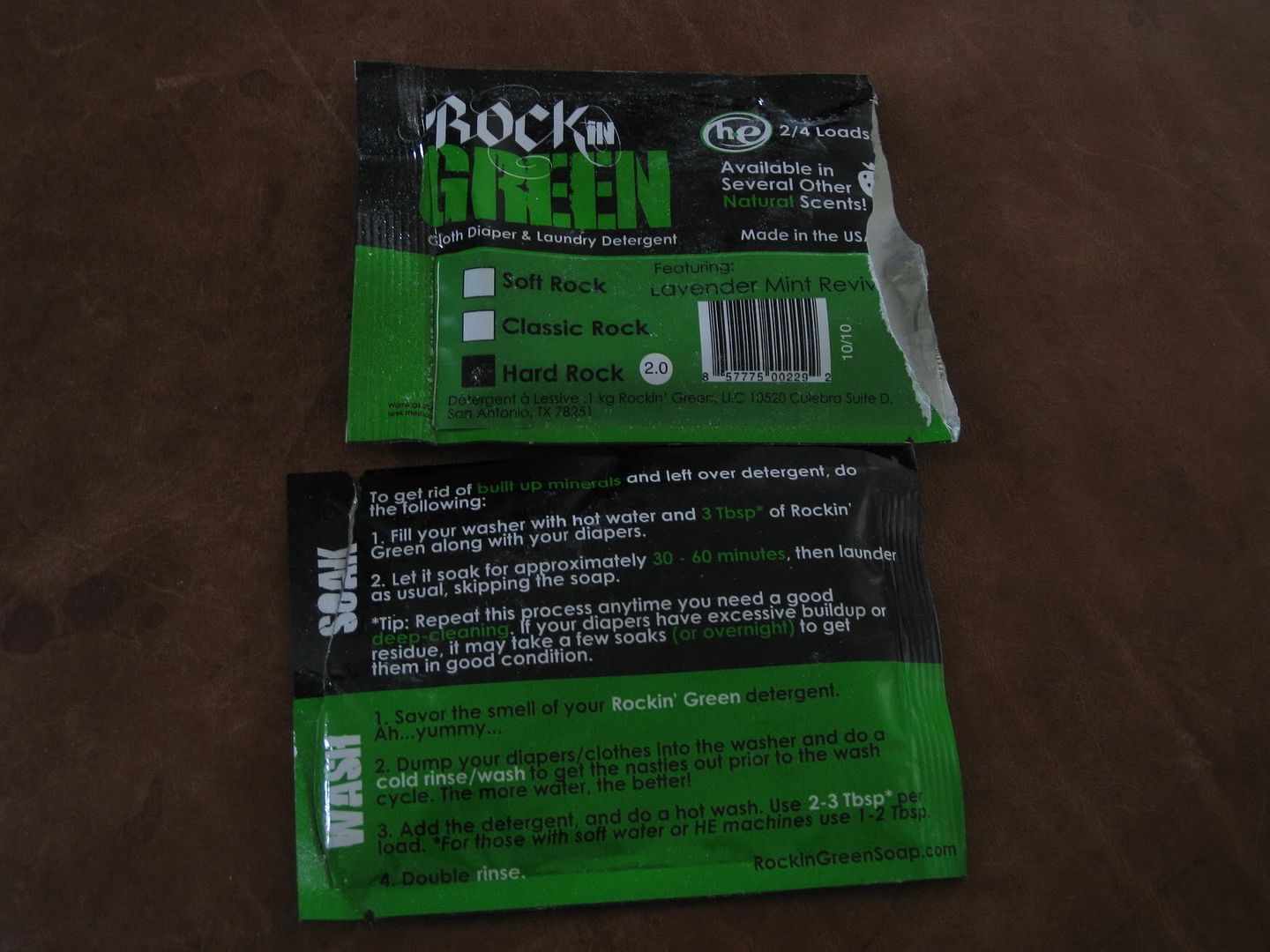 We did have a bit of an issue with
Rockin' Green
. It seems that Stinky's little booty doesn't tolerate the Lavender Mint scent well. This is sad, because I especially enjoyed the smell of that one! (Even though I didn't think I would.) What you need to know about that, though, is that I emailed Kim from
Rockin' Green
and she gave me some suggestions for using the soap, such as reducing the amount, trying the unscented, and waiting a few weeks until a new formula is introduced to try again! I REALLY liked the friendly, helpful customer service. In fact, when I am deciding on a final cloth diaper detergent (and I won't until after May, which is "Spring cleaning" month), customer service is something I will be carefully considering!
Rockin' Green
is a really neat detergent system. There are three different formulas of detergent: Soft Rock, Classic Rock, and Hard Rock. You choose your formula based on your water. I have hard water, so Hard Rock is the perfect detergent for me. If you're not sure what type of water yours is, they've got a map of the United States on their website so you can get a pretty good idea.
Not only are there 3 formulas, but there are also seven different cloth diaper friendly scents! They smell DELICIOUS! I'd love to try every one...and at $0.80 for each 3(ish) load sample, I just might!
You can try
Rockin' Green Cloth Diaper Detergent
for yourself...and as I mentioned, samples as super cheap! There are other products as well, including dryer balls, ammonia bouncer, diaper sprayers, etc. It's a full service laundry supplier!
OR
You can win a 45/90 load bag of
Rockin' Green
right here on my blog! (Contest will end and a winner will be drawn 5-10-11 at 11:59am EST.)
TO ENTER
*Leave a separate comment for each entry.*
*Leave your email address with each entry.*
Follow My TNT Life via GFC.
Subscribe to My TNT Life via email.
I was given these products at no cost in order to facilitate this review, but was not compensated in any other way. All opinions are strictly my own.