CLOSED
What you may not know about me is that I'm a relative cloth diapering newbie. That's right! If you haven't been reading long, you might think I'd been doing this a while, but really I'm still an amateur. In fact, I bought my first prefolds and covers in November! I've quickly adapted and grown my stash to include several different types of diapers and accessories.
One type of "accessory" that I'd been curious about but had never tried was soakers. I'd heard about different types of soakers and their benefits, but had never tried one! Enter,
Zizzies and Izzies
!
I received a whole package of goodies from
Zizzies and Izzies
! The sent two hats, two wipes, a flower clip and a VERY cute fleece pirate soaker! I was so excited to try them all out!
The wipes are great! They're super cute and soft. Stinky likes them just as well as he likes any other wipe. ;-) The flower clip? Super cute! I clip it on my purse, The hats? I'm not sure which of my children they were actually intended for, but Stinky is in LOVE with them! He drags them around, tries to put them on his head, brings them to me to put on him...he loves them.
But what I really want to tell you about is the soaker! I adore it! When
Zizzies and Izzies
sent the soaker, they had NO idea that we were prepping for a pirate party! Little Lou's spring break was coming up, and we needed something fun to pass the time! The soaker was the PERFECT pirate accessory! I prepped it and put it on Stinky on the big day!
You have to understand, Stinky's...stocky. He's short (28 inches) and hefty (23 pounds). He's a tough fit! And the thighs...oh, the thighs! We couldn't decide what size we should get, but decided to go with the XL so that it would fit those crazy-big thighs. I was a little concerned because it's big in the waist, but it worked like a charm! In fact, I have fallen in love with the fleece soaker, and would now like more (and maybe some wool soakers as well). I haven't tried Stinky in the
Zizzies and Izzies
fleece soaker overnight, but even during naptime it didn't leak a bit!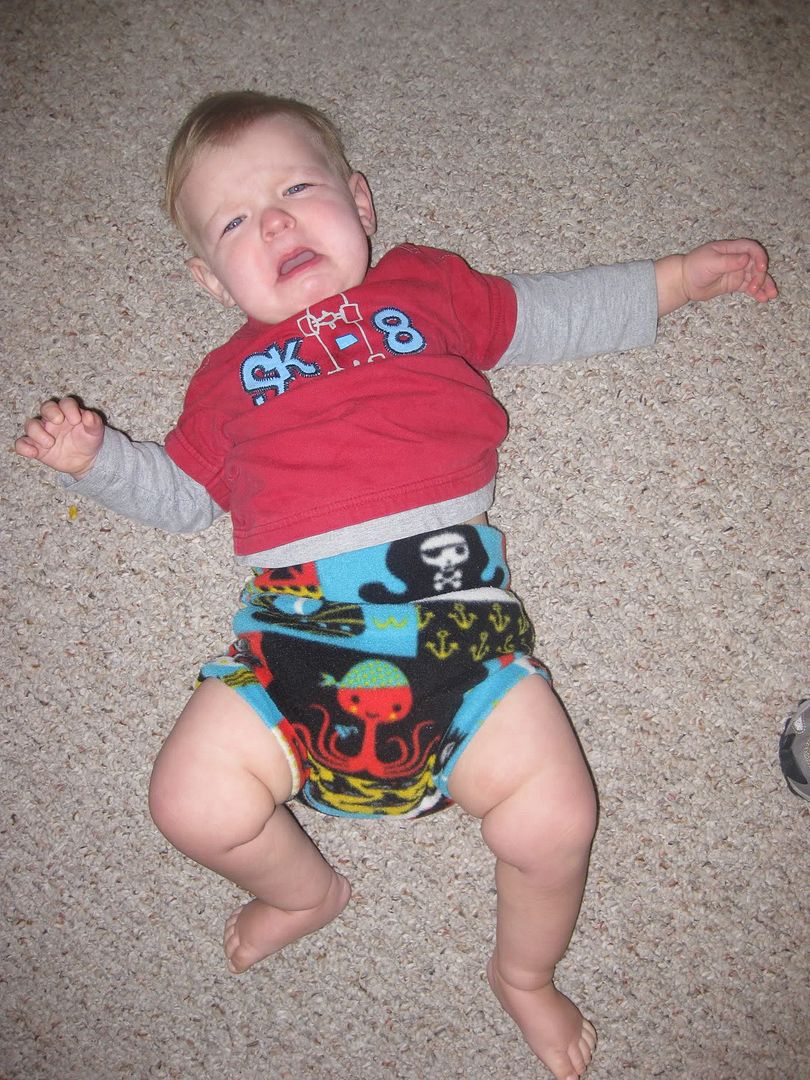 I'm really impressed with the soaker. I love it! It's super soft, super cute, and super absorbent! What more could I want?
You can buy fleece soakers (and tons of other things!) from
Zizzies and Izzies
on Etsy! The soakers are inexpensive, too, at just $8 apiece! AND
Zizzies and Izzies
is offering all of you a 15% discount when you use the code MyTNTLife at checkout! What a great deal!
OR
You can win a set of two fleece soakers of your choice from
Zizzies and Izzies
on Etsy! (Contest will end and a winner will be drawn April 22, 2011 at 11:59am EST.)
*Please leave a separate comment for each entry!*
*Please leave your email address with each entry so I can find you!*
MANDATORY
Follow My TNT Life with Google Friend Connect AND visit
Zizzies and Izzies
and tell me a product you'd love to try! Leave a link!
EXTRA ENTRIES
1. Like
Zizzies and Izzies
on facebook. Thank them for the giveaway! Come back here and leave your FB name.
2. Like My TNT Life on facebook (easy link on upper right corner). Come back and leave your FB name.
3. Follow My TNT Life on twitter (easy link on upper right corner). Come back here and leave your twitter name.
4. Subscribe to My TNT Life via email. Leave your email!
5. Vote for me to be the next
hopscout editor
! (No registration required.)
*
Follow this link
to learn how to get unlimited extra entries!*
I was given these items to review at no cost but was not compensated in any other way. All opinions are my own.