CLOSED
I'd like to introduce you to my new friend, Katherine.
Katherine is the creator and musician behind
Hunk-Ta-Bunk-Ta
, my new favorite series of children's cds!
I recently received a full set of 10 cds from
Hunk-Ta-Bunk-Ta
, and let me tell you, they're amazing! I instantly fell in love with so many of the songs! I started out with
Funsies 1
, which is geared toward babies 4-18 months. All of the kids enjoyed it, but I am not kidding when I say that the instant the cd started, both of the babies (10 and 13 months) started dancing!
I love all the
Hunk-Ta-Bunk-Ta
cds, but my very favorite is
Hunk-Ta-Bunk-Ta GNU
. This cd is for ages 4-forever, and it's all about the English language! It teaches about wacky words, parts of speech, and more! I absolutely LOVE this cd! (I could listen to this one all day long and then some...I think the kids would tire of it before I would!)
One thing I really like about the cds is that each is geared toward a different age group, and they truly are made to pique the musical interest of the children in that group. As I play different cds, I can tell that the ones geared for babies are the ones the babies really do stop and listen to. The same goes for my toddlers and my big kids. Katherine and her crew have hit the nail on the head with these cds! They're amazing!
Not only did Katherine send me the cds, she sent three activity guides as well. These coordinate with her cds to make them even more meaningful and educational! We particularly love the
Hunk-Ta-Bunk-Ta MAKIN' MOO
activity guide, which features a variety of different make-it-yourself instruments!
We've tried several instruments, but the Bug's favorite so far has been the kazoo.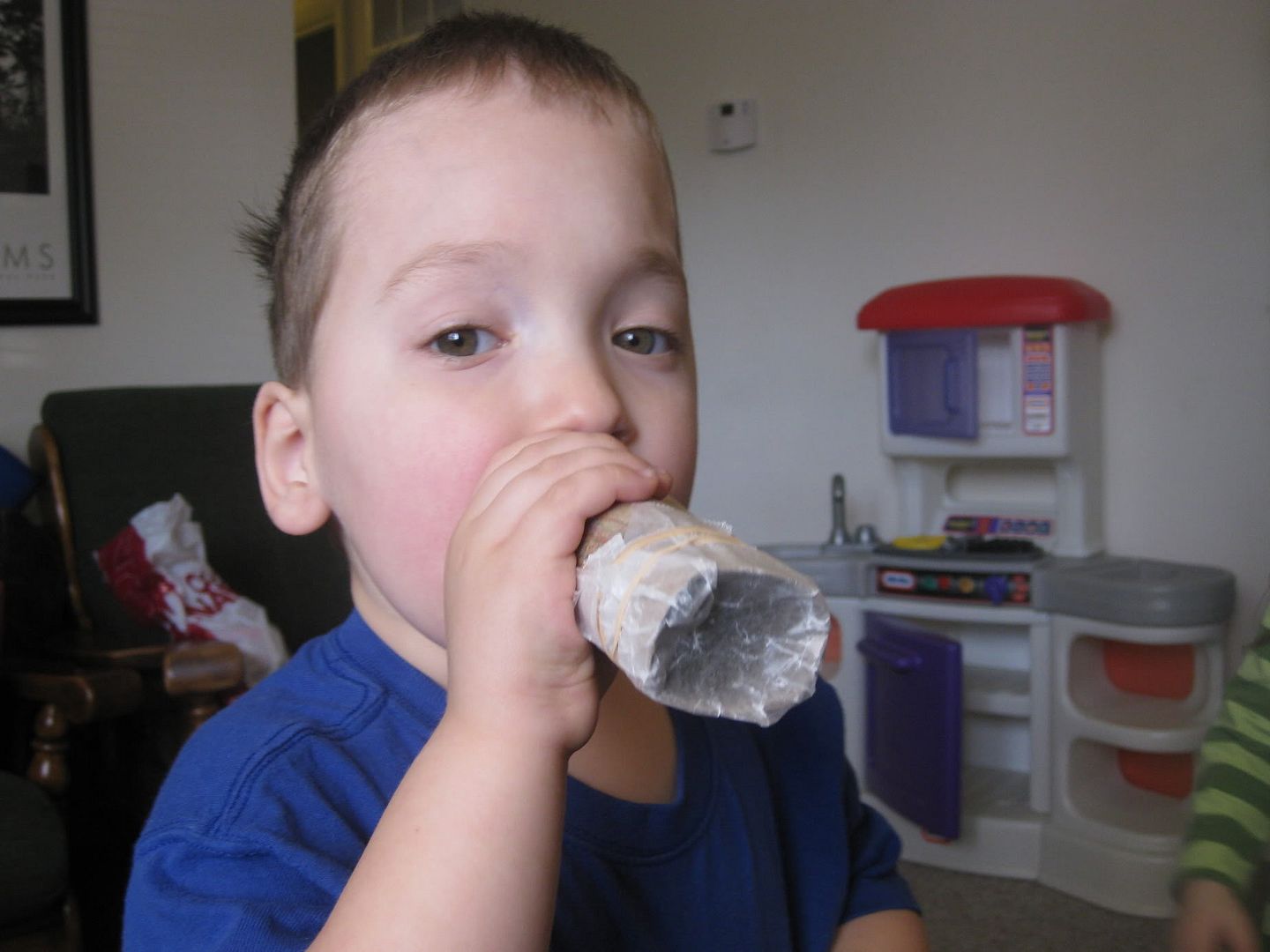 You can buy any of the
Hunk-Ta-Bunk-Ta
titles
here
and you'll be glad you did! The cds are available for $16 apiece, and the activity guides are available for download for just $7 apiece!
OR
You can win a cd right here on my blog! SIX of you will each receive a
Hunk-Ta-Bunk-Ta "Wiggle"
cd!! (Winners will each be responsible for paying $2 shipping.)
Contest will close and winners will be drawn Thursday, April 21, 2011 at 11:59am EST.)
*Please leave a separate comment for each entry. Leave your email address with each entry.*
MANDATORY
Like BOTH
My TNT Life
AND
Hunk-Ta-Bunk-Ta
on facebook! Thank Katherine! Leave your facebook username here in a comment.
EXTRA ENTRIES
1. Follow My TNT Life with GFC.
2. Follow
My TNT Life
on twitter! Leave your twitter username in your comment.
3. Visit
Hunk-Ta-Bunk-Ta
online and tell me what title you'd love to own!
4. Subscribe to My TNT Life via email.
5. Vote for me to be the next
hopscout editor
! (No registration required.)
*
Follow this link
to learn how to get unlimited extra entries!*
I was given these products at no cost in exchange for review, but was not compensated in any other way. All opinions are my own.