CLOSED
I LOVE laundry that smells clean. LOVE it. The trouble is, 3 of the 5 of us at my house have sensitive skin. This makes clean smelling laundry really difficult! I've looked into some of the "pure" soaps with scents, but they are almost always super expensive.
I recently found
Selestial Soap
through someone else's facebook giveaway, and it looked interesting. I love the premise that products can be eco-friendly AND similar in price to the commercial brands! The 100oz (100 load) size detergent is $11.99...almost the exact price as a similar size bottle of my commercial ("free") detergent! I also discovered that you can purchase 16oz bottles of
Selestial Soap
detergent concentrates which you mix yourself in your 100 oz bottle, further reducing your carbon footprint! I really like that idea!
I received a bottle of detergent and a bottle of bleach alternative to try.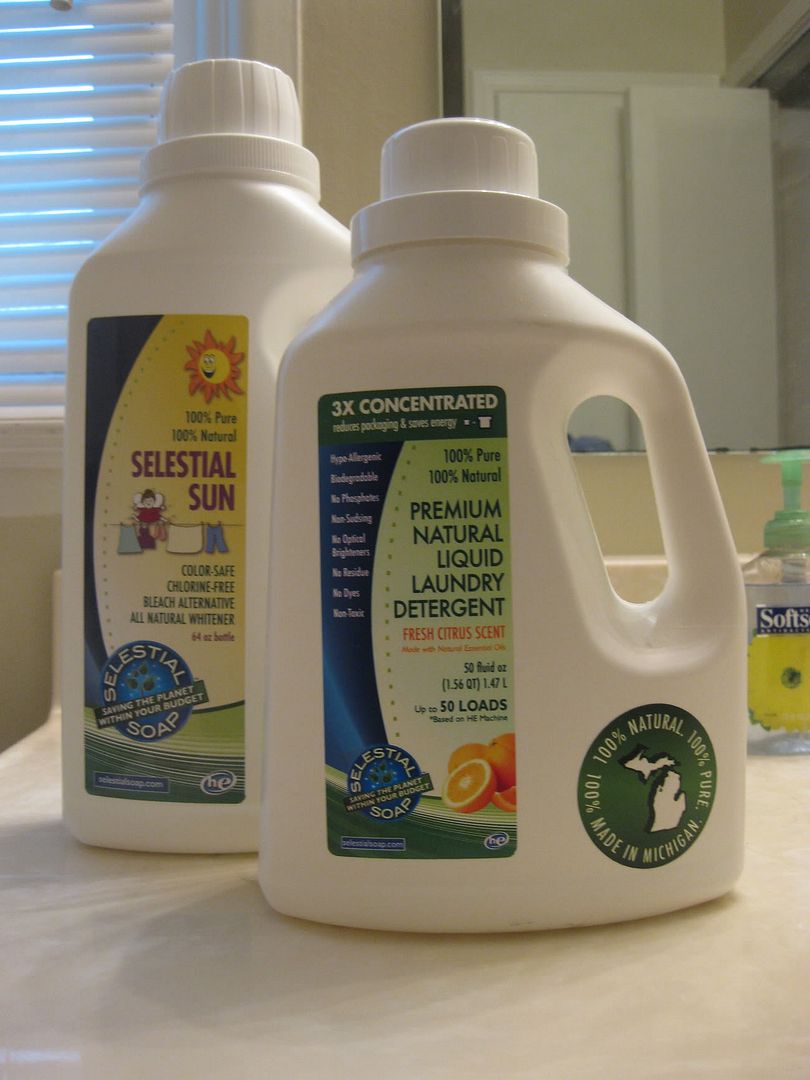 The bleach alternative is great.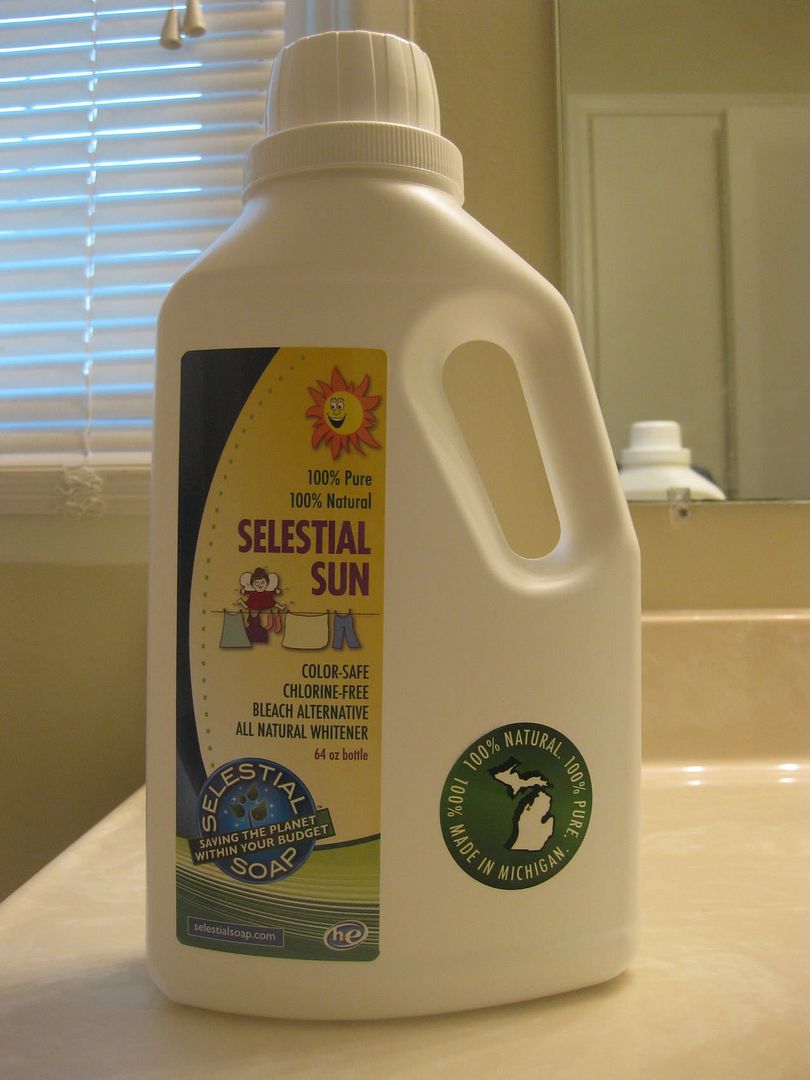 I hate using bleach on my clothes because (among other reasons) it seems to wear them out a lot more quickly. I've tried bleach alternatives before but never natural ones. I really like this bleach alternative! I wish I'd taken some before and after pictures of the white socks in my house. They are certainly whiter than they were before! It says it's color safe, too, but I didn't want to test that on my husband's work clothes (which are what I really need it for!) so I tried it on some of the kids' clothes. Bugsy is still a bit of a bed wetter at night - not every night, but often enough - and I tried it on his bedding and jammies. There was NO fading, and I feel a bit better knowing that they were washed with that bleach alternative!
The detergent is amazing!
As I mentioned, I typically use a "free" detergent, which leaves my laundry smelling like...well...nothing. I secretly envy a certain friend whose three daughters always smell "fresh." My kids? No odor. (I guess that's still good, right?) I loved that I could use a detergent that had a bit of smell to it! I started using this detergent just for Stinky's diapers, but quickly switched to using it for all the laundry. I'm glad I gave it a try! We have super sensitive skin at our house, as I said, and I was concerned about reactions. We did not have a single reaction to
Selestial Soap
! Our clothes were sparkling clean (or would have been, had they been the sparkly kind!) smelled great, and were soft as ever! I love
Selestial Soap
! I'm convinced!
I think you'll love
Selestial Soap
, too, and so do they! In fact, the people at
Selestial Soap
are SO convinced you'll love it, that they're going to give one of you a 50 oz bottle of detergent and a 64 oz bottle of bleach alternative, just like I tried! (Contest will end and a winner will be drawn on April 29, 2011 at 11:59am EST.)
How to enter:
> Leave a separate comment for each entry.
> Leave your email address with each entry.
Follow My TNT Life with GFC.
Like
Selestial Soap
on facebook. Thank them for the giveaway!
Like
My TNT Life
on facebook.
Follow
My TNT Life
on twitter.
Subscribe to My TNT Life via email.
Vote for me (through the 22nd only!) for
HopScout editor
!
*
Click here
to find out how to get unlimited extra entries!*
I was given this product to review at no cost to me but was not compensated in any other way. All opinions are my own.