CLOSED
I've wanted to try
Kissaluvs
diapers since I started with cloth. I have to admit, I like the name. It just
sounds
nice. I was, therefore, ecstatic when Kissaluvs agreed to send me a
Kissa Marvel AIO
!
The diaper I received is one of their new colors, Rose Dust. It's a really pretty light dusty pink. I wasn't sure at first whether it was pink or tan, to be honest, but checked the website and found it was pink. I LOVE the color! (The only trouble is that Stinky's a boy...but we've worked around it. He wears it at home or when he's got a onesie on and no one is the wiser.)
I like that the
Marvel
is made to be like a pocket diaper, but it's an All in One. This makes it easy to stuff it with extra inserts for overnight, since Stinky is such a heavy wetter!
The marvel is an AIO, meaning that you don't have to add anything to it to make it "work." The "insert" included is sewn into the inside, and it isn't removable. This means it is extremely quick-drying for an AIO! When you wash the Marvel diaper, it nearly always turns completely inside out.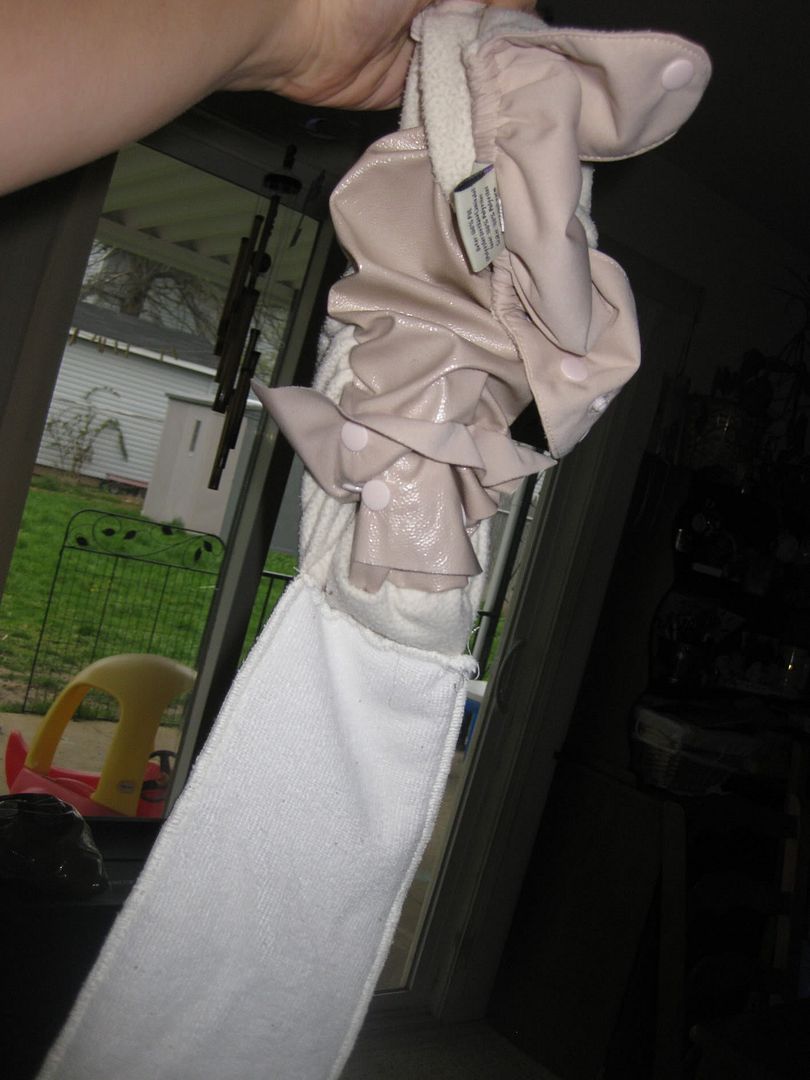 Not a problem...you just re-stuff the inner layer and you're good to go! No searching for the right liner, no trying to remember how many liners you use with this particular diaper. It's super easy!
The
Kissa Marvel AIO
fits Stinky great! He wears it on the second rise setting, so he's got plenty of room to grow taller. (Grow already, would ya?!?) I typically fasten it all the way to the middle on the wings so that there is no gap in the front. He's a belly sleeper, and if I leave gapping in ANY diaper, we have major leak issues. The Kissa Marvel is a great overnight solution for Stinky, though, as long as I remember an extra insert! It feels soft and comfortable, too.
It fits trim between his chubby thighs, which I love as well. And look! A shot of him laughing! (We were playing peek-a-boo.) You can see that the diaper fits just right in his thighs so it doesn't squeeze him, but it's tight enough to hold even the yuckiest messes!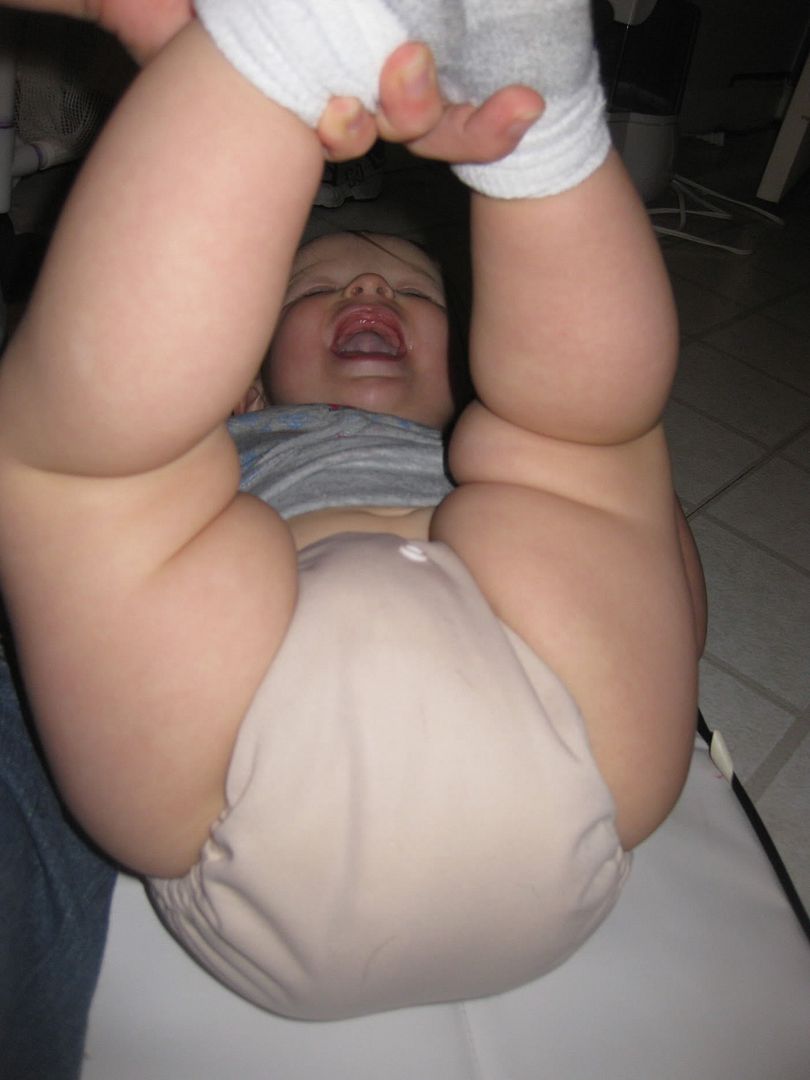 I love the
Kissa Marvel
diaper! If I could change one thing about the Kissa Marvel, I would make it come with an extra soaker. I do have to use an extra insert for overnight with Stinky, and I wish I had one of the Kissaluvs soakers because I am sure it would be a better fit. Other than that, I think it's a great diaper that I would definitely recommend!
OR
You can win a Kissa Marvel AIO in your choice of colors right here on my blog!
(Contest will end and a winner will be drawn May 3, 2011 at 11:59am EST.)
HOW TO ENTER:
(Please leave a separate comment for each entry.)
(Please leave your email address with each entry.)
1 Follow My TNT Life with Google Friend Connect.
2 Visit
Kissaluvs
and tell me your favorite new color!
5 Subscribe to My TNT Life via email.
This product was given to me in exchange for a review. I was not compensated in any other way. All opinions are my own.