CLOSED

Stinky's a thrower.
You might have one, too. You know the type. They're one, they have hands, and they've just figured out how to let go of things. And so they do let go. Of everything. Sometimes over and over. And over. It's a game. It's an experiment. It's really fun, at first. But it gets old (for mommy!) in a hurry.
The
No Throw
is an amazingly simple idea. A leash, of sorts, for baby stuff! The
No Throw
does exactly what it promises...keeps babies from throwing things. (It also makes them a little mad at first.)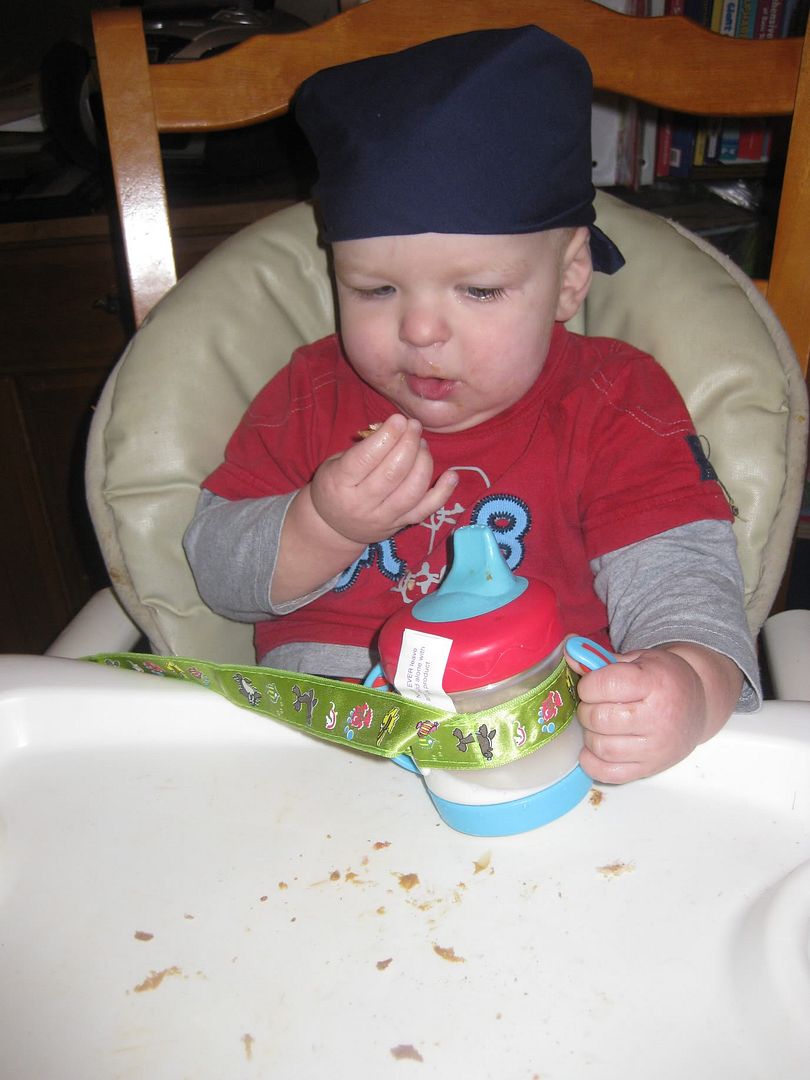 Here's Stinky, eating his pirate food and drinking milk from his sippy on Pirate Day. See the
No Throw
? It means I don't have to pick his cup up from the floor 90 bajillion times! It means I can use the same cup for an entire meal without having to rinse off the dog hair! (Sorry, guys...remember the black lab? Did you know they shed? Even if I sweep 4 times a day - and I do most days - there's dog hair!) AND one of my favorite parts? They're machine washable! That means that when we eat spaghetti or peanut butter sandwiches and Stinky coats his No Throw in lunch, we can just toss it into the washing machine and it comes out good as new! I wish They'd had these when the other two were little!
My only complaint is that I kind of wish both ends were velcro. One end is a closed loop, and while that works great on carseats and strollers, it's not perfect for the high chair. Okay, scratch that. It would be perfect for the high chair if I used the straps. Unfortunately, it's a little difficult to loop over the "arms" of the high chair, and sometimes I simply choose to pick the cup up, as I said, 90 bajillion times.
No matter what, the
No Throw
gets my stamp of approval!
You can order your very own No Throw
here
for just $5!
OR
You can win TWO right here on my blog!
(Open to US and Canada only. Contest will end and a winner will be drawn April 21, 2011 at 11:59am EST.)
EASY ENTRIES:
(Leave a separate comment for each entry.)
(Leave your email address with each comment.)
1. Follow My TNT Life with GFC.
2. Like My TNT Life on facebook (easy button at top of page).
3. Follow My TNT Life on twitter (easy button at top of page).
4. Subscribe to My TNT Life via email.
5. Visit
No Throw
and tell me your first choice of patterns!
6. Vote for me to be the next
hopscout editor
! (No registration required.)
*
Follow this link
to learn how to get unlimited extra entries!*
I was given these products at no cost in exchange for a review. All opinions are my own.