CLOSED
About a week ago I received my first
Blissful Booty
diaper in the mail. (I say my first because if I have anything to do with it, it won't be my last!) I have to admit, I'm always excited to open my fluffy mail. I was really excited when I realized I'd not only received a diaper, but two inserts, two wipes, and a bottle of wipe spray concentrate as well! What an amazingly fluffy package!
Of course, as usual, I immediately washed the diaper. I also immediately made up my first batch of wipe spray. I've just been using water on my wipes, so I was really excited to give the spray a try!
I was not at all disappointed with my
Blissful Booty
! I've got to tell you, these diapers look luxurious. They're super soft on the inside. The sizing is just right. Stinky's pushing 23 pounds now, and in a large diaper he has plenty of room to grow, but it hugs him snugly at the same time.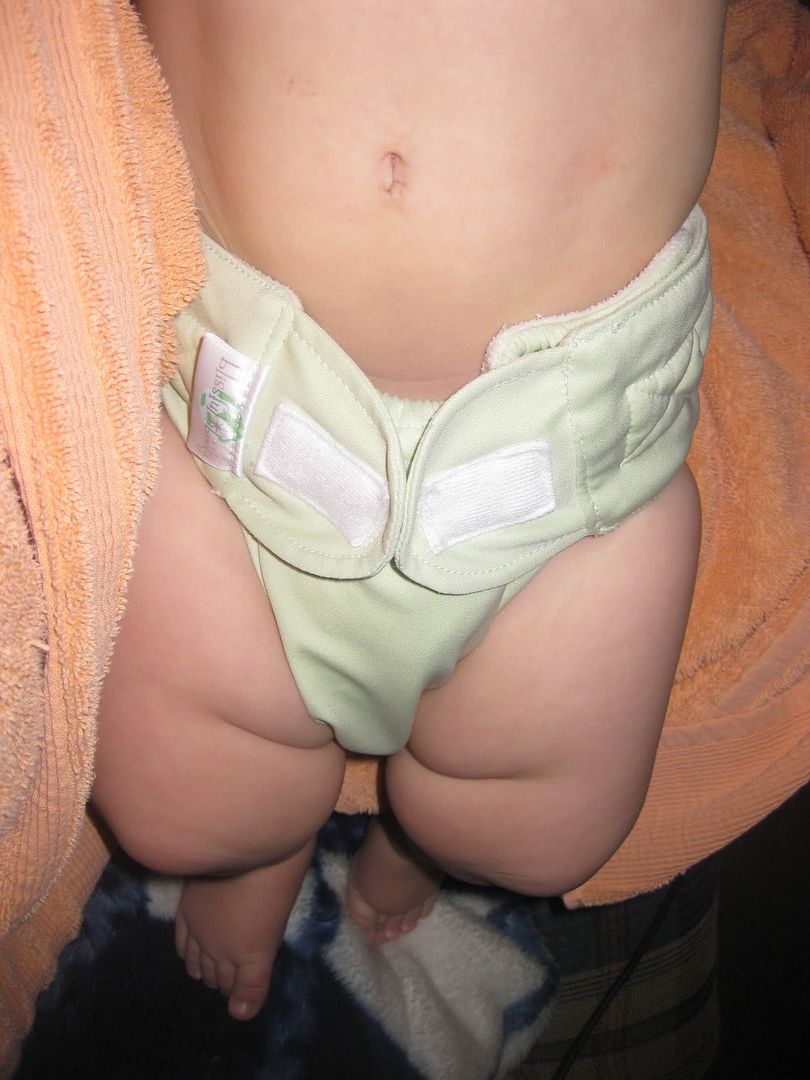 I'm not sure that makes sense entirely, but that's exactly how it is! The
Blissful Booty
is a FANTASTIC daytime diaper for Stinky! It's so soft and expertly made. The hook and loop is sturdy and holds tightly. The extra inserts make it extremely customizable for both boys and girls! And double leg gussets! Did I mention those? I am in love with double leg gussets. LOVE the poop-stop-ability! They're great!
Unfortunately, Stinky's become a very heavy wetter overnight. I've tried several different combinations with the
Blissful Booty
and it
still doesn't seem to work for him. I've yet to try it with inserts other than the Blissful Booty inserts, and I think that when I do it will likely be an excellent choice even for overnights. There's plenty of room for me to add to the "stuffing" so I think we'll find it to be a very useful diaper for overnight with additional inserts!
finally works! That's right! Cathy from Blissful Booty emailed me and told me I hadn't wrapped the wings far enough around Stinky's waist, and that he should probably be using the crossover tabs. I tried it last night and this morning, Stinky was totally dry! In fact, he had breakfast and played for a little bit and was STILL dry! Thank you, thank you, Blissful Booty! I loved the diaper before, but now it's made it to the top of my list! YAY!! (And I must mention, the personal attention and "tutoring session" made me feel extra special. Thanks for your help, Cathy!)
The wipe spray is amazing! We received the Coco Mango and it smells delicious! It's nice to have that little bit of luxury on the wipe when I use it to clean Stinky's bottom. And
Blissful Booty
wipes are super soft!
You can buy your very own
Blissful Booty
diaper
here
for just $17.99! There's also a new Blissful Booty Ultra that has the the best of both the hook and loop and snap worlds for just $19.99!
OR
You can win one right here!
Blissful Booty
has graciously offered a Blissful Booty diaper to one of my readers! (Contest will close and a winner will be drawn April 22, 2011 at 11:59am EST.)
MANDATORY
Follow My This And That Life with Googe Friend Connect AND Like
Blissful Booty
on facebook! Leave your username and email address!
EXTRA ENTRIES
1. Follow the directions on
this
post. Come back here and tell me you did! Label your comments "BB 1-3." If you were one of the first 17 to comment, you get extra enties "BB 4-5" as well! Leave your email address.
2. Follow
My This N That Life
on twitter. Leave your username and email address.
3. Follow
Blissful Booty
on twitter. Leave your username and email address.
4. Vote for me to be the next
hopscout editor
! (No registration required.)
*
Follow this link
to learn how to get unlimited extra entries!*
Good luck and have fun!
I was sent these products for review but was not compensated in any other way. All opinions are my own.